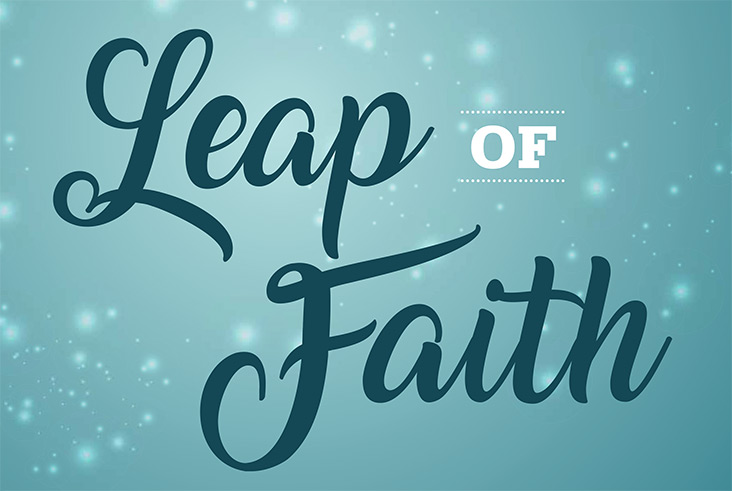 Four local professionals overcome obstacles to reinvent their lives and careers.
Starting over. Trying something new. These two phrases often evoke fear of change and of the unknown. And though we often resist change, it's one of the few things in life that's constant. These five Mid-Missourians have pushed through doubt, grief, injury, and divorce to create positive transformation for themselves and those they love.
Pictured from left: Christine Kiefer, Jen Rachow, Lance Lanier, and Caroline Perez.
Advocating for People in Crisis
After earning her criminal justice degree from Truman State University, Christine Kiefer started working as a probation and parole officer in St. Louis. "I loved my job," she says. "I learned so much about the world, human behavior, and the idea that good people make mistakes."
She got married at 23, had two children by age 26, and found herself divorced before age 30. At the time, she was working as a commissioner to the court, a job that involved working midnights at the city jail and day shifts at the courthouse. She had topped out in terms of salary and didn't feel like she was being challenged at work anymore; an attorney co-worker suggested law school. "On a whim, I bought the LSAT book and began studying for the test required for law school entry." After studying for a few weeks, she took the LSAT, applied, and was accepted to St. Louis University's night program.
During law school, Christine worked full time and took classes three or four nights a week. "This time in my life is almost a blur," she says. "I cherished every moment I had with my kids, my family, and friends." After four years of night school, Christine obtained her law degree.
"I didn't love law school," Christine continues. "I didn't love the process, and I hated studying for and taking the bar exam. But I love that I did it, I love that I learned so much about perseverance, and I love that I taught my children a valuable lesson in taking risks and sticking with something hard."
At 34, Christine started working as an attorney in Jefferson City. "It was quite a change from St. Louis, but my children and I moved to be closer to their father, which was the best decision I've ever made for my family."
Practicing as an attorney, Christine immediately felt she was exactly where she needed to be. "This match of skill, personality, and profession is something that really is priceless. I got to fight for hard-working people and make a difference in a way I did back when I was a probation officer."
In April 2017, Christine started her own firm, Kiefer Law Office, in Columbia. "I wanted to start a firm consistent with my core values, and I wanted to put together a team of like-minded people dedicated to advocating for people in crisis," she says. "Now, I work with two fabulous women who work every day to fight for injured and disabled workers."
33 Years in the Making
Jen Rachow married young and, after the birth of her second child in 1981, began working on her bachelor's degree. A few months into the semester, her husband ended their marriage. "I finished the semester out and had to go to work full-time, putting my education on hold," Jen shares.
For the next 10 years, Jen was a working, single mom. During this time, she participated in a leadership training program through a Christian ministry and relocated to the Midwest. She met her second husband and remarried in 1991, completing their family by welcoming a third child. While raising their youngest, Jen began working at MU as a secretary.
"When the opportunity to apply for a new position came up, I was told I could not apply because I didn't have a degree," says Jen. "Initially I was angry, but it was the push I needed to return to my education." By now, her youngest child was 13, and her husband was supportive.
"I started in community college in 2007 for the small class sizes — having been out of school for 26 years, I wanted to ease into it," Jen says. She took two classes each semester and, in 2009, completed her associate degree and transferred to MU. She majored in health sciences because it aligned with her work in the MU School of Medicine. Jen worked full-time throughout the program, was an honor student, received scholarships, and graduated with no debt.
In 2013, she fulfilled her senior capstone with a summer study abroad course on the Mediterranean diet and lifestyle in Florence. "I chose to study in Italy since I'm a total foodie and I love to travel. This was an opportunity of a lifetime for me — one that was work but also fun," she says. While completing her degree, Jen also received a promotion.
"I would say that all dreams and goals can be realized," says Jen. "They may be realized in an unconventional way and may take a long time, but if a person has a goal in mind, they can achieve it eventually. It took me 33 years to complete my bachelor's!"
Pursuing Two Dream Jobs
Lance Lanier grew up in Hannibal and started working as an EMT right out of high school. He continued his training, receiving his fire science degree and completing paramedic school. The Columbia Fire Department then hired him. "Being a firefighter has always been my childhood dream, and I'm proud to say I'm a firefighter for the City of Columbia." Lance has worked as a full-time firefighter for the city for four years. "I am and will always be a firefighter," he says. "With a firefighter's schedule, we work a lot of hours, but fewer days since it's 24-hour shifts. With our scheduling, most firefighters work second jobs or own their own business."
So on his days off, Lance started a landscaping business. It was slow at first, so he added a window cleaning business too. Lance had tapped into a need for commercial window cleaning, and Deluxe Window Care took off. His workers now rappel off high-rise buildings to pressure wash and clean windows. At the same time, Lanier Landscaping, which specializes in hardscapes such as patios, retaining walls, and outside kitchens, picked up. The company was voted Top Commercial Landscaping Company in the Columbia Business Times' 2018 Top of the Town awards.
While working at the fire department, Lance delegates all landscaping and window cleaning to his employees, who understand he cannot perform any work while at his main job. "The fire department comes first when I have that hat on," Lance says.
Lance credits his family and team for helping him be able to successfully manage both being a firefighter and running the companies. "I couldn't have made these companies succeed without the help of my wife, my parents, and the employees that work for me," Lance says.
He was hurt at a structure fire in January 2017 and has had three surgeries on his shoulders since then, which placed him in a desk role at both businesses. "I sincerely feel as if my employees are part of my family for standing by my side to grow these businesses while all I'm capable of doing is answering a phone or sitting at a computer," Lance shares. "I'm happy to have such a great team and family."
From Journalist to Physician
After working in journalism in Nevada for five years, Caroline Perez decided she wanted to change career paths and go to medical school.
"I don't really feel like I started over," says Caroline. "I simply progressed along my life's journey via the scenic route. I truly feel that the time I spent studying and working in journalism sculpted me in certain ways to function as a better physician."
Caroline grew up in Virginia and went to a science and technology magnet high school before completing her degrees at NYU in journalism and economics. "I loved working with and learning about people in journalism, but I really missed the more concrete world of science and felt like medicine would be a good way to combine the two," she says.
"It was challenging just making the decision to do something new. I had a pretty decent job, and it's very easy to stay where you are, in a routine," she says. "Ironically, though, I think it was the challenge itself that motivated me." In contrast to focusing on a promotion, she was putting effort into starting over in a new and unfamiliar field.
During this time, Caroline and her husband, Daniel, began growing their family. "I had my first child the year before starting medical school. I was seven months pregnant taking the MCAT, so that was a little bit stressful, but, as with most things, it worked out in the end."
They welcomed their second child between her first and second years of medical school and their third child a few days after graduation. "My time in medical school was basically spent driving, studying, and making sure I had as many very special, high quality moments with my children as I could," Caroline shares.
Having close family was key in supporting their family during this time of transition. "We had great support from my in-laws while I was in medical school, so I was very fortunate. I had a 45-minute one-way commute to medical school, as well, but even with all of these challenges, I was able to take things day by day."
After graduation, the Perez family moved to Columbia for Caroline's dermatology residency at MU Health. "I interviewed here and was really impressed by the program, the residents, and Columbia in general," Caroline says. Caroline is currently in her first year of residency and plans to be in Columbia for the next few years.