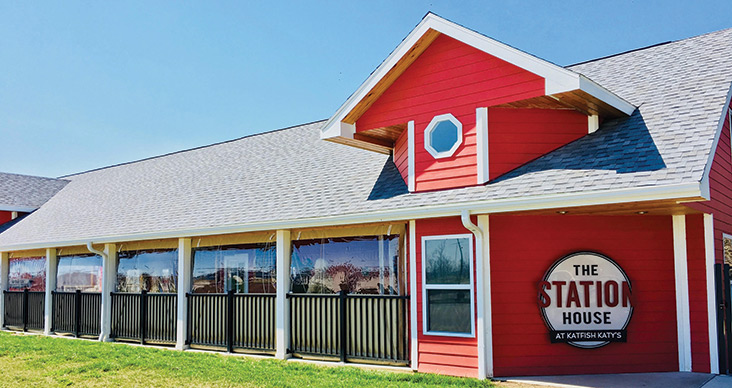 Great food is just a bike ride away.
One of the many wonderful things Columbia has to offer is its impressive system of trails, chief among them the Katy Trail, which runs south of the city and is the country's largest rail trail. Whether you're looking for leisurely sightseeing with your family or a fast-paced day of cycling, you can find it all in Mid-Missouri's section of the 240-mile Katy.
You can even make a day out of your trail experience by stopping in at one of the many unique and delicious restaurants positioned right on the Katy Trail. The Station House at Katfish Katy's, Chim's Thai Kitchen and the General Store at Cooper's Landing, and the Meriwether Cafe will leave you peddling faster to enjoy great eats and live music this summer.
"Beth and I ride our bikes to all three of these locations on a monthly basis," says Barbie Banks, executive director of the Citizen Jane Film Festival. "We love to ride from Columbia and stop at Katfish Katy's for a beer and hushpuppies, then continue on to the Meriwether Café. Their pastries are amazing, and all their food is fresh and local and delicious. And I think Chim's Thai Trailer at Cooper's Landing is the best Thai food in Columbia."
The Station House at Katfish Katy's
You can't go to the Station House at Katfish Katy's without trying their Katfish Tacos or the Big Tree Burger. There's nothing better than pulling up a seat on their huge covered patio and enjoying dinner, drinks, and live music.
"I love Katfish Katy's," says Ann Merrifield, senior director of alumni relations at Columbia College. "It sits right on the Katy Trail and is down the road from the famous bur oak tree. And their jalapeño hushpuppies are fantastic — as long as you have a cold beer to go with them!"
Katfish Katy's has been a household name for those who enjoy the trails around Columbia for many years. If you haven't been there lately, you'll notice they've rebranded as The Station House at Katfish Katy's. Owners Zac and Laura Cutler finished the remodel and opened for business in September 2016. They offer a full-service kitchen, bar, and live music with covered patio seating for up to 120 people.
"I'd say we're most known for a lively outdoor dining and music experience," says Zac Cutler. "Our menu is designed to be simple but good. We're a comfortable distance from Columbia on the MKT/Katy Trail, so on nice weather days we can have a great crowd from cyclists as well."
In addition to music, they also have various games and events like bike-in movies and outdoor lawn games, and they host private events throughout the week. "Laura and I love The Station House for many reasons, but I think our favorite thing is that The Station House is designed to be relaxing for our customers," says Zac. "We like that it's a fun, family friendly mini vacation right in Columbia's backyard."
One of their best kept secrets that brings patrons out is the family atmosphere. "I'm not sure it's a secret anymore, but we've been able to be very kid-friendly without sacrificing being mom- and dad-friendly," says Zac. "We've had a great response from nearby families. Many have become regular customers that we see almost every weekend."
8825 W. Sarr St.
Open April through October
Friday 5 to 9 p.m. and Saturday and Sunday 11 a.m. to 9 p.m.
Katfishkatys.com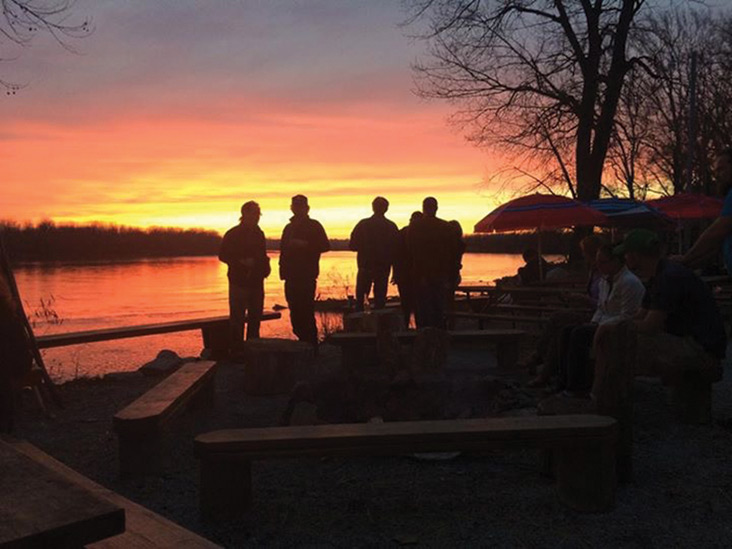 Cooper's Landing
There's something fun about a neat, funky Thai food truck overlooking the river. Couple that with a laidback music venue and BBQ food and salads coming from the General Store and you have the recipe for the perfect evening at Cooper's Landing.
"People love it, they love the idea of it — the rustic feel and authentic food," says Vanessa Leitza, general manager at Cooper's Landing. "People from all walks of life enjoy our little oasis. We are always family friendly and enjoy getting to know new people."
Mike Cooper purchased Cooper's Landing 32 years ago with the idea of starting a bait shop and a handyman service. At the time, Katy Trail construction was underway along the old railroad, and he saw it as a great opportunity as well as a beautiful place to live.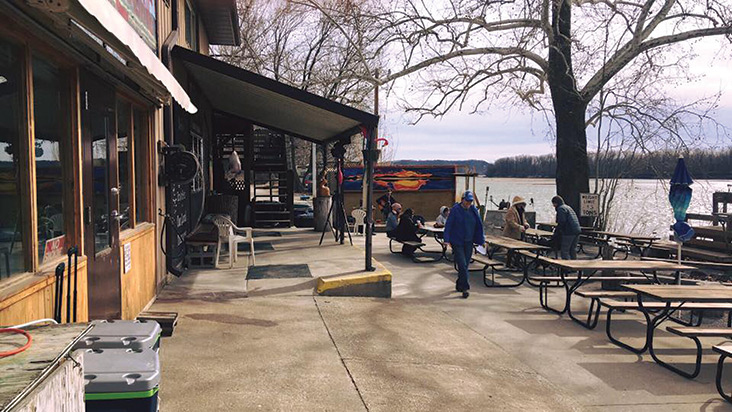 "Our best kept secret are the sunsets," Vanessa says. "Every single one is brilliant, different, and we offer one of the best views to see it from the river."
Today, great weather and good music draws in crowds. "Our varied beer selection has become an attraction, mainly due to the low prices we keep due to low overhead costs. No one is ever in a hurry at the river: People are encouraged to stay as long as they'd like, to visit with friends, enjoy the music, or sit by the fire," says Vanessa. "Chim's Thai Kitchen remains a big draw for people from Columbia and surrounding areas as well as bikers and hikers on the trail."
"Eating at Chim's on Cooper's Landing is like eating the best street food in Thailand while sitting at a picnic table by the Missouri River, listening to live music," says Stacie Pottinger, owner of Rogue Studios. "It's something you just have to experience first-hand."
Located at the Port of Nashville
11505 Smith Hatchery Rd.
Open year-round
April through October hours:
Monday through Thursday 11 a.m. to 9 p.m.
Friday through Sunday 7:30 a.m. to at least 9 p.m.
Cooperslanding.net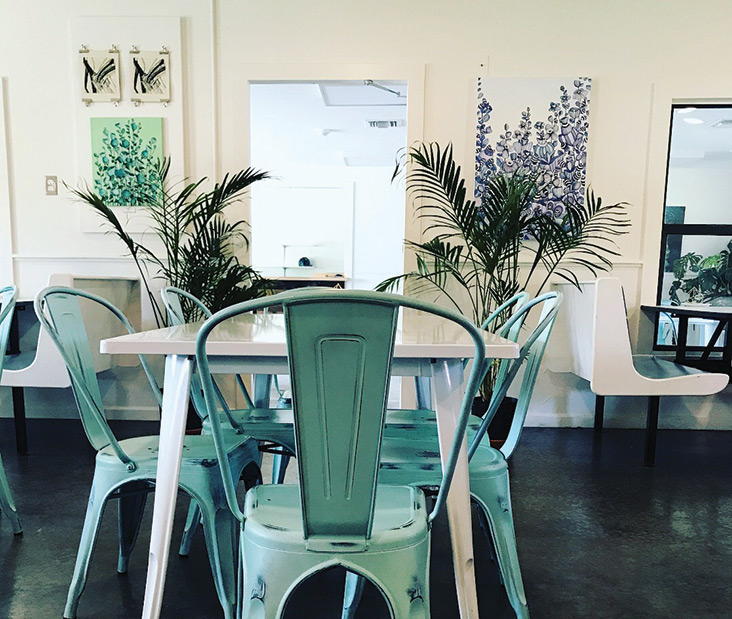 Meriwether Café and Bike Shop
For those early risers, Meriwether Café and Bike Shop is the perfect stop along the trail to grab breakfast and sip your coffee on their patio. "We have really developed a crowd following for our breakfast menu and pastry selection," says Brandon Vair, who owns Meriwether with his wife, Whitney.
Try their take on a classic by ordering their buttermilk pancakes with Fretboard coffee, or, if you're looking for a hearty breakfast, order their best-selling Louisiana Purchase. "It's your choice of Show Me Farms bacon or sausage, two local eggs from Fed from the Farm (located outside of Boonville), home fries, and two huge buttermilk pancakes with fresh berries," says Brandon. "It's a doozy! So much tasty food. People love it."
Their entire menu is made from scratch using responsible stewardship of the land and quality ingredients. Focusing on local ingredients "allows us to continually recreate our menu, making it as unique as the seasons," says Brandon. "We pride ourselves on locally sourced proteins and scratch-produced pastries that vary from brioche cinnamon rolls to our Honey Sunny cookies."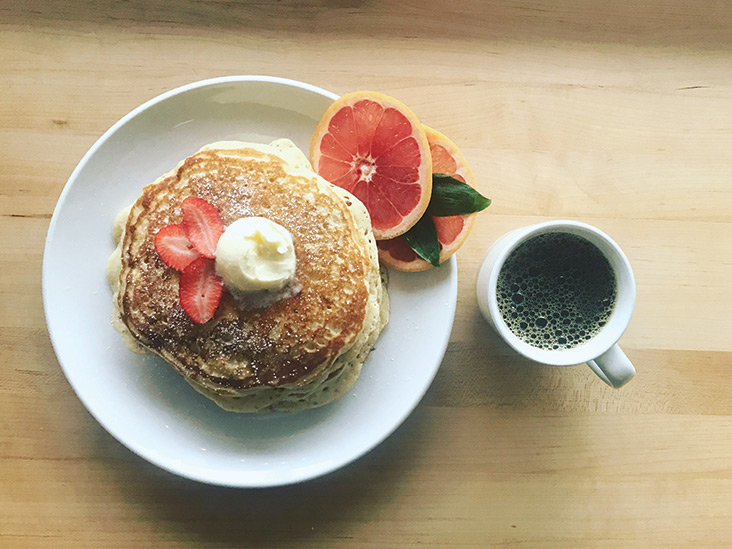 Located right along the Katy Trail in Rocheport, the Meriwether Café opened on June 14, Flag Day, in 2017. "Rocheport is such a beautiful rural town that has a lot of recreation and commerce," says Brandon. In addition to their café menu and pastry selection, Meriwether Café offers bicycle rentals, special order cakes, and small-event catering services.
Entering their second season on the trail, Brandon says Meriwether Café's best kept secret is their entire operation. "We will continue to provide a dynamic, scratch-made, and locally sourced menu coupled with friendly service and naturally charming atmosphere to build our customer base and get the secret out," he says.
700 First Street, Rocheport // Meriwethercafeandbikeshop.com // Breakfast served until 11 a.m. daily
Tuesday through Thursday 8 a.m. to 4 p.m. // Friday through Sunday 8 a.m. to 8 p.m.