The Caring People: Providing Care to Single Moms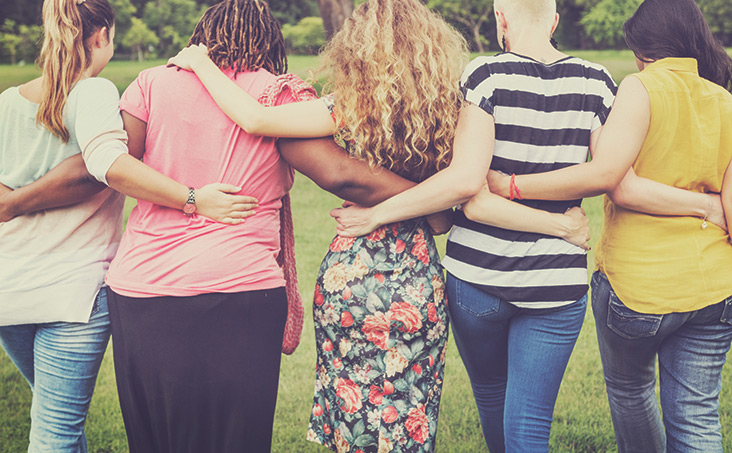 In 2002, JoDee Herschend, a Springfield resident, had a powerful dream that drove her to start an organization to bring the love of Jesus Christ to those who are struggling. After several trial programs, Herschend formed The Caring People, and she sharpened its mission: to train Christian women to lead Christ-centered care groups for single mothers.
The Caring People now serves single mothers throughout the Midwest in over 30 locations. In Columbia, there are currently five Caring People chapters based out of local churches.
Care groups have weekly meetings to help single mothers connect with other women who are going through similar struggles in similar stages of life. "[We] offer support emotionally and spiritually for single moms," says Cheryl Harrison, Columbia city co-chair.
Each week, care groups, including the children of any members, meet and begin with a meal. After, children and mothers are separated for 45 minutes of specific programming.
"We pray together. Care group leaders need to have a plan, but the needs of the moms might take you someplace completely different," says Ava Summers, Columbia's other city co-chair. "If there's a mom who is in a really bad place and needs us to just listen, or to pray with her, the evening might go somewhere different, and that's OK."
Creating Connection
Care groups are led by "Caring Women" who have a strong faith and passion for helping others.
"We have wonderful training," Harrison says. "We train our Caring Women who are there for the single moms as mentors. They help them through life. We want to establish a very trusting relationship with single moms and help them create the same relationships with other single moms."
Care groups provide different topics of discussion each week: bible study, book study, self-care classes, parenting classes, budgeting classes, and healthy relationship classes among them. Harrison recognizes that single mothers have a tendency to isolate themselves, so building the trust between members allows for a different kind of growth. "Our whole focus is to get them networked so that they can have somebody to go to," she says.
To bring a sense of community to the care groups, Caring Women stay in close contact with the group members.
"We're always in contact with them. Whether it's phone calls or emails, we want to check on them, especially if they miss a group meeting," says Harrison.
One of the biggest challenges the organization faces is gaining trust of the single women they serve. Caring Women teach their care group members that all group meetings are confidential and come from a place of genuine kindness and love. Weekly meetings convey a consistent support system for the single moms.
"We are the only nonprofit organization that guarantees consistent meetings once a week throughout the entire year," Harrison says.
"Sometimes you can get discouraged that you're not making any headway," Summers adds, "but when you get to witness the light come on, all of the setbacks are worth it."
Although the focus of the organization is on single mothers, children can directly benefit from the care groups as well. As a teacher of 30 years, Harrison notices changes in children of single women who benefit from care groups.
"Child behavior issues and acting out are a direct result of the instability of a single household," she says. "It's wonderful when we can give a single mom tools to be able to help her children. Their children are their focus. If they can't take care of their children, then that is a big issue for them. It trickles down — whatever tools the single mom takes away, she uses them with the children."
Meeting the Need
In its initial years, The Caring People found itself growing without much struggle.
"We got the word out through churches," Harrison says. "A lot of churches don't really have a support system for single moms. Single moms are very leery about going into churches in fear of being judged or criticized. It's different with a care group, because it's something that shows the love of Christ."
The Caring People now holds an annual fundraiser at one of the Herschend family's theme parks — Silver Dollar City, in Branson. In the summer, they also hold a picnic for members and their children. In the winter, Caring members and their children can also attend an MU Women's Basketball game.  The group designed their event schedule to encourage its single moms to come as they are, even to fundraising events.
"We don't expect you to dress up or to have anything besides yourself because then we can show you a loving, trusting, and relational environment," Harrison says.
As the organization expands, goals expand as well. The Caring People hopes to have 10 care groups in Columbia — double the current number — by the end of 2018.
"We want to become known," Summers says. "We want people to recognize who we are and what we do. I'd like us to be a place where anyone who comes in contact with a single mom who could use support would send them to us."
As for the single moms, The Caring People hopes to empower them with Christ so that they know that no matter where they are, what they're doing, or what their circumstances are, they are not alone.
Founded In
1997
Mission
To bring the unfailing love of Christ to single moms.
Goals
Find volunteers; boost fundraising; organize single mom celebrations
Organization
Karen Stone (regional director)
Ava Summers (regional co-chair)
Cheryl Harrison (regional co-chair)