Fuzzy's: Introducing Taco Heaven
"Taco heaven," a term coined by Fuzzy's Taco Shop, is a spot-on description of the Fuzzy's experience. Located downtown on Ninth Street, at first glance Fuzzy's is your regular, run-of-the-mill, brightly painted taco shop. But on a second look, it's clear that Fuzzy's is nothing of the sort.
My Fuzzy's experience started with a warm welcome and an ice-cold margarita (which is how I prefer to be greeted all the time). Drink in hand, I perused the menu; however, I ultimately relied on Assistant General Manager Terrence Rieves to suggest what I should order. I kept it classic, ordering a chicken and shrimp taco, while my friend kept things interesting, ordering the shredded brisket taco. Terrence kept us company while we waited for our food, telling us all about Fuzzy's — and maybe allowing us to sample some of their Patrón.
All the food, down to the shredded cheese, is made in house. Each ingredient is chopped, sliced, mixed, and cooked fresh every day. I could taste the difference. Each drink is made with fresh ingredients too — meaning no sour mixes here. They raise the bar by slow cooking their brisket for 12 to 15 hours each day. Columbia's favorite taco is the Cali Heat, which is tempura shrimp, bacon, avocado, feta, shredded cheese, pico de gallo, and Sriracha lime sauce.
You'll probably go for the food, but you'll stay for the margaritas. Any taco shop can have margaritas, even flavored ones, but it takes a unique place to serve the specialty margaritas that can be found at Fuzzy's. The Peach Fuzz is a champagne-infused peach margarita complete with a mini bottle of champagne as a floater. The ever-so-famous Big Walt is made with Blue Curacao layered with 'Fuzzy Driver,' which is a tequila-based screwdriver, and topped with a bottle of O'Fallon's Big Walt Lager. Because why have just a margarita when you can have a beer as well?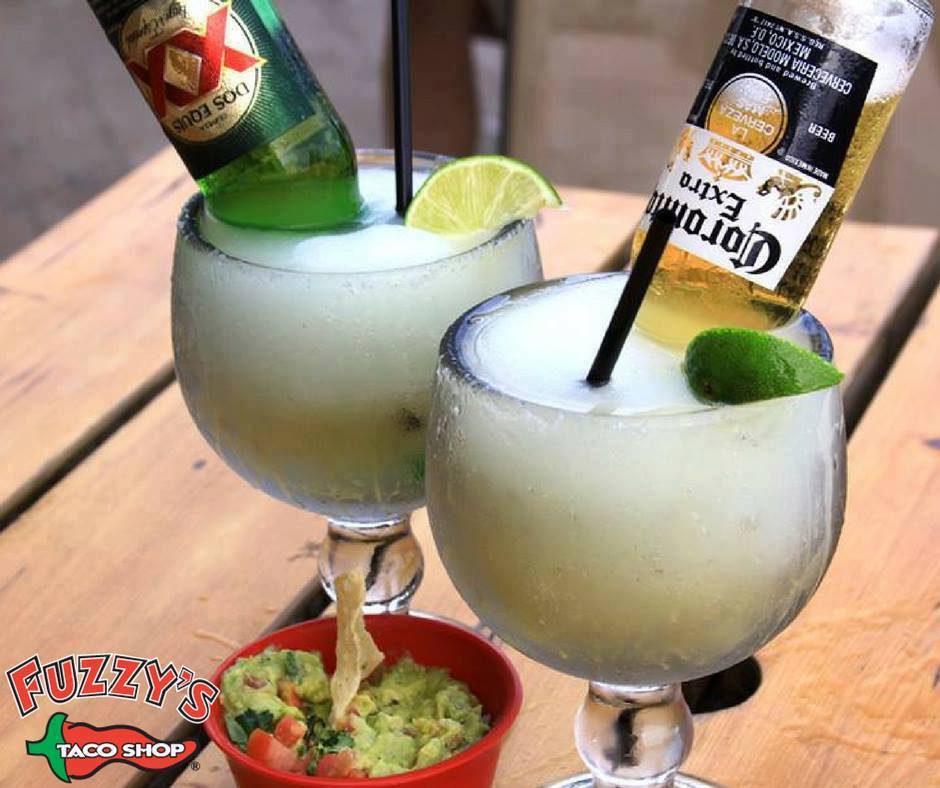 Fuzzy's originated in Fort Worth, Texas. A father-son duo, Alan and Chuck Bush, purchased Fuzzy's from its founder back in 2003 and have since expanded to more than 100 locations. Fuzzy's makes it a priority to include the individuality of each community in every shop. They call themselves the "Bob Ross of taco shops" because to them, every new shop is a blank canvas.
Fuzzy's believes that there are never enough opportunities to expand, which is why they have their own handcrafted barrel-select Patrón and their own hot sauces. (Pour with caution, they are very hot.) They have also created Missouri-themed apparel, and Kansas City, St. Louis, and Columbia are proudly represented within their brand.
Fuzzy's most surprising element might be their hours: 8 a.m. to midnight. For those who wake up craving tacos, you can start your day with Fuzzy's breakfast menu, which includes huevos rancheros and a breakfast taco plate. Terrence ensures that the kitchen does not close until the clock strikes 12 — so should you show up at 11:55 p.m., you will be served. Be watching for a second location opening on Nifong soon.