The Best Kept Secret in Columbia
photos by Keith Borgmeyer and Sadie Thibodeaux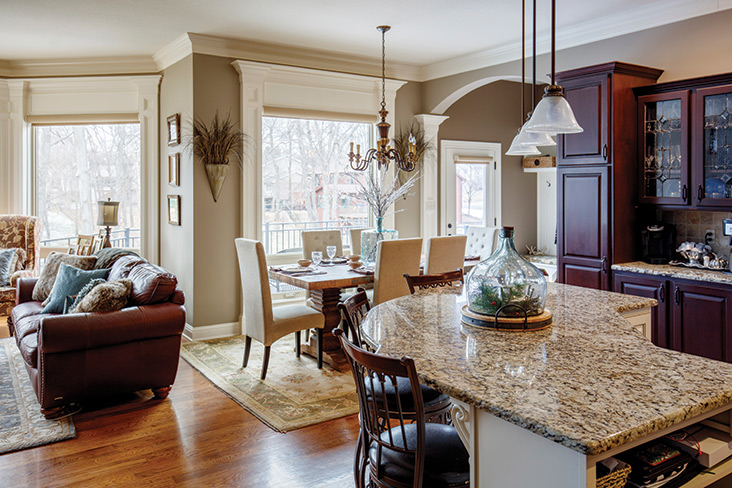 How a house in Cedar Lake became home to three friends.
Originally brought together by their daughter's dance classes, Pam Massey, Dana Hofsess, and Grace Johnston-Elder sit together once again around the kitchen table at 4829 N. Cedar Lake Court. There's a well-established comfort among these friends, who have known each other for more than 30 years, much of it built through the house they've shared — each has taken a turn owning the home. As their daughters have grown, the women have remained close, and the home represents a consistent connection to one another.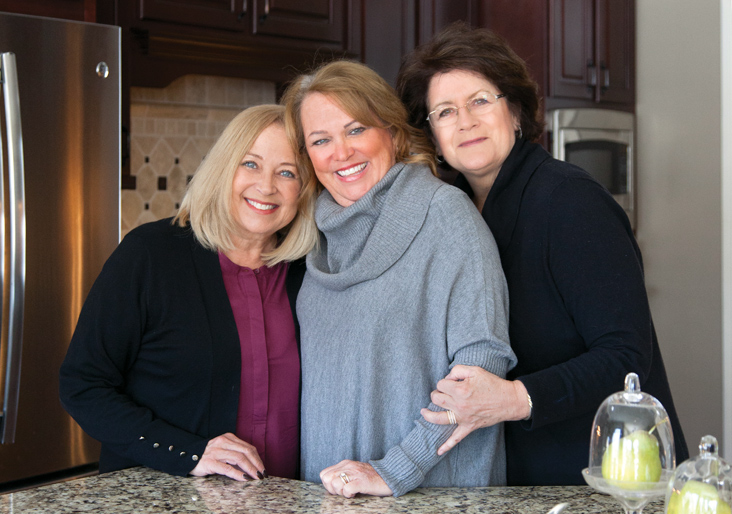 Dana and her husband purchased the pie-shaped plot of land on Cedar Lake in 1979 and built the house from the ground up. They were involved in every element of design, and their first daughter came home from the hospital to this house. The women mark the passage of time using their children's ages or their year in school. These parental reference points help track the women's collective history in the home.
Dana sold the house to Grace in 1987 when the Hofsesses moved to a larger, 10-acre lot. Grace loved the safety of the cul-de-sac, perfect for her daughter, who was 1 year old when they moved in. "We were in a split foyer on the other side of town, and the idea of a ranch, a fireplace, on a lake — it blew us away," Grace says.
During Grace's ownership, her family made several interior changes. Grace and her husband, Ron Elder, former owners of Johnston Paint & Decorating, repainted, redid the flooring and woodwork, and added a deck to the master bedroom.
When Grace and her family were ready for a bigger home, she never even put the house on the market. "I always told Grace, if you ever want to sell your house, we'll buy it," Pam says. "And we did."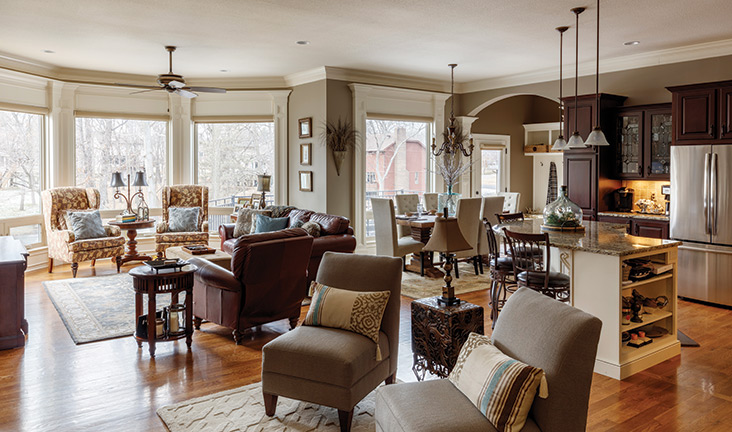 Pam's family moved into the house in 1994 and lived there for 16 years before they began renovations."We thought of moving because I wanted something a little bit bigger, but there were no lots," Pam says. "There was nothing. And I just couldn't leave. So that's when we decided to remodel."
Pam collected magazine clippings and constructed a pre-Pinterest vision for the home. She wanted to design a progressive but traditional space, and her influence is felt in every room of the house's most modern incarnation.
"It's everything," she says. "I love this house. I won't leave it."
Pam and her family had the entire back of the house removed and replaced to expand the square footage and improve their view of the lake. The back of the house faces the water and is made almost entirely of windows, which shed beams of natural light that bounce off the 10-foot ceilings, which they also raised during the renovation.
The master bedroom sits in the back-left corner of the house and has a sweeping view of the water. The women laugh about Pam's makeshift bedroom during the construction. "Did we tell you that they lived in the dining room?" Grace asks. Pam explains that the dining room was one of the only rooms in the house that wasn't affected by the remodel.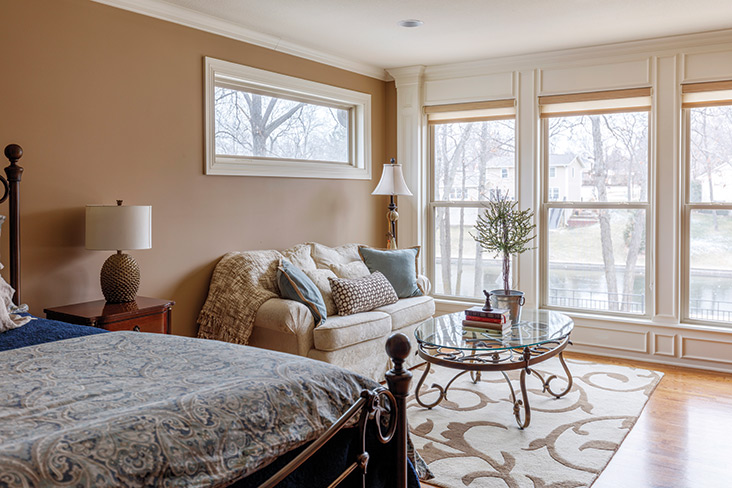 The original galley kitchen was expanded to fit Pam's desire for an open floor plan. The kitchen now overlooks the living room from behind a custom island — an island Pam saw in Grace's kitchen.
"She went over and copied mine," Grace says.
"I did," Pam says. "They made a template of it and brought it over because I loved the shape of it. It's the exact same."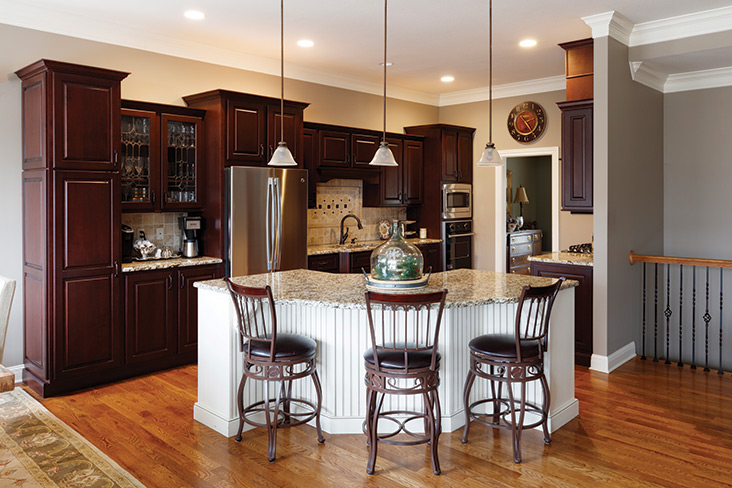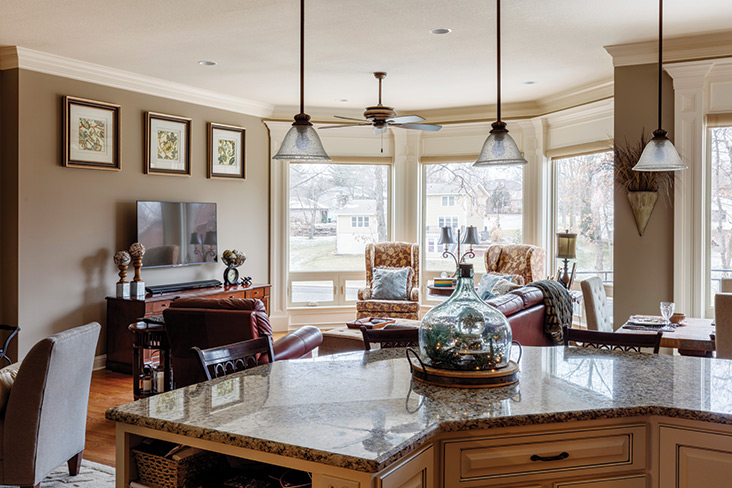 Pam, Dana, and Grace are all retired now, and they credit each other and their other girlfriends with helping ease the transition between full-time careers and retirement.
"I think our husbands know where our girlfriends are in the order of things," Grace says.
"And I will say, that is the one thing that has really helped me through retirement," Dana says. "I didn't have time for a lot of that before, and I have spent so much of my retirement getting to re-know people and getting back in contact with people. It's been so much fun."
Grace blinks back a sudden wetness in her eyes. "Here's a wonderful example of our friendship," she says. "My daughter's wedding shower was here. And her baby shower is going to be here. Now what does that tell you? Isn't that something?"
Grace says that her mother, Mary Lee Johnston, always called Cedar Lake "the best kept secret in Columbia." But the joy these women find in each other is anything but secret — the home that has passed among them is a clear manifestation.