Shopping Local Antique Malls
by Doug Solliday, Douglas L. Solliday Antiques
photos by Sadie Thibodeaux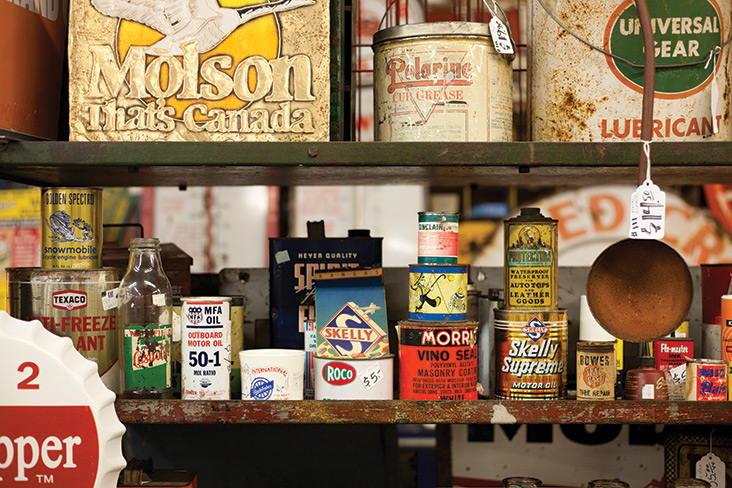 Winter offers stocked booths and empty aisles.
We're very fortunate to have three large and successful antique malls here in Mid-Missouri. They show a wide variety of merchandise and furnishings from the early 1800s all the way to the modern mid-century and late 20th century. And you can set aside the image of dusty, dirty, foul-smelling warehouses you might have encountered in your previous antiquing travels — Columbia's malls are clean, organized, and generally well-lit.
Mid-February is a perfect time to go antiquing. Traffic is light, so the booths are fully stocked and the aisles are wide open. Give yourself somewhere between 90 minutes and two hours to fully experience each of these options, all of which happen to be right off the highway.
ARTICHOKE ANNIE'S
Let's start at the east end of town with Artichoke Annie's Antique Mall on the southeast corner of I-70 Exit 137. Artichoke Annie's is owned and managed by LouAnn and David Riggs. They named the store after a restaurant in Southern California that was a favorite haunt before the couple relocated to Missouri. (Artichokes happen to be their favorite vegetable too.) Artichoke Annie's is clean and well-organized, with 200 booths and 50 showcases. They try hard to keep contemporary merchandise out, but the 1970 cut-off date is more flexible than it used to be. They're open 8:00 a.m. to 8:00 p.m., so almost anyone can find a time to visit.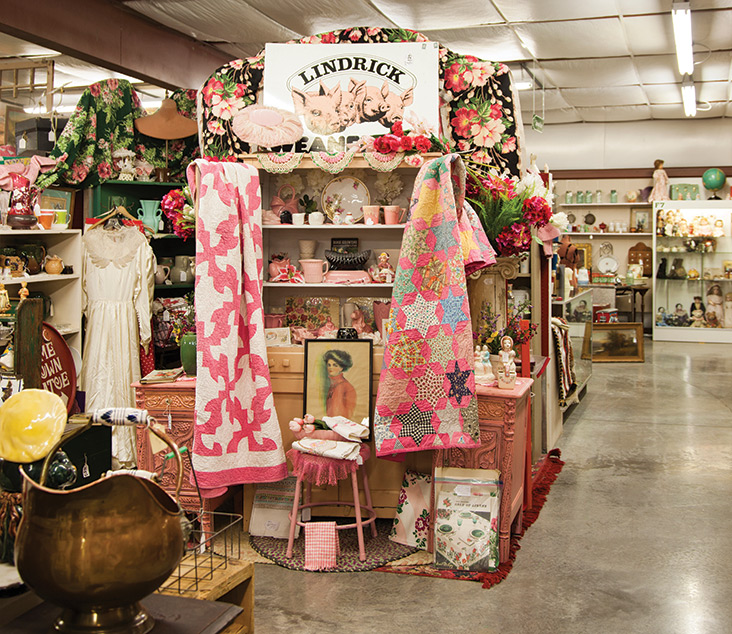 VERANDA ANTIQUE MALL
Moving west, on the southeast corner of I-70 Exit 133 is Veranda Antique Mall, owned and managed by Levon Gish. Located in what was once a dance hall and then a furniture store, the mall has plenty of space for its 100 booths and 35 showcases. This mall is neatly organized by a very friendly staff. I don't know why, but I always get the feeling when I visit that a great find is just around the corner.
MIDWAY ANTIQUE MALL
West to Exit 121 we find the Midway Antique Mall, located on the hill behind the Midway Travel Plaza. The mall is owned by Joe Bechtold and managed by Kathy Eimel. With 500 booths and 28 showcases, the facility is a little more spacious than other antiquing spots in town — planning a little extra time might be a good idea. There's quite a lot of new merchandise at this mall, but that can be as fun in its own way. It's clean and bright inside — the building was once a horse show arena, but it has been totally upgraded.
Across the parking lot, if you have the time, is a new venture called 121 Consignment Furniture, managed by Dwaine Witte. This is a consignment business with contemporary furniture and a few antiques. Stores like this one are opening in many cities across the country, altering the retail furniture and antique landscape. It's definitely worth a walk through.
Last bit of advice: antique malls are a little like museums — more than two hours of looking and one's eyes start to cross.
Happy hunting!
I-70 Antique Malls
Artichoke Annie's Antique Mall
Southeast corner of Exit 137
573-474-2056
8 a.m. to 8 p.m. daily
Veranda Antique Mall
Southwest corner of Exit 133
573-814-3600
9 a.m. to 6 p.m. Monday through Saturday; 10 a.m. to 5 p.m. on Sunday
Midway Antique Mall
Exit 121 behind Midway Travel Plaza
573-445-0042
9 a.m. to 6 p.m. Monday through Saturday; 10 a.m. to 5 p.m. on Sunday
121 Consignment Furniture
Exit 121 behind Midway Travel Plaza
573-445-4226
9 a.m. to 6 p.m. Monday through Saturday; 10 a.m. to 5 p.m. on Sunday