photo by Rebecca Allen Photography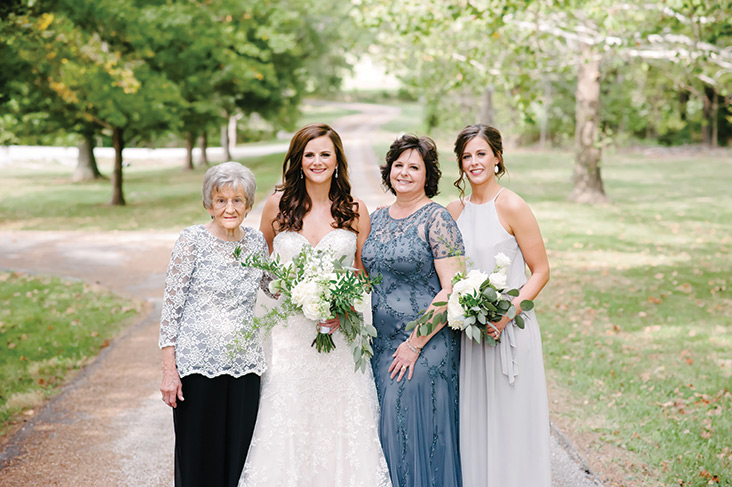 Sisters Anne and Kate Osbourne wed just months apart.
In the midst of working with Anne Osbourne, one of my brides this season, I found out that her sister, Kate, was getting married just a few months before her. While I see this a lot with friends, to see it with two sisters is an entirely different, potentially complicated thing.
As a wedding planner, I help brides choose all sorts of things: their linen color, what band is best to keep the dance floor packed, etc. But family dynamics often keep me busier than anything else. So when I heard Anne and Kate were getting married so close together, I was intrigued to say the least. How was the planning going for them and their mother?
I must say I am delighted — smitten, really — to share their experience after being a part of Anne's big day on October 14 at the Sorenson Estate. Her family restored my faith in weddings!
From the very start, Anne and Kate's mom, Lori, made it very clear to her daughters that the key to planning their weddings in the same year was "Do not compare!" Just because one sister had something didn't mean the other one couldn't do it or couldn't do something completely different. I could dive into the specifics of each wedding — how they had different guest counts, vibes, and locations — but that would be going against mom's rule. Plus, that's not the real story. What magically aligned at these weddings is much sweeter!
Proposals
I think a standing ovation is deserved for anyone these days that takes the time, effort, and thought to ask for the blessing and permission of their future fiancée's parents. This old school tradition should be a staple in every engagement. Both the Osbourne sisters have men by their sides that took this seriously: each asked the ladies' parents for permission before surprising them with a proposal and celebration surrounded by family.
Dresses
Kate, being the first to get married, was very decisive. She knew exactly what dress was hers from the start, spotting a beautiful Allure Romance gown in a magazine. Anne, on the other hand, had no idea what she would end up with before she started her bridal shopping experience. The day she found "the one," she brought all the ladies, including her sister, with her to pick out their favorite; to her surprise, the one she fell in love with was nearly identical to Kate's pick.
Mom's Bridal Suite
Throughout the chats about the sisters' weddings, the "bridal suite" at their parents' house was referenced frequently. I came to find out that the ladies both stashed anything and everything wedding-related in a room at their childhood home. Early on in planning, Lori made both sisters a deal: "I will pay more for something if both of you use it!" Thus, they used the Bridal Suite, which made it much easier for the sisters to share. They ended up sharing whiskey barrels, signs, guest book pens, a cake knife, and a cake server. They even shared earrings, which ended up being Anne's "something borrowed," since she was second to walk down the aisle.
With a little coordination, a lot of heart, and far less drama than there could have been, each of the Osbourne sisters had the wedding of their dreams, and hopefully a happily ever after as well.