MidwayUSA: Passion for the Outdoors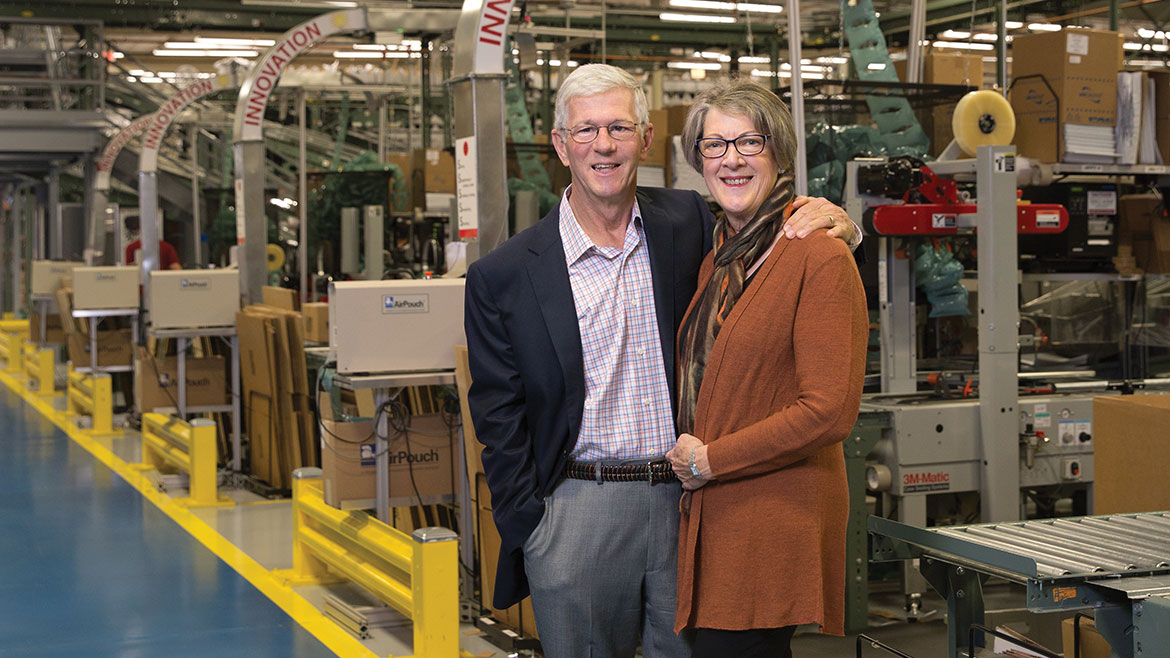 Hunters bagged more than 263,834 deer during last year's hunting season in Missouri. Boone County's total came in at 900 for the season, according to the Missouri Department of Conservation. It was another successful year for one of the Midwest's oldest pastimes.
MidwayUSA opened its doors in 1977 as Columbia's first gun shop. In its infancy, MidwayUSA sold guns, ammunition and other shooting goods in its 1,200 sq. ft. retail space. In the 40 years since, MidwayUSA has grown into an industry-leading internet source for outdoor products. The national retailer sells clothing, archery equipment, camping equipment, footwear, hunting gear, books, knives, and equipment for both the military and police out of their 21-acre campus located just off I-70 on W. Van Horn Tavern Road.
Larry Potterfield, CEO and founder of MidwayUSA, says the evolution has been simple.
"I like to shoot, hunt, reload, and do gunsmithing," Potterfield says. "It's just a matter of turning a hobby into a business."
Customer Satisfaction
Potterfield believes engaging the customers is a crucial part of MidwayUSA's business. He does that by writing stories about his experiences hunting and fishing with friends and family that he calls "Larry's Short Stories." He has written more than 200 short stories and has published two books for his customers' enjoyment. His short stories can be found on MidwayUSA's website.
MidwayUSA aims to have the products that the customer wants with the service that customers deserve. By keeping their website updated, offering new products and running the business properly, the company says they maintain a 94 percent customer satisfaction rate, according to their internal metrics.
Customers always come first – that's just how MidwayUSA operates. Midway has a consumer value proposition that describes its vision: 'To be the best-run business in America and the most successful, most respected business in our industry for the benefit of our customers,'" Potterfield says. "This is a pretty bold vision, and it's absolutely real."
Best-run Business in America
Midway has a list of values that guide the company — these are "non-negotiable family principles" which include honesty, integrity, humility, respect for others, teamwork, positive attitude, accountability, stewardship, and loyalty.
MidwayUSA earned the Malcolm Baldridge Award — a recognition established by U.S. Congress and given to businesses who implement successful quality-management systems — in 2009 and 2015. MidwayUSA has also been ISO-certified, signifying quality management principles, since 2008. They received the Missouri Quality Award in 2008 and 2015 and were named one of the best places to work in Columbia in 2011.
"MidwayUSA truly wants to be the best-run business in America," Potterfield says. "A business is simply leadership and management principles applied."
MidwayUSA also values its workers —415 of them, to be exact. Employee satisfaction is the company's No. 2 goal — by providing them with appropriate training, proper pay, benefits, and a respectful work environment, their metrics for employee satisfaction sit at 84 percent, right beneath customer satisfaction.
The company's third goal, supplier and partner satisfaction, hovers at 92 percent. The steps for that include clear, two-way communication, an ethical relationship, support of the supplier's product, and timely payments. MidwayUSA's shareholder satisfaction remains at 100 percent.
Their "satisfaction" model is really about making sure all sides of the business stay healthy. Every relationship is valuable, from vendors to customers.
"For me, it's a matter of figuring out how to run the business, figuring out what's most important, and doing that every day," Potterfield says.
Supporting the Community
Larry Potterfield and his wife, Brenda, established the MidwayUSA Foundation in 2007. It is a public charity designed to create sustainable financial support for the shooting sports industry by helping fundraise for youth, high school, and college shooting teams.
This year, the Potterfields donated $598,500 to the MidwayUSA Foundation to benefit youth shooting sports.
Over the course of 10 years, the MidwayUSA Foundation has paid over $16 million in grants and provided nearly 2,600 youth shooting teams with financial support while managing over $123 million in assets.
"At MidwayUSA, we love the customer," Potterfield says. "The customer always comes first, and that's a real, true statement."
TIMELINE
1977
MidwayUSA opens its doors as Columbia's first gun shop.
2007
Larry and Brenda Potterfield found the MidwayUSA Foundation to benefit youth shooting sports.
2008
MidwayUSA becomes ISO 9001-certified and receives its first Missouri Quality Award.
2009
MidwayUSA receives its first Malcolm Baldridge National Quality Award.
2015
MidwayUSA receives its second Malcolm Baldridge National Quality Award.
2017
40 years after starting MidwayUSA, Larry and Brenda Potterfield donate nearly $600,000 to the MidwayUSA Foundation to support youth shooting sports and outdoor activity.