Views from the Top: Drones in Mid-MO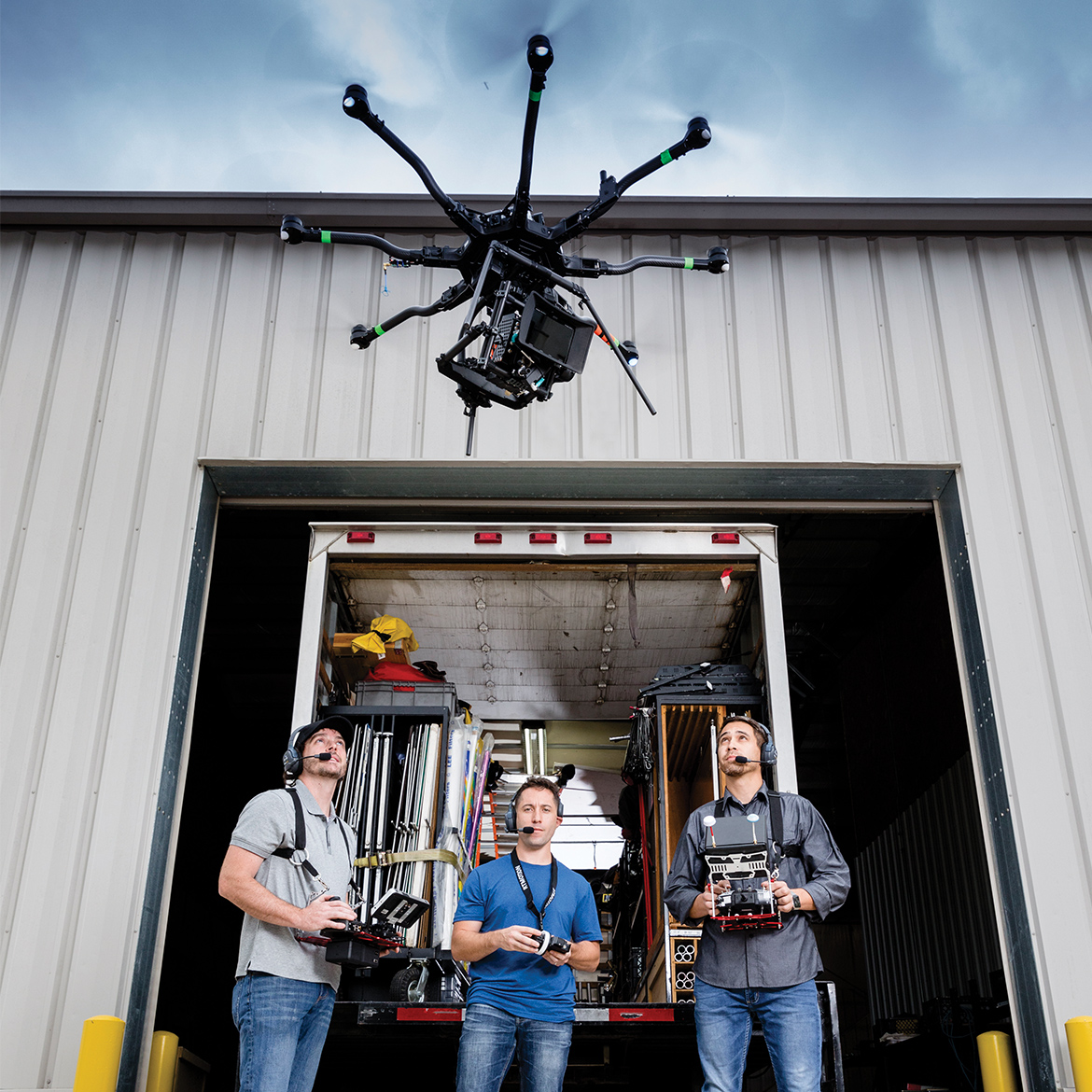 David Anderson's mental storyboard has grown exponentially in the past year.
Anderson, the owner and creative director at Columbia-based Chimaeric Motion Pictures, recently partnered with Aerial Playground owner Marcus Batton to purchase a Freefly Alta 8 drone. It has eight rotors, can carry up to 20 pounds of camera and equipment, and retails for around $18,000. The initial cost starts to seem worth it, though, when Anderson starts imagining the possibilities.
For example, if he and Batton want to shoot alongside a car speeding down the road, they used to need a second car driving alongside it and an especially wide thoroughfare to make it work. Now, they can hover their drone next to the car and get the same quality of shots. And that's just the beginning.
"It makes your vision as a director kind of limitless. You're not confined to the ground," Anderson says. "I don't have to think, 'What are we capable of? How tall of a ladder can we put the camera on?' Even if we're not doing what would be considered a dramatic, sweeping drone shot, we still have a lot more possibilities as far as where we can place the camera, how we can move it."
Business owners like Anderson — even those who aren't in the motion picture business — are adopting drones for a variety of reasons, including the impact they can make on their bottom lines. Real estate agents are finding ways to enhance their listings. Construction companies are getting more accurate site specifications to help keep costs down. Farmers can check up on their acres of crops cheaply.
An explosion in drone technology over the past decade has led to more reasonable prices for sophisticated hardware along with the proliferation of uses for businesses.
"I don't want them ever looking at another listing and thinking, 'Gosh, I wish my Realtor did that for me,'" says Katie Wagner, an agent at 573 Home Team in Columbia. "I want people looking at my listings and saying, 'Gosh, I wish my Realtor was doing what she's doing.' It's worth it."
As federal, state, and municipal regulations struggle to match the pace of innovation, drone pilots position themselves to both stay on the books and on the leading edge of a valuable service. It's manifest destiny on a new frontier.
"In the last couple years, it's been really hard to keep up with the technology that's advancing, not just in camera technology, but drone technology," says Ben Harris, of ECP Aerial Solutions in Columbia. "Everybody has been innovating very quickly. It's been very hard to keep up with how the technology has been moving."
New Heights
Last March, Jacob Thompson's aunt came to him with a proposition.
He'd been flying since 2011 and earned his pilot's license two years later. A political science major at MU, the 22-year-old Thompson hopes to become a pilot in the Air Force following graduation.
Thompson's aunt, a real-estate agent with Reece & Nichols in Kansas City, suggested Jacob look into starting his own drone photography business on the side. Why not head to the skies early?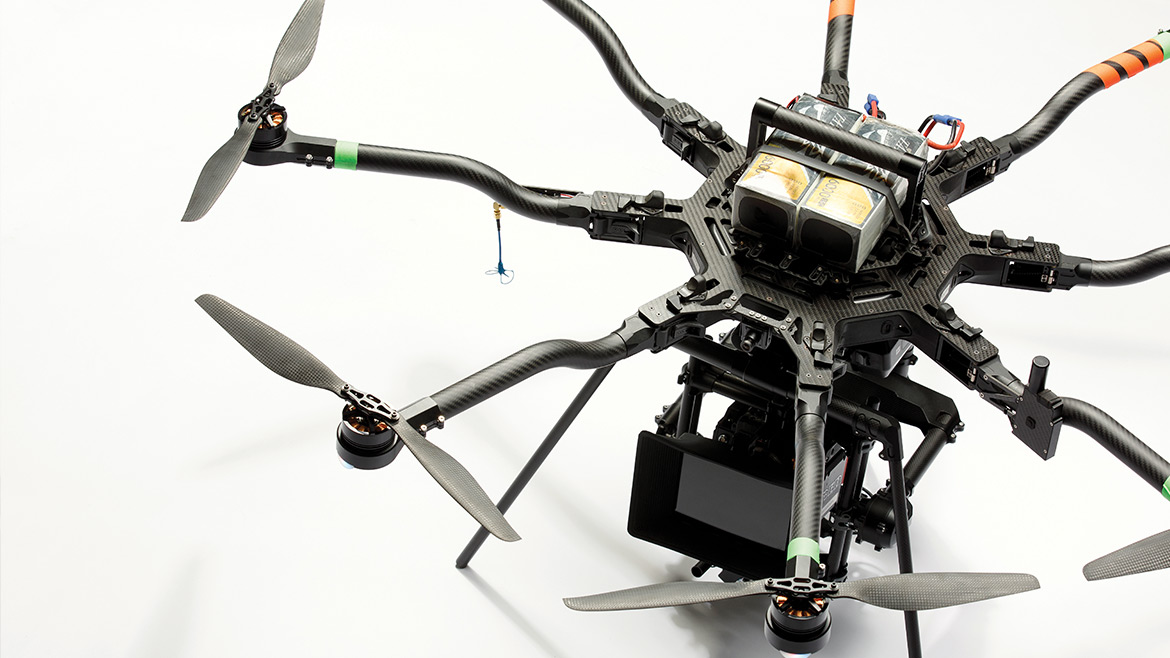 Last August, he earned his Part 107 certification, allowing him to fly drones for commercial use, from the Federal Aviation Administration and started Jet Streak Photography. In the past year, he says he's shot more than 250 property listings and has made as much money off the venture as the base pay of a second lieutenant in the Air Force.
"For Columbia being the market it is with real estate, it was the perfect place to start a company like this with little to no competition," Thompson says. "I'm basically just knocking down doors at agencies, going into their sales teams' meetings, and pitching the idea to them."
Not only can Thompson's DJI Phantom 4 drones snap any sort of aerial photos for a client, but they can also fly through the properties and provide video walkthroughs. He says it takes between 10 and 30 minutes to complete a shoot, and he can have photos and videos to clients within 12 to 24 hours.
Wagner, who contracts with Thompson for her listings, says about 15 percent of area real-estate agents utilize drone technology, but the vast majority only do so for high-end listings. Wagner sees the value in doing it for all of her properties.
"I just want to give every customer and client the benefit of technology," she says. "I think it's very important to spend the money and showcase the house in the best way I can, and I think the best way I can is through adding drone photography through all the listings. The main feedback we've heard is that we're always a step above what everyone else is doing."
Harris, of ECP Aerial Solutions, built his first drone in Australia five years ago. That model had some impressive, albeit rudimentary, features — GPS tracking, some automation — but they were difficult to fly and didn't have nearly the data feedback capabilities of today's models. He was still able to use them to check on wave buoys out in the surf for the renewable energy company he worked for.
He moved to the United States less than three years ago and bought his first drone off the shelf. He got his green card last August and started ECP. Now, he shoots three-dimensional models of sites for construction clients and helps farmers maximize their crop yields, among other things.
Harris has the technology to fly over acres of farmland and bounce waves off the crops on the ground on a nearly infrared level to show how much stress the vegetation is receiving in different areas.
"The mapping out I do will tell a farmer where they need to put more nitrogen into the soil, potentially where there might be disease," Harris says. "The farmers I've been talking to have been saying they can allocate resources better by using this precision agriculture drone technology. My software does a very rudimentary analysis of that data, then it's up to the farmer to see that and interpret that data, or give that data to their agronomist, who will then interpret and give that advice to the farmer."
Thompson says his familiarity with game controllers prepared him more for flying a drone than being his actual piloting experience. Batton grew up piloting radio-controlled planes. But no flight experience is really necessary for those looking to get a start in the field — some drones even have obstacle avoidance technology, so you'd almost have to be trying in order to crash one.
Judd Slivka, who runs the drone journalism program at MU, says he starts students with simple commands in a livestock barn with "fairly resilient" drones. Soon, they're ready to add aerial capabilities to their storytelling portfolio.
Slivka estimates a news helicopter costs about $1,000 an hour to operate. A drone costs a fraction of that. "[Media companies] McClatchy, Gannett, and Raycom are all companies that have some sort of corporate drone initiative or training going," Slivka says. "Also, if you look at something like a newspaper, which is traditionally set in a market position where they don't need to fly a helicopter, now they have the ability to get aerial coverage of some things that they would not have been able to get before. As the prices of drones go down, we now have an easy-to-control drone that shoots high-definition video, and it's $500. That was unheard of two years ago."
Regulating the Future
The FAA's Part 107, released last summer, requires commercial drone pilots to be at least 16 years old, be vetted by the Transportation Safety Administration, and pass an aeronautical knowledge test at an FAA-approved center. Pilots must also register their drones and, once they have them in the air, they must keep them in their line of sight, fly them below 400 feet and at or below 100 mph, fly them during the day, and not fly them over people unless they've received a waiver to do so.
Other than that, shades of gray abound.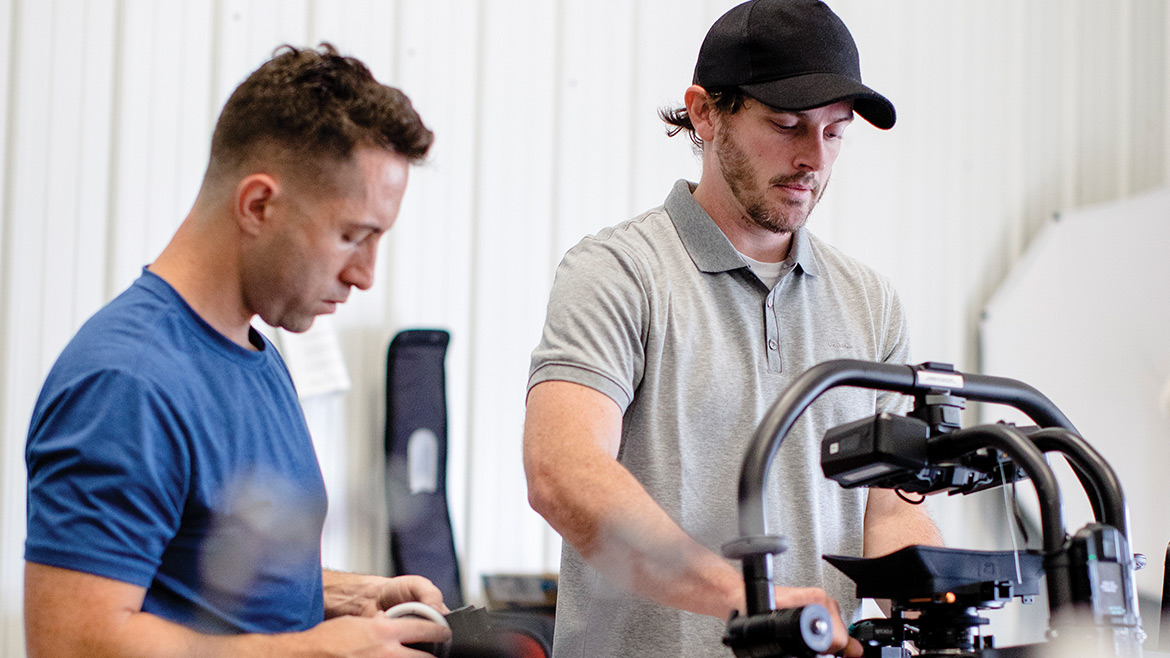 "The FAA would say it controls the airspace from above the blade of grass to infinity. So there's that question of who regulates the airspace. These are largely open questions," Slivka says. "We're trying to come to grips with a technology that's developing faster than regulation can keep up. If I'm flying up to 200 feet, I can look into a lot of people's yards. What is my presumptive right to privacy, or what is their presumptive right to privacy in that situation? We're still trying to figure that out."
Slivka's predecessor in the MU drone journalism program, Rick Shaw, helped university leaders craft the school's drone regulations before he retired in August. Slivka continues to be a part of those discussions. The MU News Bureau contracted his program to record aerial video of Tiger Walk at the beginning of the year, as well as the scene on Carnahan Quadrangle for the solar eclipse August 21.
When Thompson is shooting a listing, he makes sure not to shoot the roofs and yards of the properties around him even though, technically, there's no rule against it. Batton, too, says he and Anderson call ahead to make sure property owners know they'll be piloting a drone around the area before they set out on a project. Columbia has not codified drone procedures on a citywide basis.
"The way you would find out about policy would be you're on a location and somebody from that company and/or somebody from the city comes out and tells you, 'Hey, you can't do that,'" Thompson says. "Well I didn't know I couldn't do that. I'm flying this for a client, I'm totally within the rights of the FAA to be able to do this. It hasn't happened to me very often, but I think it would be better for states, cities, or whoever it is thinking it's on their property to state that openly."
Such are the difficulties of grappling with an ever-evolving revenue stream, one that continues to reveal its utility as the technology improves.
Slivka and his students can already livestream events from 300 feet in the air. Harris says he's close to a breakthrough that would allow him to record an event in 360 degrees and then plop a viewer down in it wherever he or she wants — if you want to be in the crowd looking up at a concert stage (virtually) you could do that; if you wanted to be the lead singer looking down at the crowd, you could do that as well.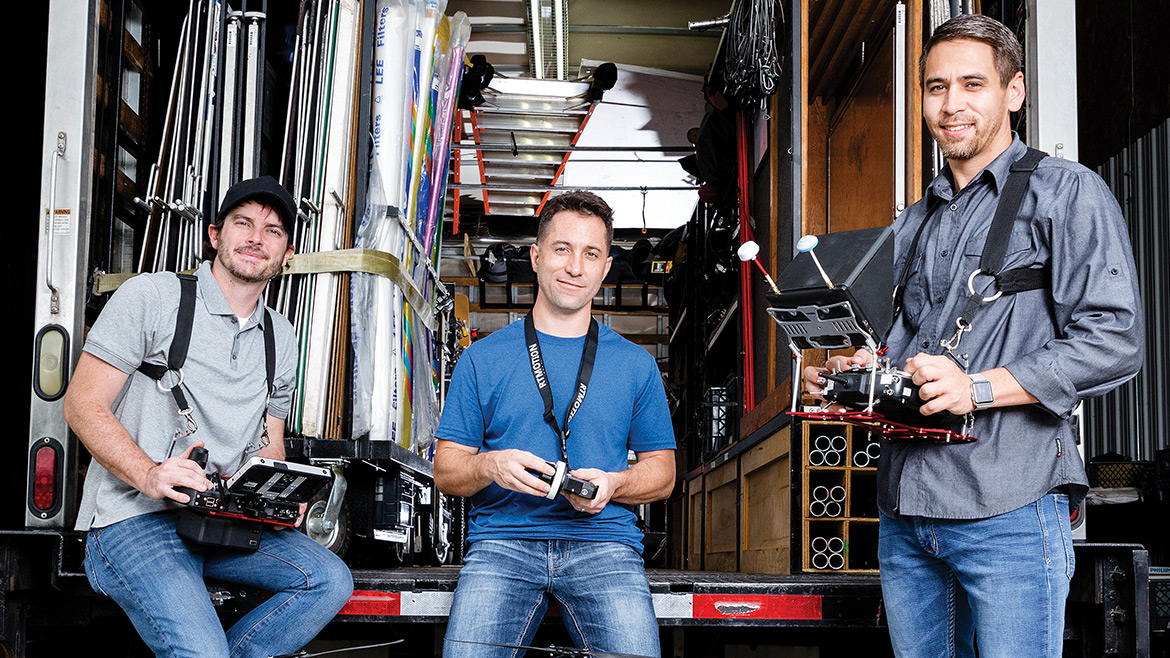 Batton and Anderson have their eyes on lighting technology: being able to attach a lamp to a drone and light a scene instead of having to send up a balloon or rig up some sort of intricate apparatus. The drone unleashes their imagination. And, with the recent pace of progress in drones, they can't even imagine what's coming next.
"Helicopter scenes, even spotlights from UFOs. You can do so much," Batton says. "I've seen them put hazers or fog machines on it so it'll leave a trail, and they'll put a digital object that kind of adds to that. It's endless."