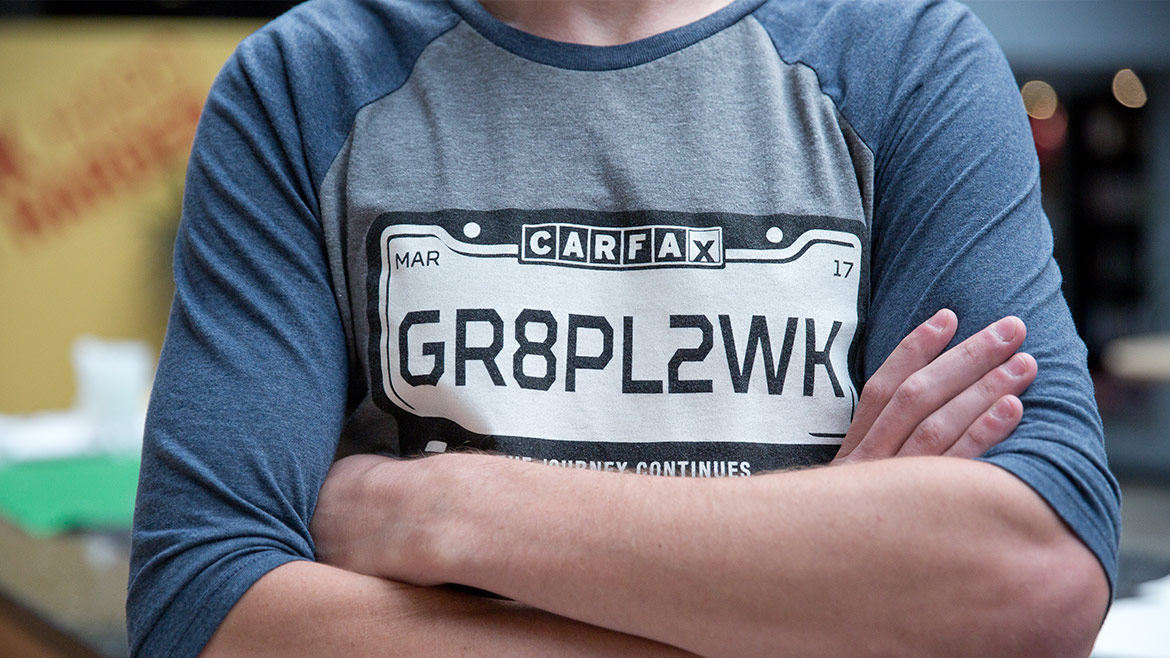 Every morning, when team members start filing in for work at Carfax's technology headquarters on Maguire Boulevard, one regular visitor stops by the human resources office to give a nod. And a tail wag.
Katie Lottes says "Bear" is one of her favorite dogs among the dozen or so canines that typically accompany employees to work at Carfax. The practice began after company president Dick Raines brought his dog into the office a year or so ago.
The four-pawed perk is just one of the unique features of a work culture that also offers ping-pong tables, shufflepuck, a variety of video game consoles, and up to $60 reimbursement for employees — they're called "team members" around the office —who purchase Fitbits.
"We promote a really healthy work-–life balance," Lottes says. And, starting in 2018, qualified employees will be eligible for six weeks of company paid parental leave.
But the dog-friendly aspect of the Carfax campus tends to get the most attention, and for good reason, Lottes says.
"We have a very casual work environment to begin with. Our employees have just loved it," she says. "It's just wonderful. It's a stress reliever."
The dogs aren't a challenge or a distraction, Lottes said. "We have a lot of good self-policing" among team members who bring a dog to work. If a dog disrupts a meeting, for instance — and Lottes can't remember the last time that happened —  the dog owner knows to take the canine out of the room. Some employees even crate the dogs in their offices if the employee is going to be in another part of the office for an extended period of time.
Carfax, a unit of IHS Markit, created the Vehicle History Report in 1986 for used car buyers, sellers, and the automotive industry. The company was based solely in Columbia at the time, where it was founded in 1984 by local entrepreneur Ewin Barnett, working with Robert Daniel Clark, an accountant in Huntington, Pennsylvania. In June 2013, IHS, a business information and analytics firm, spent $1.4 billion to buy Carfax's parent company, privately held R.L. Polk.
IHS Inc. officials said the deal would help the company build its stake in the automotive industry. Carfax has since developed a number of services — like Carfax Used Car Listings and myCarfax — that make it easier to buy, sell, and own a used car. The company maintains a database comprising over 18 billion vehicle history records from more than 100,000 sources worldwide.
The company kept its programming center in Columbia when it moved the corporate headquarters to Centreville, Virginia, in 1993.
While the now-familiar Car Fox branding mascot is a staple of the company's marketing, the Carfax work culture continues to stand out as well, earning kudos from the Washington Post and other publications, emphasizing the company's open and innovative workspace, "team-first" culture, and mission. The focus on work-–life balance begins with Raines, who is cited by several sources as saying, "People come to Carfax for our culture and they stay for a career."
Homegrown
The Columbia facility, the company's tech headquarters, now has about 190 employees. Most are engaged in some aspect of the company's technology: software development, programming, research and development, systems engineers, and more.
The company's investment in and reliance on technology — retiring legacy systems "as soon as possible," chief technology officer Joedy Lenz says — presents a challenge when it comes to making sure there's an adequate, trained, and qualified workforce. Lenz has continued to nurture the company's close relationship with MU's computer science program, which produces interns for training as future employees.
"We do recruit nationwide," Lenz says. "But a good percentage are, if not Columbians, Missourians."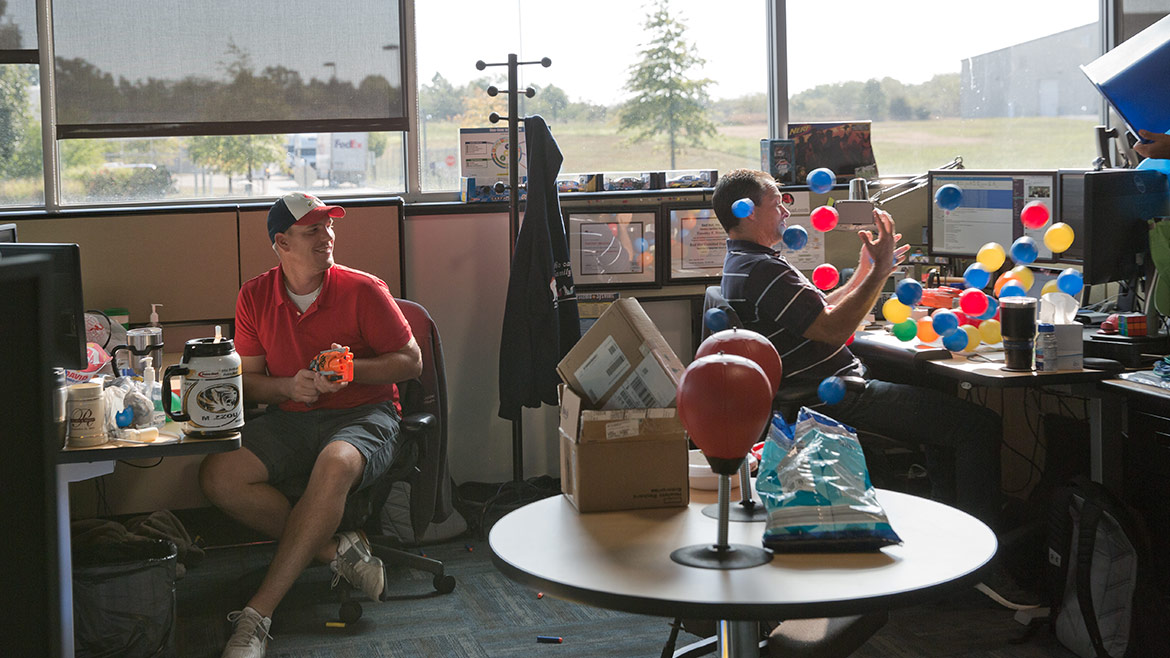 Lenz, who also manages the Columbia office, is on the MU business advisory board in the Department of Computer Science. That relationship has helped foster a steady stream of enthusiastic and qualified interns from the MU campus as well as the Missouri University of Science and Technology, in Rolla.
"We hire a good percentage of those people," Lenz says. "We very much like to hire local when that talent is available."
Five years ago, Carfax invited local community and economic development officials to its remodeled facility to showcase a 15,000-square-foot expansion — now for a total of around 40,000 square feet — that had been two years in the making. A few months later, in January 2013, the company shifted some of its data storage to a facility in Texas that works with about 10 employees. There's also a data center in New York with roughly the same number.
Lottes said the company has more than 800 employees, including a number in sales positions who work "on the road," she says. "That way we have presence in multiple locations."
And considering the mobile nature of the sales reps as well as company executives — and now a facility in Texas — Lottes says Columbia Regional Airport's expanding flight roster is beneficial, especially the flights to Dallas.
"It is a positive for us," she says. Managers can come and go in a day or less, rather than losing productivity to travel. It's part of the symbiosis between company and community that has allowed Carfax to keep an office in Columbia, even as the company has expanded across the country.
Just as Lottes points out the community's benefits for Carfax, there's also an array of volunteer activities and civic involvement from the company and its employees. In Columbia, Carfax has long-standing connections and support for Great Circle, the Central Missouri Humane Society, and Youth Empowerment Zone. Even employee events pay dividends for local organizations — each Friday, a team of employees prepares a noon meal for all employees on a rotating basis, and the team in charge always prepares additional food for the Ronald McDonald House in Columbia.
Lottes says the company hosted a group of young people from Youth Empowerment Zone in September "to talk about traditional and non-traditional IT jobs."
"It was great to have those kids here," she adds.
Central Missouri Humane Society, which is the recipient of donated computers and tech network help from Carfax systems engineers, also receives active support from Carfax employees for the nonprofit organization's Whiskers and Wine annual fundraiser. The company also contributes to and provides additional support for Great Circle's annual golf fundraiser.
"It's hard to stress how great it is to work here," Lottes says. "I take it for granted sometimes."
Staying Quick
Lenz had a military and technology background before joining the company. He came to Columbia's Carfax tech headquarters from Medco Health Solutions in 2011 as the facility expansion was getting underway, one of three additions to the current location. The expansion was intended to accommodate another 50 employees from the roster of 155 at the time.
"We're getting close to that," Lenz says, referring to the current employee base of 190ish.
Carfax also emphasizes to its team members — and to the tech community in general — that a strong technical workforce is dependent on local companies working together as much as possible to enhance Columbia's standing as a prime location for tech businesses to open up.
"While we have a really strong technical workforce, we need more companies to come here and build a technology center," Lenz said. "We need to make sure that everybody in town is constantly upgrading" to new technology and services to attract workers with "proven skill sets."
Having a well-trained and quick-moving technical staff is pivotal when Carfax needs to respond to a crisis. Recent events — disastrous weather, specifically — have put Carfax at forefront of news reports about an expected flood of used cars that will deserve a second and third look. The double-whammy of hurricanes Harvey and Irma put Carfax officials into overdrive, leading to research that suggested drivers in the U.S. were possibly driving as many as 325,000 previously-flooded vehicles. The number was a 20 percent increase from 2016 and, according to the company's website, "a stark reminder to consumers to do their due diligence when used car shopping." Vehicles reported as flood-damaged by state DMVs, insurance companies, and other sources had washed up in every state.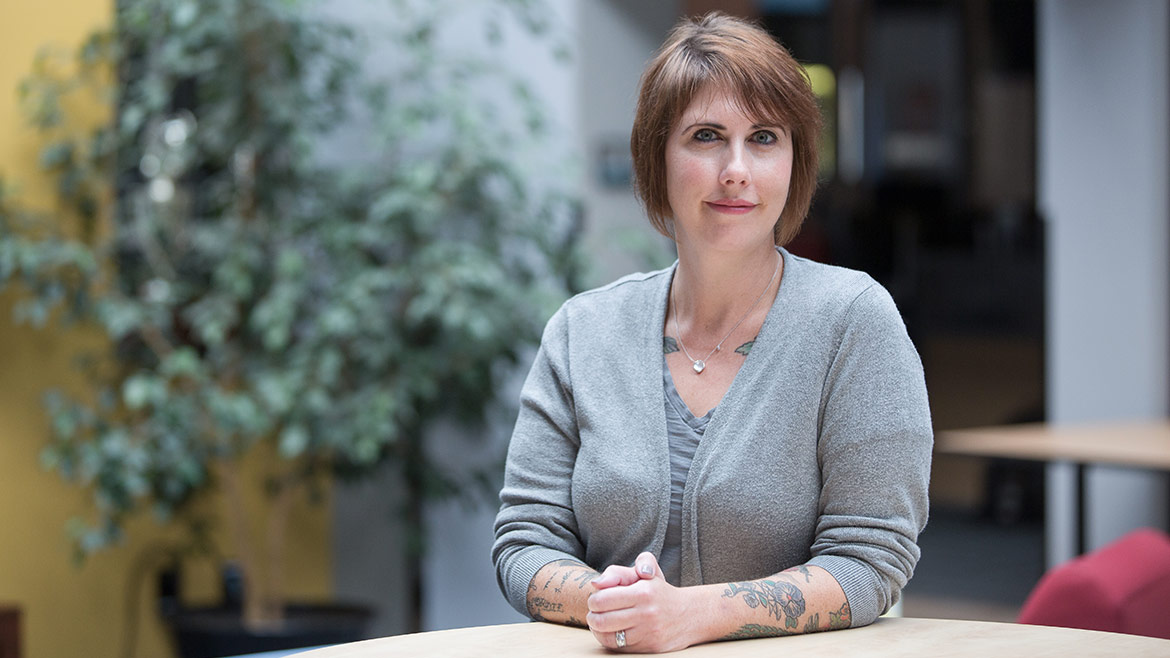 At the time of the hurricanes, Raines said in news reports that the company expected to see several hundred thousand more used cars emerge from hurricanes Harvey and Irma. The company said that about half the vehicles damaged by floods usually end up back on the market. Flooded cars rot from the inside out as water corrodes the mechanical parts, shorts the electrical system, and compromises safety features like airbags and anti-lock brakes. Health concerns are an added problem, as mold and bacteria permeate the soft parts of the car. In the wake of hurricanes Harvey and Irma, Carfax is letting consumers check for flood damage free of charge at a special page on the company's website.
The hundreds of thousands of sometimes daily data reports and retrievals make security a constant front-and-center responsibility.
"You have to have a keen eye for security, to protect our data, to protect our customers' data," Lenz says. The company contracts with external vendors to actively look for vulnerabilities in Carfax's systems.
"If a worst-case scenario would happen, are you prepared?" Lenz says, noting the recent news of credit reporting giant Equifax discovering a massive data breach. (The bigger news was perhaps that Equifax sat on the discovery for months before reporting it to the public.)
Lottes echoes Lenz's edict that Carfax is "definitely a growing company," but that means continuing to have the ability to recruit top talent. As Carfax responds to regulatory and industry changes and the need to protect customer and individual data in partnership with multiple companies and automobile dealers, it's even more vital to have a workforce that can provide the needed skills.
"I absolutely agree that people associate tech companies with the West Coast," Lottes says. "But we're seeing a shift of tech jobs coming back to the Midwest."
The lower cost of living is one reason for that shift, she says, adding, "There's obviously companies here that want to grow. Carfax is a great example of that."
Lenz says Columbia continues to have the right economic climate for a company with both highly-skilled team members and a culture that stresses employee and community well-being.
"Historically, it's been a benefit to talk about what a great place Columbia is," he says. "We've called Columbia home for 33 years. We'll call Columbia home for a long time to come."
******
Carfax Facts
The first Carfax Report run was for a 1984 Ford Thunderbird.
Carfax owns 6 patents for vehicle history data methods.
Carfax has over 19 billion records. It took Carfax 15 years to reach the first billion records. The most recent billion took just 5 months.
More than 6 Carfax reports are viewed each second by used car buyers and sellers.