Cashing In: Adswapper Monetizes Online Advertising for Consumers
photos by Keith Borgmeyer
After more than 20 years as an entrepreneur, Amos Angelovici knows a little something about the process of nurturing an idea all the way from conception to launch.
It's never a chaos-free proposition.
"I heard someone compare a startup to where you're working when the building is on fire and you've got to stay cool," Angelovici says. He's experienced this numerous times through the Columbia-based businesses he has helped mentor as MU's entrepreneur-in-residence, as well as through the four companies he founded or co-founded over the past two decades.
All that said, his latest company — AdSwapper — is off to a pretty smooth start.
The mobile app takes input from users about which categories interest them the most and shows them advertisements that cater to their preferences during the course of their usual web browsing. Users get points for the ads they see and by using a referral system, and they can cash in their points for gift cards, online credit cards, or money in their PayPal account.
Angelovici began working on the app about two years ago. Along the way, he was able to secure funding from both the Missouri Innovation Center's Mid-MO Tech Accelerator Fund and Centennial Investors. AdSwapper launched in July and, right now, is only for use on mobile devices. But Angelovici sees it as something much larger. When he presented AdSwapper to the MIC accelerator fund panel, he did so with a business plan that forecasted the possibility of $100 million in revenue within a few years of launch.
"We think this is going to be a new market standard," he says. "This is going to change the way online advertising works. Once it catches, users will expect to get paid for their time and attention. There is no reason not to. Therefore, everybody will eventually have to pay, and we're going to be the company that brokers that and makes sure users are going to get paid."
It's a proposed solution to the problem of ad fatigue, which currently has users scrambling to download ad blockers and publishers scrambling to find ways to still monetize their content through ad sales.
So why not make the relationship better for all sides?
"I think it's right on time," says Bill Turpin, president and CEO of the Missouri Innovation Center. "He can walk into the middle of that [ad fatigue problem] and say, 'Instead of having nuclear warfare, where nobody wins, let's have this solution where you agree to give up some of your revenue and we have this reasonable solution where everybody can still win, but the consumer wins a little bit, too.'"
'It needs to be done'
The problem/solution analysis for AdSwapper began when Angelovici was still working on his previous startup, Babator, an automated video content management solution that used a predictive analytics algorithm to forecast what kind of content users wanted to see based on their online behavior.
Ad companies are spending mountains of money and hours of market observation trying to figure out what consumers want to see and how they want it to be packaged. Consumers are trying to shield their privacy from targeting efforts by advertisers and avoid as many ads as they can through the course of their day.
"There are brands that are paying agencies that are paying networks that are paying publishers to show us ads," Angelovici says. "But the revenue stops with the publishers. Everybody gets paid except consumers. It doesn't make any sense, if you think about it. If we walk away or block the ads, nobody makes any money off of it. So I thought, 'How about we just make the users partners in this revenue chain?' When you're my partner in any endeavor, our interests are aligned."
Angelovici describes AdSwapper as the consumer's "agent" in these interactions with advertisers. Users download the app for free and fill in which categories and subcategories interest them the most. AdSwapper "negotiates" with the advertisers for a portion of the revenue that will eventually go to the user, which advertisers give up in exchange for the privilege of putting their ads in front of their target audience during their normal mobile usage.
AdSwapper caches the ads that are pertinent to each user, populates the ads on the sites they visit, and then credits the user when they see the ad. A referral system gives a user credit for 10 percent of a friend's points on a recurring monthly basis.
After accumulating enough points, users can "cash out" for gift cards to places such as Starbucks, Chipotle, and Amazon; online Visa cards; or credits into PayPal accounts.
"The whole premise here is if an advertiser wants to show you an ad, they pay you," Angelovici says. "Just like any other agent, we share a piece of that revenue. We're interested in you getting more money because we're going to earn more money. The more you earn, the more we earn. We'd like you to be happy, because if you go away or are not happy with us, we don't make any money."
Hyper-targeted advertising is at a premium in marketing campaigns. Companies used to target a large swath of consumers when only a portion of them would have a realistic interest in their product; now, they can precisely target engaged consumer bases for much less money.
The targeting information comes from third-party behavioral data companies that map out consumers' behaviors and interests based on the sites they visit.
"This takes the control out of those third-party behavioral data companies and puts it into the hands of the consumers," says Katelyn Duff, chief revenue officer at the Columbia-based Division-D digital advertising company. "If I have an ability to select the ads I want to see, then make money off of that or have some type of incentive, I'm probably going to be selecting ads that are more relevant to me. In that case, it's not only better for the consumer but better for the advertiser, because they're able to target people who want to see their ads."
So the system, theoretically, takes care of both the advertisers and the consumers. But what about the publishers, the websites that serve as platforms for these ads?
Websites need ad revenue as an input. If ad-blocking software intercepts those ads, the publishers don't make as much money. Angelovici sees AdSwapper as a sort of middle ground between ad inundation that irritates consumers and an ad scarcity that hamstrings the content generators.
"Somebody needs to do this. It needs to be done. It will happen one way or another," says J. Michael Roach, creative director at Caledon Virtual, the Columbia-based digital marketing agency. "I'm very interested to see what happens with it."
'Caught in your own narrative'
Angelovici became an entrepreneur almost by coincidence.
In the 1990s, when Angelovici was living in Israel, his roommate came home one day and told him about the new job he had just started, building websites for an internet company.
Angelovici was impressed. And then the wheels started turning.
"I said, 'This is really cool, but we can do even cooler things with it,'" he says.
So he and three of his friends started a company that built dynamic websites, ones that change depending on the viewer's characteristics. They published the first online newspaper and online restaurant guide in Israel.
"Never looked back," Angelovici says.
He and his wife, Ruthie, moved to Columbia from Michigan in 2015, when the University of Missouri hired her as assistant professor of biological sciences.
Once he got into town, Angelovici started surveying the entrepreneurial landscape and talking with Turpin and Quinten Messbarger, vice president of the MIC. By January 2016, he was MU's entrepreneur-in-residence.
In this role, he helps people connected with the university — students, faculty and staff — commercialize their intellectual property.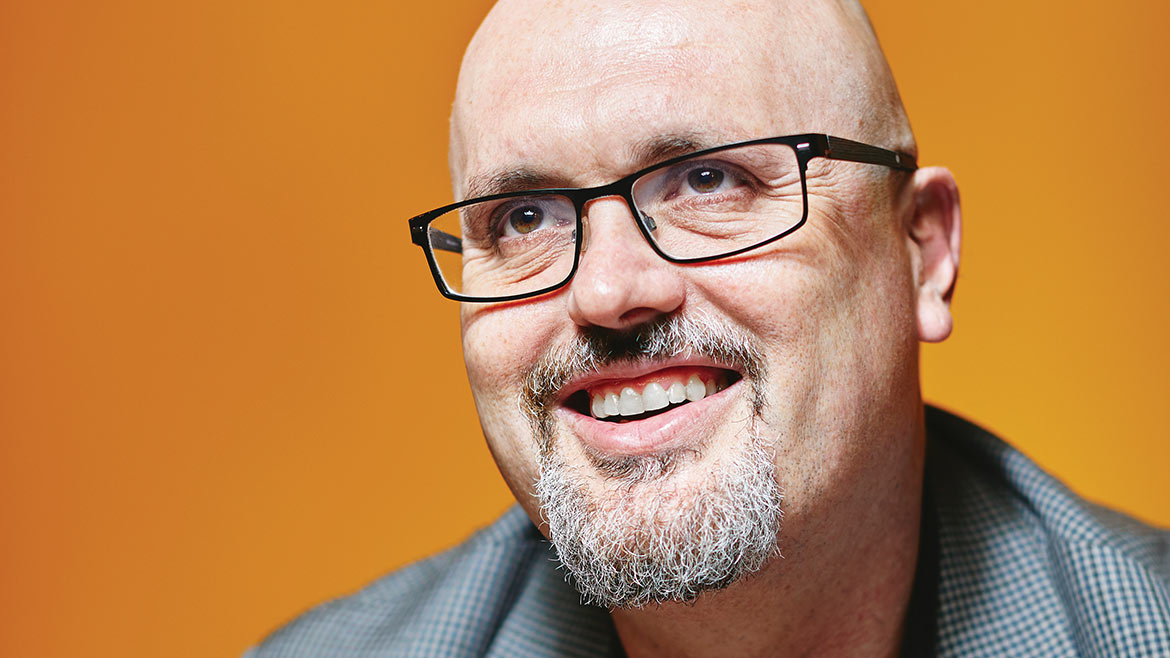 "He's been really helpful for people that needed advice on how to manage their technology provider. He's been really patient with those people and spent a ton of time," Turpin says. "He's very honest and upfront and, if he doesn't think something will ever work, he's not afraid to tell people."
To put it another way, he's good at finding the blind spots entrepreneurs develop while they're shepherding their passion projects. Sometimes, that's even more valuable than merely being supportive.
"You're constantly challenging somebody, and it's their idea and their baby," Angelovici says. "Instead of saying, 'How beautiful this baby is! How wonderful this baby is!' you're pointing out stuff the baby is missing and trying to encourage them and challenge them to grow and figure out answers.
"As an entrepreneur," he says, "you're always caught in your own narrative. Everyone thinks their baby is perfect. It is really important to get an outside perspective."
Angelovici followed his own advice in the process of creating AdSwapper. He says he "volun-told" Turpin and Messbarger to pick apart his product and tell him what was working and what needed to be improved.
Turpin says he has helped Angelovici hone his pitch to investors (since AdSwapper is a bit of an esoteric concept) and connect him with some tech developers. Messbarger has been charged with finding the gaps in the concept Angelovici didn't know he had and helping find ways to fill them.
"Amos is amazing in that he completely appreciates where he's at as an entrepreneur and what he needs, and he doesn't allow his past experiences to blind him and make him think he knows it all now," Messbarger says. "Some folks believe mentoring is cheerleading. I'm not in that camp. If you're really going to help someone, sometimes you need to be a shoulder to cry on, a cheerleader, but you also need to be the parent with tough love. You need to tell people what they need to hear, because it's going to save them a lot of pain, suffering, money, and time down the road."
In the lead-up to launch, Angelovici tried to keep AdSwapper under wraps while quietly doing some market research through beta testing and online surveys — engaging in "stealth mode" to keep potential competitors off the trail. Now that the app is a few months old, he's seeking a new round of funding to help advertise, widen the product's reach, and bring in new users.
The patent can't really stop competitors from trying to duplicate Angelovici's product, Turpin says. The key is to get such an overwhelming amount of users in such a short period of time —potentially hundreds of thousands within the next year — that fledgling companies won't be able to catch up.
Seemed to work out well for Facebook. And, if Angelovici can establish AdSwapper as the leader in the field of monetizing mobile ads for consumers, then he says he can start to expand onto desktop computers, video-on-demand services, and streaming television.
"Our mission is to empower users to become partners in the online advertising market," Angelovici says. "Why wouldn't you get paid for all the ads you're being shown wherever you see it? That's why we expect this to become a standard. It's a no-brainer."