Going Foodie: Columbia's Food Culture
photos by Tiffany Schmidt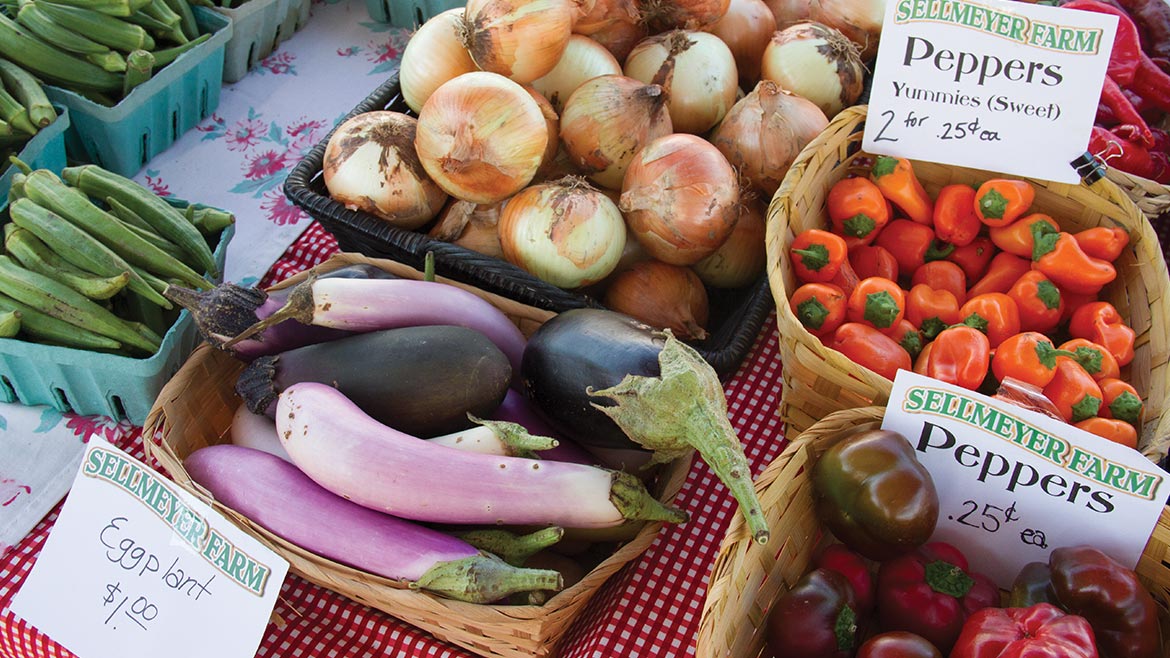 Remember the traffic jam at the intersection of The Loop and Providence when Popeye's Louisiana Kitchen opened 16 months ago?
The 62-seat fast-food eatery sizzled with 1,750 first-day transactions, but Columbia's overwhelming appetite for the new drive-thru option didn't abate for several weeks. Popeye's staffers directed and re-directed traffic to avoid the motoring mess that backed up traffic between Hickman High School and the I-70 Providence exit. It seemed like everybody in Columbia was stuck there at some point.
Anna Meyer managed to avoid the traffic quagmire — mostly because she was busy managing her newly opened restaurant, Range Free, but also because she avoids most fast-food options as the result of food allergies.
"People like fried chicken," Meyer says, offering a simple explanation for the brief period of extra-heavy traffic to a new restaurant that wasn't hers. "It's something most people don't want to make themselves."
The fast-food activity didn't faze Meyer and the decision she'd made six months earlier to open Range Free at 110 Orr St. in the North Village Arts District. A variety of reliable statistics indicated that 10 to 15 percent of the city's population has a specialty, restrictive diet. The largest base of those customers need gluten-free food.
"It's a small market if you're talking about statistics alone," Meyer says. "That doesn't seem like a large amount, but we're talking several thousands of people in Columbia. That was enough to show me it was a viable option."
And the target grows to about 50 percent, she says, based on the "culture of Columbia."
The culture? It may not be the "foodie" culture as it exists in larger metropolitan areas, where people seek out unique food experiences as part of their social interactions, but it's certainly a foodie culture in that a growing number of Columbians are seeking a relationship with their food: knowing who is selling it, who produced it, and where it came from.
The explanations for the city's developing food culture are as varied as the responses to the term "foodie." Some say it's offensive, that it suggests the interest in good food is a passing fad rather than a serious, healthy lifestyle that's as much part of the mainstream as the bumper-to-bumper crowd that besieged Popeye's in April 2016.
Meyer considers herself a foodie only in the sense that her approach to eating is now more connected to the food's source and producer — and nutritional value. Meyer wanted to put her gluten-free restaurant in the North Village Arts District, which attracts a trendy crowd, but that shouldn't detract the non-trendy of us from stopping in and ordering a meal.
"Part of it is having a university here, being a college town," she says. Close access to St. Louis and Kansas City to the east and west on I-70 makes Columbia "a pocket in the middle," serving to draw more food-conscious travelers and diners. That pocket, though it may not be causing traffic jams yet, is becoming more visible.
Changing Times
Just months after Popeye's made its debut, Church's Chicken, barely a quarter-mile to the west, shuttered its mustard-yellow restaurant. After that, Country Kitchen closed, despite its almost-instant access to I-70. In south Columbia, Your Pie, a made-to-order pizzeria, and Eat Fit Go opened for business. As another fast-food chicken shop, Slim Chickens, opened between Broadway and the Conley shopping area, Crushed Red, an "artfully chopped craft salad" chain, joined an already-busy assortment of eateries across the road. Downtown Columbia saw the opening of Midici Pizza, a restaurant that touts the quality of the experience as much as the quality of the food. (There's a live tree in the middle of the restaurant.) And there are new food options that aren't dine-in or drive-thru — Aldi, the discount grocer, is building a second Columbia store next to Kohl's. Not bad for a community whose downtown area was deemed a "food desert" by the U.S. Department of Agriculture just a few years ago.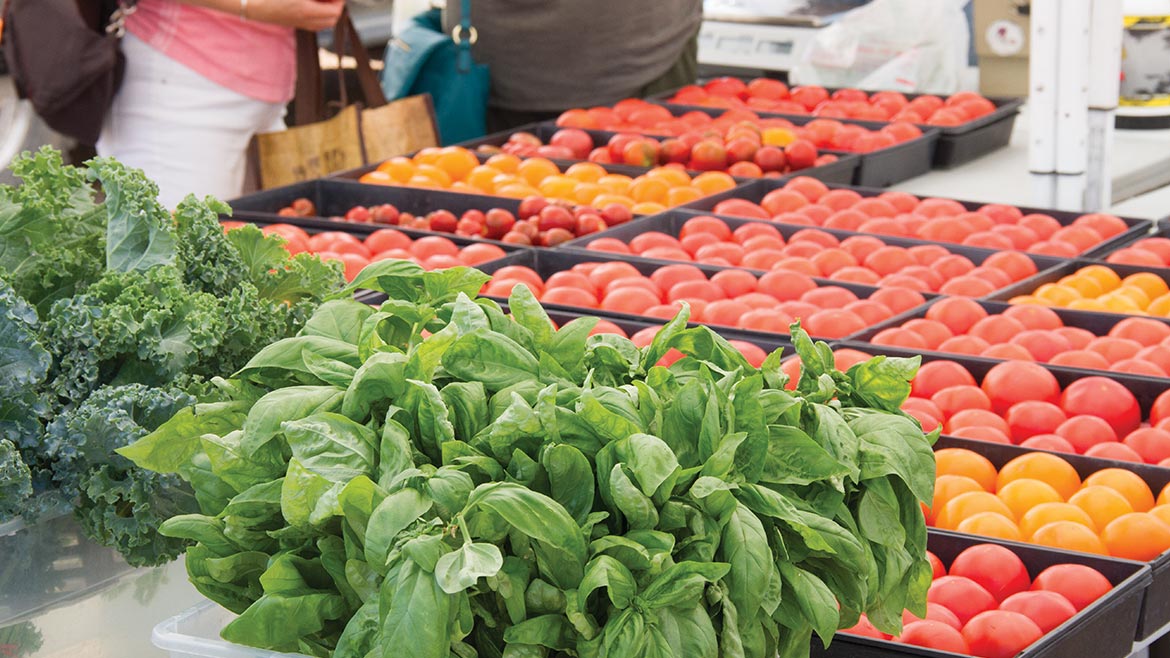 There's plenty of evidence that the local food landscape has a plethora of diversity: organic, gluten-free, and other specialty foods; markets that feature Asian and Middle Eastern staples with sundry restaurants that offer Mediterranean, Indian, and more. Even the city's longest-lived full-service eatery, Ernie's Café, has healthier options. They boast "vegetarian specialties" on the menu now, but still — per the café's website — "that classic diner feel." In Columbia, you can have your kale and eat your cake too.
As restaurants have had to diversify their offerings, so too have Columbia's grocery stores. Columbia's three Hv-Vee stores have long focused on local sourcing as part of their business plan.
Hy-Vee store director Matt Off has been the Conley location's store director for eight years, and during that time, he hasn't seen an appreciable change in the number of customers looking for specialty, organic, or gluten-free choices, but the supply and demand has always been present.
"We buy from all kinds of local places," Off says. He's worked in a variety of markets around the Midwest and doesn't see much difference between Columbia and other similar-sized markets. "It's a gesture to the community," he says. "You want to support your local businesses." (For more on how local farmers are getting their products in stores, see page 48)
While Off isn't sure there's been an uptick in the number of grocery-buyers looking for local products, he does have a confident observation that the people who buy locally sourced food and specialty products "are very loyal to it."
Lucky's Market, a natural and specialty grocery store, opened its first store in Missouri in downtown Columbia in January 2014. Lucky's Ellisville, Missouri location is closing, but the story has been much different in Columbia.
"It was not a great location for us," says Columbia assistant store director Deija Morgan. "Maybe, in Columbia, this is a much more forward-thinking community. I think it's trendy for people to care about where their food comes from." That awareness often leads to a lot of self-education — "a deeper understanding" about how the food is raised and where it comes from, Morgan says.
She's seen a steady uptick in the number of customers filling shopping lists for the popular paleo diet and the Whole30 diet at Lucky's, but that doesn't make it a de facto "health food" store. The opening day event in 2014 featured a bacon-cutting ceremony. As the company's website announces, "We won't judge."
"If people gravitate toward a healthier diet, I'm happy about that," Morgan says. "We have food for everyone here. We don't just cater to special diet. It's a great mix."
Hannah Garrad, the registered dietician at the Conley Hy-Vee, also thinks the search for healthier food options is an entrenched lifestyle, not a passing fancy.
"The big thing that I see is a move to be more conscious of what you eat," she says. Garrad does think more people are being "exploratory" when it comes to looking for alternatives to find calcium and protein, such as soy and almond milk.
Some of those products do have "a little higher price tag," but a healthier-eating lifestyle can be affordable, she says, if you can stay balanced in what you buy. "Keeping the budget in mind, that doesn't mean 'healthy' has to be expensive."
Bringing It Back Home
When it comes to the cost of producing and buying healthier, fresher, locally-sourced food, perhaps no proof of that popularity is more significant than the $2.1 million customers spent in 2016 at the Columbia Farmers Market.
Corrina Smith, Columbia Farmers Market executive director, said the local foodie culture is characterized by a now decades-long push back against "industrialized and commercialized" food production.
"Consumers are now wanting to get back to their roots — pun intended? — eating healthier and fresher foods," Smith said in an email, adding: "When you buy directly from the farmers that grew your food, you cut out the middle man. You can ask the farmer the questions about how it was grown and raised, and you're putting more money back into the farmer's pocket."
But it's hardly a new phenomenon. The farmers market started in 1980, spurred by a few farmers selling sweet corn, watermelons, and other produce out of the beds of their pickups. "The Columbia Farmers Market was 'local' before 'local' was a thing," Smith says.
Alan Helland's Blue Fox Farm south of Columbia was part of a community-supported agriculture co-op the last few years and returned to the Columbia Farmers Market this summer. Helland and co-owner Megan Fox cultivate less than five acres of its 70 acres in the Missouri River hills, leaving the remainder as an intact ecosystem for pollinators and wildlife — an example of how local food producers are diversifying their methods as much as food sellers, even when they're one and the same. "Columbians, in particular, have responded," Helland says, even knowing that they may pay a higher price for food produced less cost-efficiently.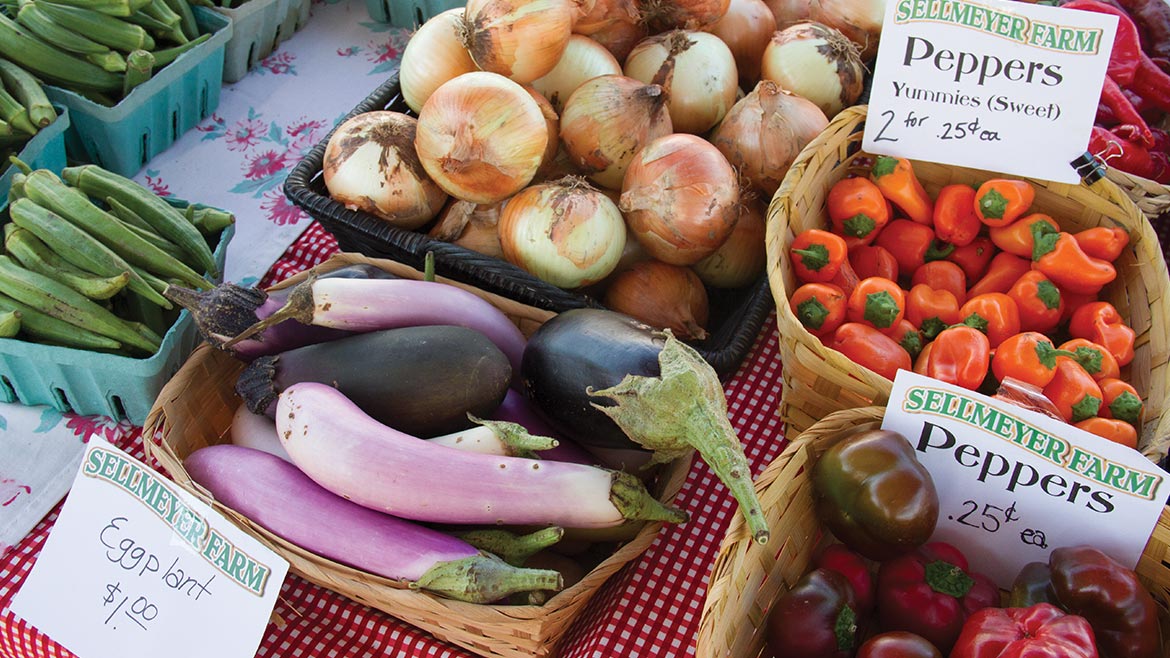 Meyer says the cost of buying the gluten-free and other allergy-specific items that she needs for the Range Free menu is often pricier. "It's necessarily pricier because of the providers at the top of the chain," she says. It's a pretty extreme difference in some cases — for instance, typical wheat flour sells wholesale for 2 to 4 cents an ounce. But the product Meyer needs is 57 cents an ounce. And when it comes to the No Whey chocolate, Sun Butter, Enjoy Life Foods, and Vermont nut-free chocolate she buys, the allergen-free production lines have higher costs at each step to avoid cross-contamination.
"All those added steps increase their price," she says. "It's really frustrating, too. In the specialty diet world, we've bred into this lifestyle where we know it's going to be more expensive. We accept it kind of grudgingly."
There was a culture shift that created a demand for the products; now there needs to be a culture shift to influence the cost. "I think the prices are starting to shift there," she says.
Meyer isn't discouraged, though. When it comes to local food for specialty diets, Columbia has found its way.
"When you have a specialty diet and you're restricted in so many ways, you have to ask so many questions to make sure your food is safe. That is paramount," she says. "Looking the producer in the face — that's the where you can ask the most questions."
Recently a customer stopped in for lunch and had a specific question about Range Free's source of beef – Missouri Legacy Beef in Salisbury. The customer wanted to know if the producer's cattle were Angus. Meyer said she'd already received a text from Missouri Legacy Beef earlier in the day to see if she needed more meat, so she sent the question directly to her vendor.
"That direct line of answering, I think, is very important in that safe food, in that foodie culture," she says.