Solar Flair: COMO Prepares for the Eclipse
photos by Keith Borgmeyer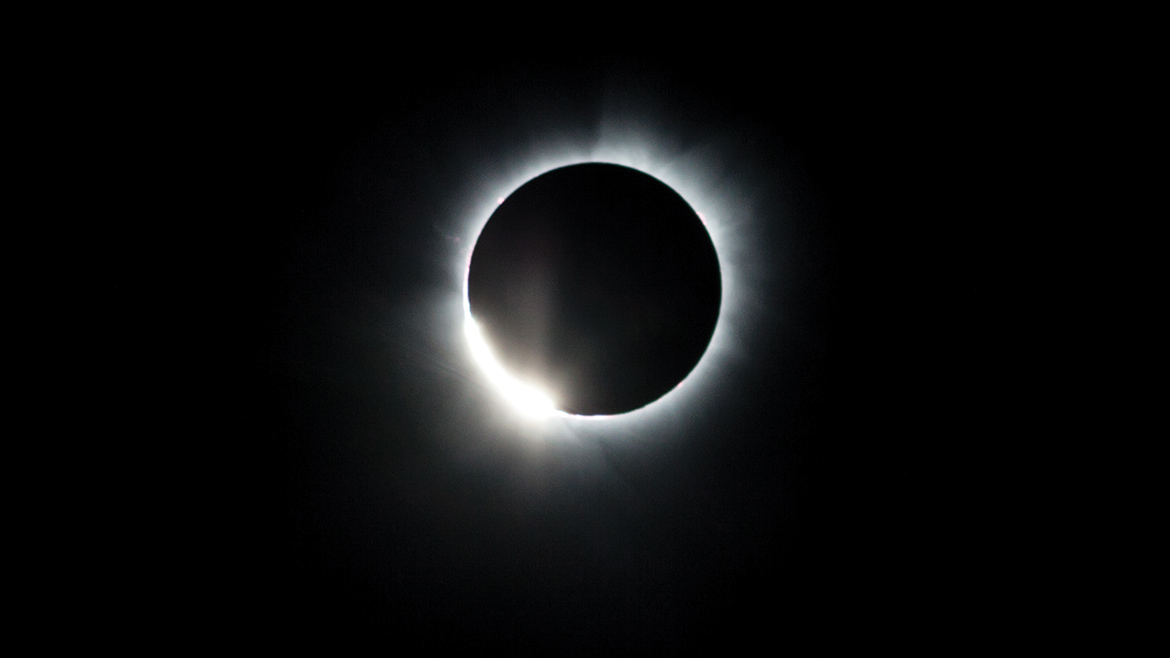 Monday, August 21 will be much like any other Monday in Columbia — until 1:12 p.m. At 1:12 p.m., for about two minutes and 30 seconds, the city will witness a celestial event some call "once in a lifetime": a total solar eclipse. The moon will pass between the sun and Earth and block the sun for up to three hours, from beginning to end, as viewed from Mid-Missouri.
Columbia happens to be in the path of totality — where the sun will be totally blocked — for the first total solar eclipse Missouri has seen since 1869. Being in the path of totality for this eclipse means two things, according to Angela Speck, a professor of astrophysics and director of astronomy at MU. One, the city will experience "full-moon darkness" for those two minutes and 30 seconds, and two, there will be a lot of people coming to Columbia.
"Think about how many people come to town when it's Homecoming or True/False, and then put it in perspective of being a really unique thing," Speck says. "There are so many people coming to town."
What's the Big Deal?

Speck, who also serves on a national planning task force for the eclipse, predicts that Columbia's population will double for the eclipse. People will flock here from all parts of the country to get somewhere that sits on the path of totality.
"Geographically, it is such a tiny, tiny sliver of the United States that actually gets the total eclipse," says Mike Szydlowski, science coordinator for Columbia Public Schools. "It lets us do something that, for most people, they never get to do in their lifetimes."
Here's how Speck says the eclipse is going to go down. At 12:30 p.m. or so, the sky will start darkening, comparable to when there's a storm coming. When the sun is about 80 percent covered, enough light will be gone that the sky will go a bit darker, like it looks just after sunset. And then it will get darker. And darker. The sky will continue to get darker for the next 30 minutes, until the sun is 99 percent covered.
"It takes about three hours for the moon to do the full transit from not in front of the sun at all to completely off, but we've only got two and a half minutes where it's completely blocking," Speck says.
In those two and a half minutes, Columbia will go completely dark.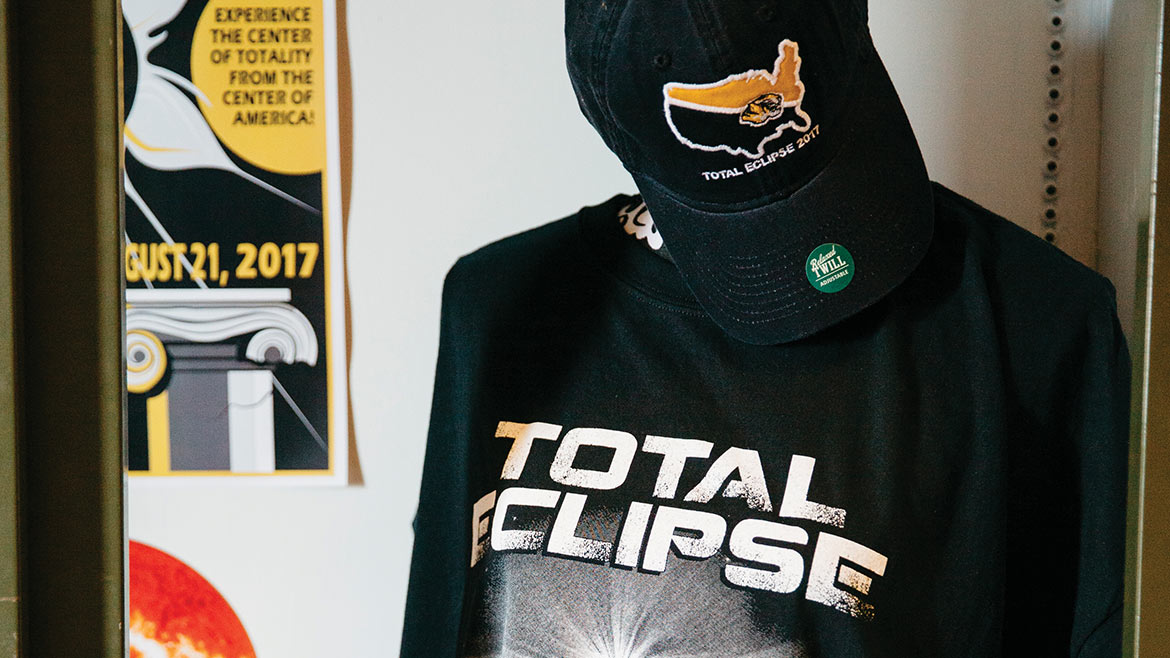 Aside from the unique experience the eclipse presents for the residents of Columbia, it also offers an excellent opportunity for businesses to capitalize on.
"This is definitely one of those once-in-a-lifetime experiences for us, and so it's a really concentrated opportunity for tourism," says Megan McConachie, strategic communications manager for the Columbia Convention and Visitor's Bureau.
"Tourists who come in, of course, spend the night in our hotels, they eat in our restaurants, they shop in our stores, they fill up with gas at our gas stations, and so that's obviously a direct economic impact that they can have on businesses in a really short amount of time."
McConachie says she hopes businesses in town will embrace the excitement and "eclipse-ify" themselves for the event. That could mean anything from throwing up some moon-themed decorations to hosting an event about the eclipse — the point is that businesses won't get a marketing opportunity like this for a long, long time to come.
CPS 'Eclipse-ified'

Columbia Public Schools is ready — they have purchased over 30,000 eclipse safety glasses for all students and staff, plus some extra pairs for fundraising purposes.
"On eclipse day, we've told the teachers every student will be outside for a minimum of 45 minutes surrounding the totality of the eclipse," Szydlowski says. "The schedules will be altered that day so they can see it."
Szydlowski is planning eclipse-based lessons for the day before and the day of the eclipse for all students from kindergarten through high school. "Eclipses are part of our science standards, and there are so many misconceptions about them, so it's giving us a very rare chance to teach about eclipses and then let them actually see an eclipse," Szydlowski says.
The lesson plans for CPS students go beyond just science, Szydlowski says — the plans include the history of the eclipse (did you know the first photograph of a solar eclipse was taken in 1851?) and eclipse-related math problems. Even lunch will have a solar flair; CPS nutrition services plans to make sack lunches with Sun Chips and Capri Sun, among other things.
Students will also have the opportunity to participate in research projects pertaining to the eclipse. "We've partnered with a professor of biology at MU, and 18 of our fifth grade classes are going to test the theory people have that when you have a total eclipse, the animals and insects kind of get quiet and ready for bed," Szydlowski says. There will be similar research opportunities for elementary students regarding temperature during the eclipse.  
Solar Art

Diana Moxon, executive director of the Columbia Art League, says the CAL Member's Summer Show, "Eclipsed," is loosely eclipse-based. "It's usually the member's open show," Moxon says, "but because of the eclipse, I decided we would give it a theme this year."
CAL's website states: "In the CAL Members Summer Show, Eclipsed artists are invited to explore shadow and light, sun and moon, from dappled to darkness and from bosky to bright. How do light and dark color our world? What is revealed and what is obscured by light and shadows cast by objects seen or unseen, real or imagined?"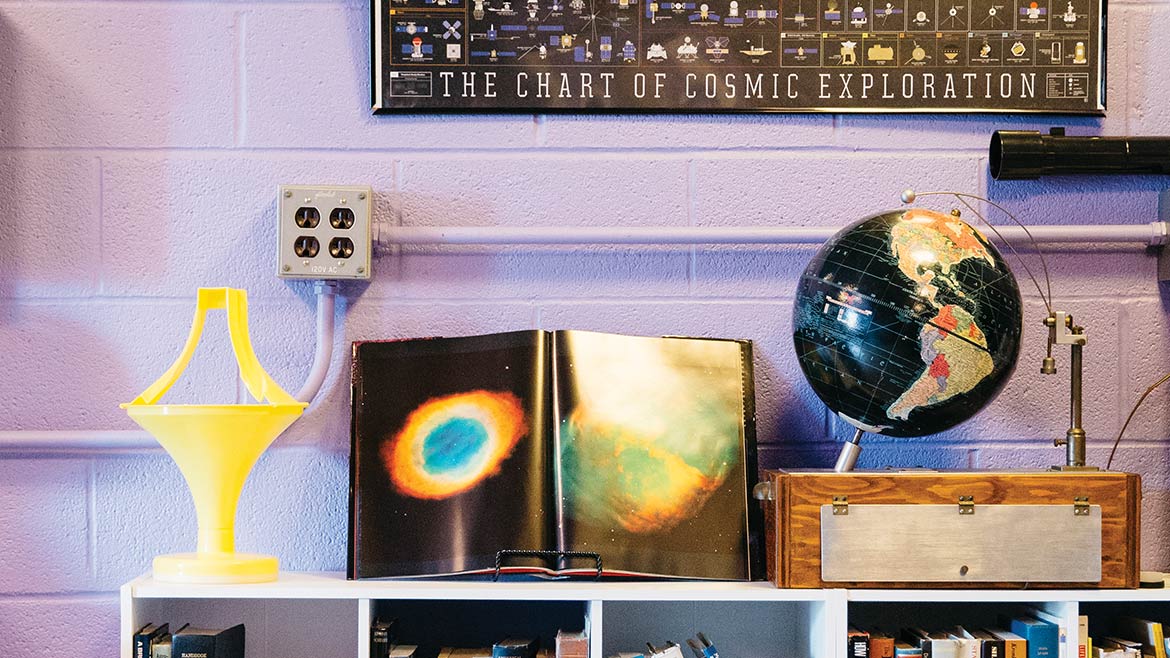 Current CAL members submitted one two-dimensional or three-dimensional pieces of work from any medium for the show. The show runs from June 27 through August 23.
St. Joseph, west of Columbia, also has several artistic and entertainment-driven eclipse events to offer. The eclipse happens to fall on the same weekend as the city's largest event of the year, the Trails West! Festival. "We are celebrating our 25th year of Trails West!, and that brings nationally-known performing artists," says Beth Carmichael, director of project development for the St. Joseph Visitor's Bureau and the community facilitator for the eclipse. "They do fine arts and crafts and have vendors. It's a whole weekend, and it's really, really affordable."
Foodstock

Even local nonprofits have gotten involved in planning events for the eclipse. Serve It Up CoMo, a new nonprofit fundraising campaign, has organized the Foodstock Solar Eclipse Festival at Corporate Lake, in south Columbia. Serve It Up CoMo brings top Columbia chefs to compete against each other to fundraise for six nonprofit organizations. They hope to capitalize on Columbia's passion for food and for community involvement to help generate support for good causes.
Foodstock will be a free food and music festival celebrating the once-in-a-lifetime experience. The event will be held from 11 a.m. to 8 p.m., and there will be food trucks, live music, shopping vendors, a beer garden, inflatables, and hot air balloons. The event with conclude with a fireworks show at 8 p.m.
"We decided to have Foodstock during the solar eclipse because of the rarity of the event," said Molly McMillan, co-chair of Serve It Up Columbia. "Since so many extra people are coming into town, we're making sure that we take advantage of the additional opportunity for visibility that gives to our nonprofits."
McConachie says the eclipse is an excellent opportunity for businesses of all stripes to gain publicity with many visitors in Columbia. "We think there's going to be a lot of people who are driving in that day from the Mid-Missouri area, so we're going to be promoting all sorts of eclipse specials and events," she says. "This is a really fantastic opportunity to get in front of a lot of people in our area who are going to be here to experience something they probably are never going to get to see again, so having your business name kind of top of mind as a part of that experience is a really fantastic opportunity."