Columbia Podiatry: Foot Notes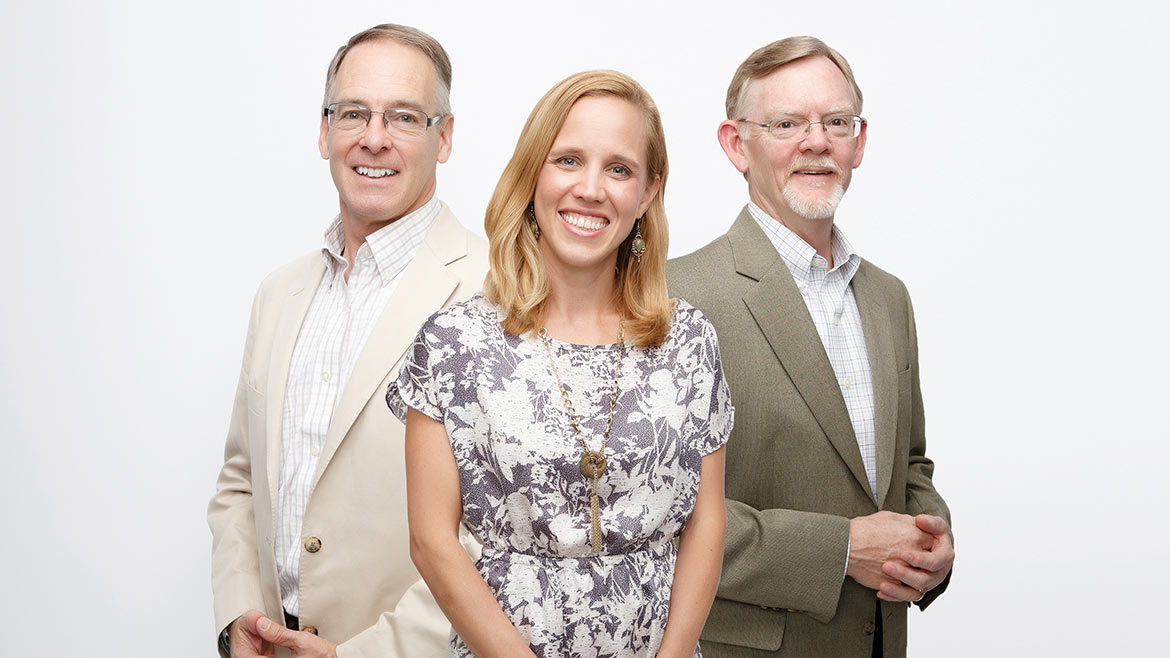 When you think about it, our feet take a lot of abuse day to day. If you've ever suffered from foot pain —an ingrown toe nail, a corn or callus, or something more serious, like nerve pain — you know that painful feet can really slow you down.
The doctors and staff at Columbia Podiatry know this all too well. The clinic, which recently celebrated its 30th anniversary, treats between 10,000 and 12,000 patients each year. Services include sports medicine, diabetic foot care, wound treatment, and foot surgery — all to help patients put their best foot forward.
Step by Step

Dr. Scott Foster is an accomplished runner. At 60, he has completed some 30 marathons. In 1983, he and his mother ran the Boston Marathon together, becoming the first mother-son pair to do so. With his impressive track record (pun somewhat intended), Foster is no stranger to foot pain. Running introduced him to podiatry and ultimately led him to a career in the field.
"My interest in podiatry started while running track and cross country in high school and college," says Foster. "I developed foot and leg injuries that were treated by a podiatrist. I spent some time in his office and realized that podiatry does a lot of sports medicine involving the lower extremity."
Foster completed his doctorate in 1984 at what is now the Dr. William M. Scholl College of Podiatric Medicine in Chicago, followed by a two-year residency at Rush-Presbyterian St. Luke's Hospital, also in Chicago. Foster's sister, a physical therapist, moved to Columbia while he was completing his residency. After coming to visit her, Foster says he liked the area and decided to make the move.
"At that time there was only one podiatrist in town, so there was a need," he says. He opened Columbia Podiatry in July 1986.
Foster first practiced out of an office with a single treatment room in the Stephens Building at Cherry and Hitt streets downtown. After a year, Foster outgrew the office and moved to the doctor's building near Boone Hospital. In 2005, Foster joined several Boone Hospital doctors in opening the Surgery Center of Columbia, located on Keene Street, and moved Columbia Podiatry to the suite above the center.
While the 30th anniversary of the clinic was in July 2016, Columbia Podiatry celebrated this milestone in April following a complete remodel of the office, which provides more treatment space for three doctors and nine staff members.
Sole Medicine

Drs. Terry Sanders and Sarah Newey also practice at the clinic alongside Foster. Together, the three doctors have 55 years of podiatric experience. Newey joined Columbia Podiatry in August 2015, after moving from the Chicago area; she practices part-time so she can enjoy more time at home with her two young children. Sanders moved to Columbia and joined the clinic in 2007 after practicing in Kenosha, Wisconsin.
Following his service in the Air Force, Sanders began considering medical school. Like Newey, he was attracted to the family-friendly nature of the field, and its variety.
"With podiatry, you get to be home every night, and with kids, they need a dad at home every night," he says. "That was a big reason, but it was also the versatility of the practice."
At Columbia Podiatry, that versatility means treating bunions, plantar fasciitis, heel spurs, tendonitis, flat feet, hammer toes, deformities, sports injuries, and issues related to diabetes and obesity. The clinic offers custom-fit orthotics and a laser treatment for toenail fungus.
"We strive to stay on the leading edge of treatments and technology to provide the best services for our patients," says Sanders.
Foster says their approach centers around conservative treatment measures. When treatment requires surgery, the doctors use the Surgery Center of Columbia — just downstairs — and coordinate care with other doctors.
"We have a strong working relationship with Boone Hospital and local physicians to network with other specialists when needed," Foster says.
Looking forward, Columbia Podiatry expects the need for podiatric medicine to increase as Baby Boomers age and as diabetes and obesity continue to present foot care issues. He and his team are confident that the practice is positioned to meet the need.
"As Columbia has grown over the past 30 years, we've grown to try to keep up with the demands," Foster says. "We will continue to grow and change over the next 10 years as the medical climate continues to change and grow."
1986
Dr. Scott Foster opens Columbia Podiatry LLC in the Stephens Building, located at Cherry and Hitt streets.

1997
Foster moves the practice to a larger suite near Boone Hospital.

2005
Foster opens the Surgery Center of Columbia with several Boone Hospital doctors and moves Columbia Podiatry to its current location above the center on Keene Street.
2007
Dr. Terry Sanders joins the clinic after practicing in Kenosha, Wisconsin.

2015
Dr. Sarah Newey joins the clinic part-time after practicing in the Chicago area.

2016
Columbia Podiatry officially hits the three-decade mark; they celebrate with
a renovation.

2017
Columbia Podiatry completes a remodel of its clinic and holds a 30-year anniversary open house and Chamber ribbon cutting.