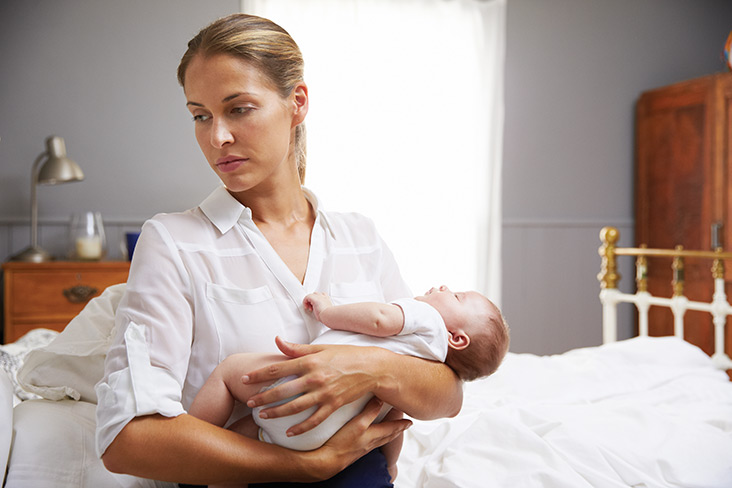 Supporting those with postpartum depression.
When Tim Davis first held his newborn granddaughter, he was entranced. "I don't ever remember being more present in the moment than right then," he says. "Massaging her feet, her pushing back against my hands, trying to keep her eyes open in the bright lights of the world. There was nothing else in the world for me in that moment."
For the first few weeks after Opal's birth, Tim and his wife gave their son, Nick, and daughter-in-law, Shanna, some space as they settled into life with their new baby in Kansas City. Shanna seemed a little less communicative than usual, but it didn't seem like anything was wrong. Internally, though, she was suffering.
What is postpartum depression?
The term is often used loosely. "It tends to encompass several different things that could be happening," says Erica Kroll, a licensed professional counselor who specializes in mothers' mental health. A more inclusive term, she says, is perinatal mood disorders, which are "any kind of mood disorder that happens during pregnancy or postpartum," she says. "The ones we typically see are anxiety, depression, and OCD." Mood disorders overlap, and anxiety and depression frequently occur together, Erica says, which is why postpartum depression has become a catchall phrase.
Depression affects about 13 percent of pregnant women and new mothers, according to the U.S. Department of Health and Human Services. "It does seem to vary geographically," explains Dr. Valerie Bader, from MU's Sinclair School of Nursing. "In some locations, the incidence is as high as a third of all women after having a baby have clinical depression. It's astronomical."
Physical well-being is closely tied to postpartum depression as well. Erin Brown is mother to 4-year-old Ben and 2-year-old Molly. After Molly's birth, Erin began suffering from mysterious, debilitating physical symptoms. "I felt like I was dying," she says. After four days in the hospital, all her tests came back clear. Week after week of feeling weak and sick left Erin questioning everything: her ability to care for her kids, her chances of ever feeling better, her sanity.
"Because the physical symptoms were there," Erin says, "I didn't recognize the anxiety and depression. I had never had it before, and I felt so bad physically, it didn't even occur to me that something else was also going on." She had panic attacks almost every night, and the sleep loss contributed to depressive symptoms during the day. All of it together made her desperate for answers.
Symptoms of depression include feeling sad, hopeless, or overwhelmed; a lack of energy and motivation; sleeping too little or too much; feelings worthlessness or guilt; withdrawing from family and friends; and physical pain. Anxiety can cause panic attacks, sleep loss, irritability, and fearfulness.
One upsetting symptom of postpartum anxiety, says Erica, "is something called 'scary thoughts' or intrusive thoughts. That's probably the thing that scares women the most, because oftentimes they're related to the health and safety of their baby." These thoughts can be dark, and many women fear that if they tell someone about these intrusive thoughts, they'll be labeled unstable or a danger to their child.
With or without intrusive thoughts, it's important to seek treatment. Erica says: "If you feel completely overwhelmed and not yourself, like something's off, it's time to seek professional help. Depression and anxiety can manifest differently for every person and every pregnancy."
What it isn't
Part of the stigma surrounding postpartum depression and anxiety is a conflation of those conditions with a rarer, more serious problem: postpartum psychosis. Valerie says, "You certainly have an emergency if you find out that a new mom is hearing voices or seeing things, and you need to take her directly to the emergency room."
Another issue confused with postpartum depression is feeling let down after giving birth. Shanna, who's a labor and delivery nurse, saw a clear distinction in her own condition. "I went through the baby blues that everybody talks about, and I can definitely tell the difference. Baby blues are, 'Oh, I'm not pregnant anymore, and this is a big change, things are different.' That's typical. I started to notice it was more than the baby blues around three or four weeks."
While anxiety and depression are a mental phenomenon, they're absolutely not imaginary. Erin encountered people who, though they meant well, seemed to imply that it was all in her head. "That can be incredibly damaging," she says.
Finding help
Shanna kept her symptoms to herself at first. Nick was travelling for work and family was far away. She felt isolated and low and started having frequent panic attacks. At her six-week postnatal appointment, she reached out to her obstetrician, who suggested therapy and medication. Shanna was hesitant about the medication, so she asked for a few days to think about it. That was on a Thursday.
"By Friday I was having nearly constant suicidal thoughts, and by Saturday, I had called my parents and asked them to come from Alabama," Shanna says. On Sunday, they took her to the emergency room, and she was admitted to the psychiatric unit.
For Shanna, medication and cognitive behavioral therapy with a therapist specializing in perinatal mood disorders helped her climb back out of the darkness.
Relief for Erin came from an unexpected source: her diet. She turned to her neighbor, Lila, for advice. A nurse, Lila recommended that Erin see the late Dr. William Trumbower, a well-respected OB/GYN at Women's Health Associates. He tested her nutrient levels and put her on a strict diet, cutting out sugar and grains and adding supplements to treat her deficiencies. Erin saw immediate improvement, and as she adjusted her diet, she made a full recovery.
Depression and anxiety are an intensely isolating experience. Societal expectations of what motherhood should feel like can discourage women from finding help.
Valerie points to American society's emphasis on self-sufficiency as a factor in the stress new mothers experience. Parenthood, she says, should be a community experience: "It's a group project. When you look at most traditional cultures, hardly any leave the mom responsible for herself for at least six weeks after she has a baby. Her only job is to manage her hygiene and breastfeed her baby. She doesn't do any of the cleaning and cooking — people do that for her. Americans have a unique expectation, and it's not realistic."
When Erin opened up about her struggles, her tribe came to the rescue. She recalls, "There were some days were I literally couldn't get off the couch." Both grandmothers came to help with Ben and Molly. Erin's husband took off work at least one day a week to support her, and her friends brought the family meals almost every night. Once she developed a new diet, her husband and kids adopted the diet too.
Lila checked in on her multiple times a day, by text and in person. "It was huge that I had someone who knew what I was going through, didn't think I was crazy, and was supporting me in my search for why it was happening," Erin says.
Two years later, Lila and Erin have created a food for health support group, and they've planned the CoMo Wellness Conference which takes place on May 6, bringing in doctors and other professionals to speak about how lifestyle and diet changes can treat and even cure some chronic diseases.
Love is a verb
For Tim, it took time to figure out how to support his son and daughter-in-law. He describes the progression of emotions surrounding the family's ordeal: the initial excitement of Opal's birth; confusion when he couldn't tell if Shanna was simply recovering or struggling; guilt when the family discovered she'd been suffering alone; helplessness that he couldn't fix everything. "And finally," he says, "the feeling of being able to contribute."
Every week, Tim drove from Columbia to Kansas City. He mowed the lawn and found other small projects to do around the house. "I'm thinking," he explains, "if you're depressed anyway, and the yard is growing up like a forest, that can't be helpful." He usually didn't even go inside. "I was very intentional about not being intrusive. I wanted to give her space."
Even when they didn't see each other, his presence was appreciated. Shanna says, "I would look out the window, see our grass was cut, and know that someone cared." Suffering from a condition that made her feel desperately alone, Shanna was buoyed by Tim's thoughtfulness.
Tim's takeaway from all of this? Love first. "You can't fix everything, but you can find your own way to support your loved one," he says. "Be present without being intrusive."
 On April 25, there will be two free showings of Dark Side of the Full Moon, a documentary about motherhood, sponsored by Lutheran Family and Children's Services. 1:30 p.m. Acuff Auditorium at MU School of Medicine, 6:30 p.m. Woodcrest Chapel.