photos by Keith Borgmeyer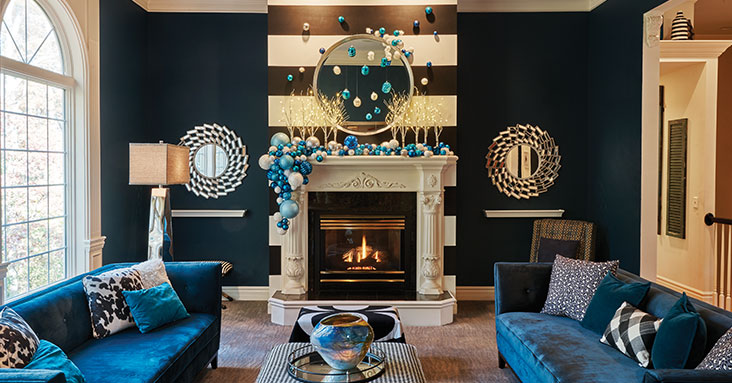 When it comes to interior decorating, Anne Tuckley makes her own rules. And she's created a living room that combines drama and whimsy in a way that is all her own.
"In my own [home], because I'm an artist first, before a decorator, this is all just play," Anne says. "It's my freedom, it's my outlet. Everything else that I do has to be for somebody else and normally a little bit more traditional."
This was originally a beige and gray room, and last November she intended to paint just one stairwell blue. Instead, after a "wild hair," she painted the entire living room.
When she's decorating, Anne doesn't always have the final look in mind. Rather, she uses inspiration boards and her own artistic talents to drive the vision as she goes.
To create her holiday mantel look, Anne hung ornaments from the ceiling with push pins and wire, and she attached ornaments to the mirror with Velcro. Next, she used lighted birch trees available in her store, Alley 108, to pull in the winter feel.
To create her main ornament piece, she hand-wired together the ornaments (a process which took about three hours) used a hot glue gun to attach ornaments to a box to maintain shape, and held the piece up on the mantle with weights.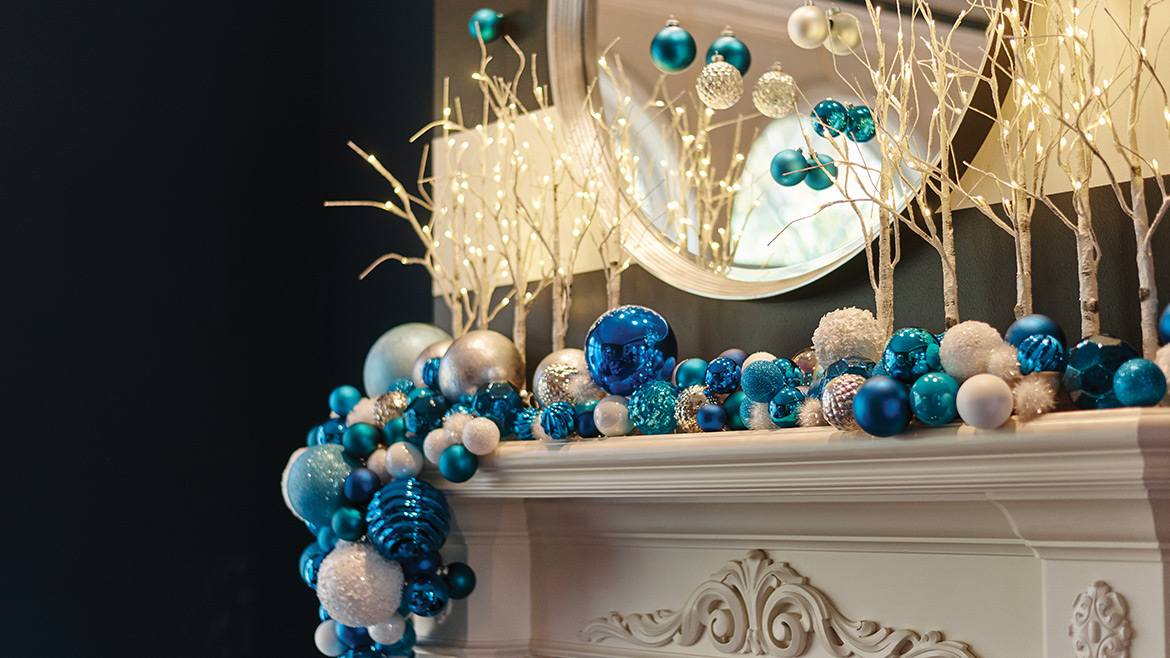 Anne's modern style mixed with lighthearted touches makes her vision one of a kind, and clients go to Anne Tuckley Interior Design for a one-of-a-kind look.
"I ended up putting somebody's tea set in their Christmas tree once," Anne says. "It just made it so whimsical, so personal. I've put family photos, treasures, jewelry — things that you would never imagine putting in a Christmas tree, I've put in trees before."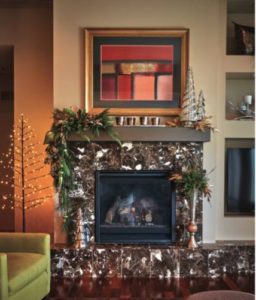 Opposites Attract
When Beverly Reid, owner of S. Stewart Home, called her friend of six years Judy Nistendirk with an invitation to decorate her mantel, Judy didn't hesitate. "Awesome," Judy said. "Let's get started."
Judy's home style is transitional to modern, so when planning to set the mantel, Bev says she went with a "less is more" approach when brainstorming. Bev and Judy didn't want the decorations to overpower the bold mantel, nor the piece of art that hangs above it.
They wanted to utilize elements already in Judy's home to make the holiday décor an extension of Judy's home style. They chose to mix greenery with mixed metals.
"I love the more unique use of greenery," Bev says. "I didn't want the whole thing to be about floral. I still wanted to incorporate it in a different way than what you typically see."
Judy had purchased the votives and several vases from S. Stewart Home previously for everyday use, and they were able to incorporate several of those pieces into the décor, saving them from purchasing an entire new set of holiday items.
Other than the silver trees on the mantel, everything was purchased from Bev's store. Judy has worked there part time for several years.
Bev constructed the main greenery piece herself, by combining strands of garland, greenery, and ornaments and attaching it with wire.
The style of a low hanging element is popular because many people mount TVs above the mantel, Bev says.
"I like that it has a combination of something new yet elegant, without being overpowering," Judy says.