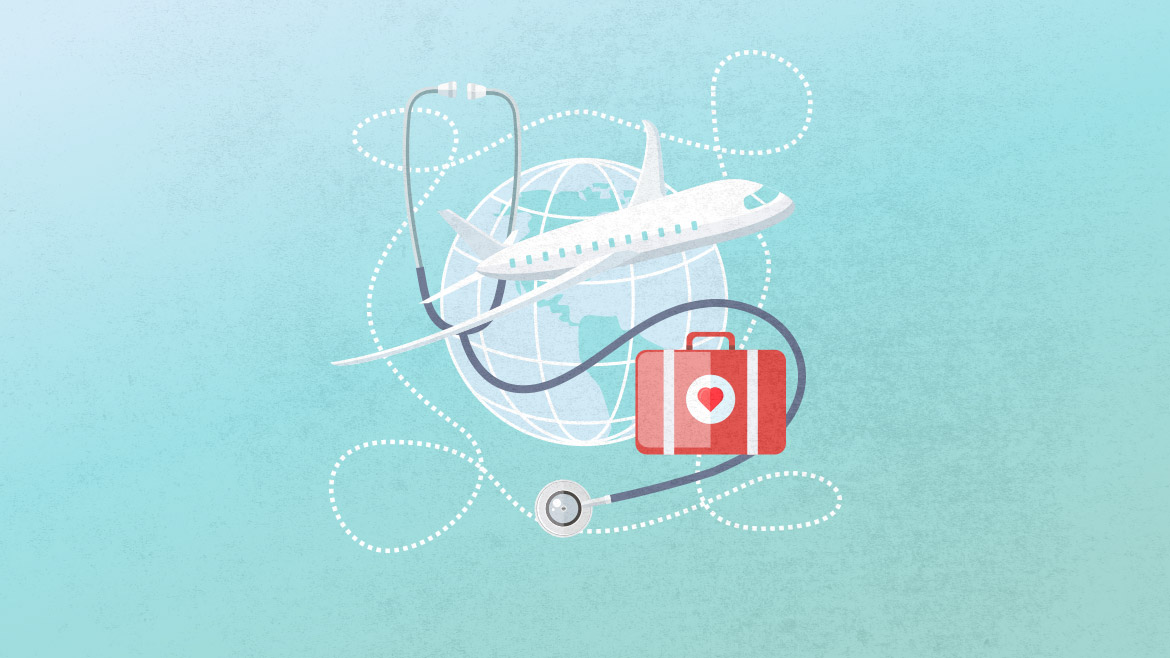 Rochester, Minnesota is a city of about 112,000 people, about 90 miles southeast of Minneapolis, where the average high temperature sits at 42 degrees or below for five months of the year. It is home to the University of Minnesota-Rochester, and home to one of the largest IBM facilities in the country.
Oh, and also the Mayo Clinic, which only employs more than 36,000 people, brings more than two million people a year to the community, and boasts an annual economic impact of $9.6 billion in the state, according to a 2010 study.
In 1986, the Mayo Clinic, Rochester Methodist Hospital, and Saint Mary's Hospital combined their services under one governing body. Since 1980, Rochester's population has nearly doubled, growing by 94 percent and running laps around the population growth rate for the state of Minnesota as a whole (35 percent). "Basically, Rochester is Mayo," says Dr. James Cook, director of operations at the Mizzou BioJoint Center. "It has created tons of jobs there and tons of income from travel."
Columbia is a city of about 120,000 people, about 120 miles from both St. Louis and Kansas City, where the average high temperature dips below 53 only three months out of the year. It is home to the University of Missouri-Columbia and sizable Shelter Insurance and State Farm operations.
Oh, and MU Health Care (which includes the Ellis Fischel Cancer Center and the Missouri Orthopaedic Institute, home to the BioJoint Center), Boone Hospital Center, and the Harry S. Truman Memorial Veterans' Hospital.
Rochester, a place with a less than ideal climate and not much of a tourism hook, became an internationally renowned locus of medical treatment and research. At the end of August, Columbia Mayor Brian Treece convened a nine-member task force on medical tourism to delve into a simple question: Could Columbia be Rochester?
"We think we're all sitting on a little bit of a gold mine," says Guy Collier, an attorney specializing in nonprofit hospitals and health systems and chair of the mayor's task force. "We're sitting on just an abundance of health care services and health care providers."
Following the Leaders
In the early stages, the medical tourism task force has been studying how other locations have made medical tourism work and what Columbia needs in order to follow suit.
That means looking at Mayo, the Cleveland Clinic, and the MD Anderson Cancer Center, in Houston, as well as places with large universities and sizable medical campuses such as Chapel Hill, North Carolina; Madison, Wisconsin; Iowa City, Iowa; Gainesville, Florida; and Lawrence, Kansas.
Yes, Kansas.
"You'll notice it on our nightly news — we get the University of Kansas trying to lure people there to do surgeries. Right in our backyard," says Dave Parmley, task force member and owner of Chesterfield Hotels, which runs The Broadway hotel and the Columbia Hampton Inn & Suites. "You're not trying to create a new industry in town, like we're going to get into the widget business all of a sudden. We're refining and honing this and branding and marketing it."
Rochester itself is in the midst of a new round of consolidation, construction, and innovation on the medical tourism front, in the form of a 20-year, $6.5 billion project with the Mayo Clinic and the city's other providers at the center, which it hopes will add around 40,000 jobs to the community. Columbia would be wise to follow suit, Boone Hospital's Brian Whorley says.
"In 10 or 15 years, there's a demographic wave coming behind us, a silver tsunami of folks who are going to need health care regionally," Whorley says. "We know that the older folks use health care more than when they were younger. Health care is a vibrant and vital part of our local economy. Anything we can do to improve how health care works in Columbia and make it known in Missouri and beyond Missouri's borders is going to help our health care here and be a good thing for our region going forward."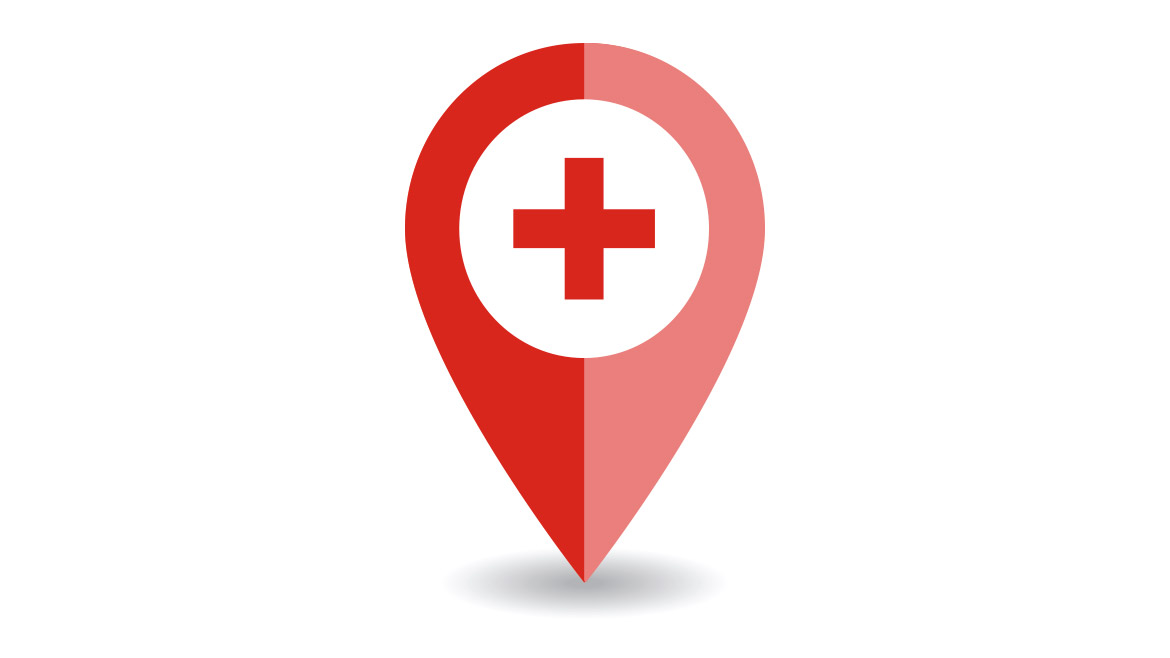 By itself, MU Health had an economic impact of $2.4 billion in 2011, according to a self-study. But apart from a few exceptions — an article on the BioJoint Center in the January 2016 issue of Delta Airlines' SKY magazine being a notable one — Columbia's health care providers allocate the bulk of their marketing efforts regionally. At the beginning at least, the City's focus will be on making Columbia what MU Health CEO Mitch Wasden refers to as a "hub" for patients in the Midwest, not simply a "spoke" feeding into a larger city.
But task force members are already thinking about a national profile, which they think is within reach. After all, in Rochester the city built up around Mayo; Columbia is already established.
"We're looking at a vibrant community, being a key part of it and marketing that," says Kate Pitzer, task force member and in-house legal counsel for Boone Hospital. "We're setting ourselves up to be sort of a unique area where people can come, get the services they need, and live a reasonable lifestyle at a reasonable cost."
Coordinating the Providers
Treece won part of the battle before the task force even convened for its first meeting. The mayor, who referred comment for this story to task force members, managed to convince representatives from MU Health, Boone Hospital, Columbia Orthopaedic Group, the BioJoint Center, Ellis Fischel, and the VA hospital to take seats on the committee.
Some collaborators, some competitors. All, now, committed to turning Columbia into a destination medical center.
"There was some concern about one provider being promoted more than another, but, so far, it's been very collaborative," Pitzer says. "And the idea is really to promote the community."
On their own, each of the major players has something valuable to offer. Boone Hospital serves a 26-county area and, Pitzer says, has earned a reputation of quality health care at an affordable price. It also has name recognition by, for now, being affiliated with BJC HealthCare, of St. Louis. The VA Hospital serves more than 38,000 veterans and draws mainly from 43 counties in Missouri and Pike County, Illinois and was, until recently, the only VA Hospital in a four-state area to offer open-heart surgery. MU Health houses both Ellis Fischel, which is the state-designated cancer center and has earned certification from the world-renowned MD Anderson, and the BioJoint Center, which has drawn patients from as far away as Japan and Brazil.
There is some overlap in services. There are some competing interests at play. Yet all the stakeholders realize that coming together serves a greater purpose than controlling their own fiefdoms.
"I've seen a lot of ebb and flow of those relationships," says L. Stephen Gaither, public affairs officer at the VA hospital. "Historically, we've benefited a great deal from services we've received from both the university and Boone. There is a sense of working together. But it still comes down to individual facilities making sure they pay attention to the bottom line and continue to survive. I think that the potential is there. It's going to take a lot of hard work."
Gaither says that, even if the spirit of cooperation is a given, the logistics of transferring services between providers sometimes bogs down the quality of health care a community can provide. Mayo, he says, is a thoroughly integrated lifeform. For Columbia to duplicate that system, or at least custom fit it to this city, the health care providers would have to get in lockstep when it comes to operations such as referrals, billing, and insurance.
"Becoming a destination medical community is not an event. It's a process," Wasden says. "Today, we stand up a few programs and start to see patients coming in. What happens is it kind of builds. Success breeds success. Part of what we want to try to do is make it so once you build two or three reputable programs, there's almost this cascade that makes it easier to get the next program."
Cook, from the BioJoint Center, recently came back from a trip to Thailand in which he observed how the Bumrungrad International Hospital coordinated its 45-hospital system. He noticed the premium they put on ease of access: how someone was there to meet patients as soon as they stepped off the plane to take them to their hotels or whichever hospital they were heading for, which, in turn, had separate check-in centers for patients of different nationalities.
Cook couldn't take notes fast enough.
"It's got to be easy and you've got to hold their hand every step of the way," Cook says. "It's just like, 'How can we make this easy and comfortable so you're comfortable?' Any medical thing is not a comfortable situation."
Coordinating the Community
Parmley has gained an appreciation for the difficulties that families can face when one of their loved ones has to check into the hospital for an overnight visit. His Columbia Hampton Inn & Suites is just across Stadium Boulevard from the VA Hospital and only about a half-mile from the MU Health campus. He says the hotel sometimes gets eight or nine last-minute reservations in one night for unexpected hospital stays.
"You don't want to drive clear across town," Parmley says. "You want to be close, able to get back quick if you need to."
For as much time and energy as the task force devotes to enhancing and marketing Columbia's medical services to a wider geographic scope, it also has to consider the city's infrastructure needs if it is going to accommodate a new stream of visitors.
Megan McConachie, strategic communications manager at the Convention and Visitors Bureau, says her organization has been anticipating this sort of push for a while now. With the mayor on board and a working group assigned, the CVB is eager to do what they can to make it a reality.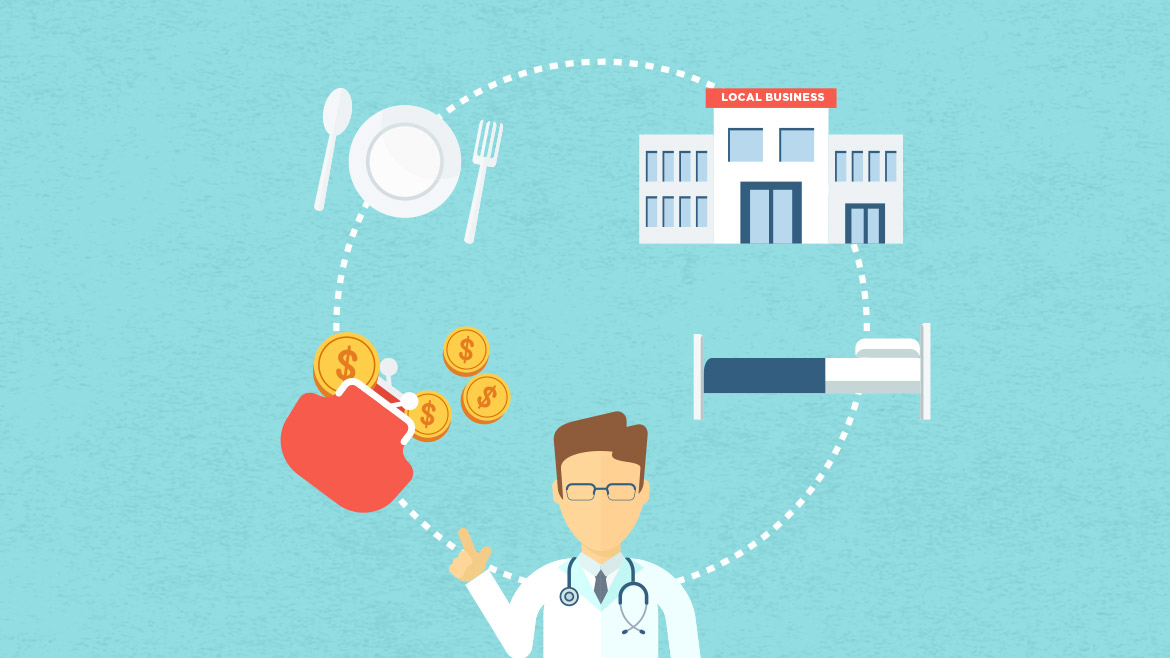 "A lot of the foundation is already in place. Each of our medical facilities has a way they already approach this to help place people who are from out of town and try to make their time here easier," McConachie says. "What we want to do is make that a little bit more cohesive and really exchange ideas and find out how the CVB can get involved, because there are definitely ways we can capitalize and expand on what they're already offering."
The infrastructure component breaks down into three main categories: getting to Columbia, finding a place to stay, and getting around once you get here. Right now, Columbia Regional Airport offers two daily round-trip flights to Dallas and Chicago. Any potential patients who couldn't make those flights would have fly into St. Louis or Kansas City, then make the two-hour trip down the highway. With the August passage of Proposition 1, raising the city's lodging tax to fund improvements at COU, the hope is for a new airport terminal to encourage more flights to come into Columbia and make it easier for out-of-town patients to get here.
But regardless of airport improvements in Columbia, Cook says Columbia's medical community could benefit from a system like he saw in Thailand, with representatives ready to meet patients and accompany them to their final destinations as soon as they step off the plane, no matter where the flight is landing.
"You don't want to make them do four, five connections. A check-in place at St. Louis or Kansas City and a specific shuttle service would be really helpful if they couldn't get into Columbia," Cook says. "Right when they get off the plane, as soon as they have a choice of where to go, they're identified so they can go to the right place."
Kevin Staveley-O'Carroll, Ellis Fischel director and a task force member, is already investing in a program of "nurse navigators" who serve as a support structure for patients from diagnosis onward. It's their job to lend emotional guidance to patients, but also practical guidance in coordinating trips between their local health care provider and Columbia, where they have to undergo their more involved procedures.
It's fully integrated care to go along with the set programs for nutrition, palliative care, and physical therapy that will serve as part of each patient's regimen — the sort of thing that Columbia could make commonplace as a medical destination.
"Once you say we want to be a destination and start working together as a team, you make sure you're offering comprehensive services in a seamless, well-navigated process," Staveley-O'Carroll says. "We want to set up the navigators working in a seamless way with the local hotel owners to bring the patients in from all over the state and beyond for their procedures and clinical trials. Of all the things we're doing, that's one of the most important things that fits in this collaboration with the city."
Parmley and Vivek Puri, vice president and general counsel for the Hilton Garden Inn and Holiday Inn Express, form the hospitality component of the task force. Guy Collier says he envisions the city's hotels collaborating on a "central repository" for online booking of rooms that lets potential patients know what's available at different price points. Again, that would be competitors working together, but Collier says it hasn't been an issue for the hotels. He and McConachie both see expansions of bus service and shuttles between the airport, hotels, and hospitals as key points to consider.
"Once you get people coming to Columbia, we've got to make it user-friendly," Collier says. "The worst thing would be if all our services bring people in and they have a lousy experience with lodging and transportation."
There's no set timeframe on the task force's recommendations; Collier expects the information-gathering phase of the project to run through the first quarter of next year. After that, it's up to the civic leaders to decide whether Columbia has a legitimate shot at expanding its medical tourism draw and determine what steps the city needs to take.
Cook feels like all the pieces are there. He's had a knee surgery patient from Poland coming in for a procedure. Some Polish members of the Columbia community pitched in to communicate with the patient and brought her comfort food to help make her stay as positive as it could be. Her boyfriend even flew in to propose to her. "We said she had to come back for her anniversary," Cook says.
With health care, hospitality, and government leaders all pulling in the same direction, Cook thinks that's an experience Columbia can duplicate many times over.
"I hope the community doesn't see it as medical people trying to make more money. It really is about enhancing the whole community," Cook says. "I hope people don't try to look for some underlying goal, because the goal is to enhance everybody."