I'm probably the girliest tomboy you will ever meet.
For instance I used to be a runway model; I love cutting edge fashion; and I adore the way make-up can transform a person's features. But I will never shy away from being covered in paint, sweat, mud, or dust to get a job done.
My experience in modeling contributed dramatically to my love of fashion and cosmetics (and frankly, design in general too), and as a model, one of the most important features to accentuate are the eyes. And as any make-up wearing woman knows, eyeliner can easily be a girl's best friend or worst enemy.
In the design world, trim is the eyeliner of wall décor. Some people prefer the subtle elegance of white trim to make a bold color pop, while others prefer a rich brown, or even black, to create a rustic or sleek glamour feel.
When I have clients either move into a new space or renovate an existing space, they frequently do not consider that trim color can be changed. You are not limited to a rustic or modern feel. The trim should showcase the walls and the room rather than contradict it, and like eyeliner, the cleanliness of the wood or the paint job also affects the overall impact. I think we have all been in a room and have had our eyes drawn down to the baseboard where splatters of trim paint are overlapping the wall color or vice versa. It's messy and distracting.
The perfect liquid line is as important to design as it is in cosmetics. With make-up, you want someone to comment on the beauty of your eyes, not your liner, and in design, you want someone to comment on the beauty of your walls and not the cleanliness of the trim.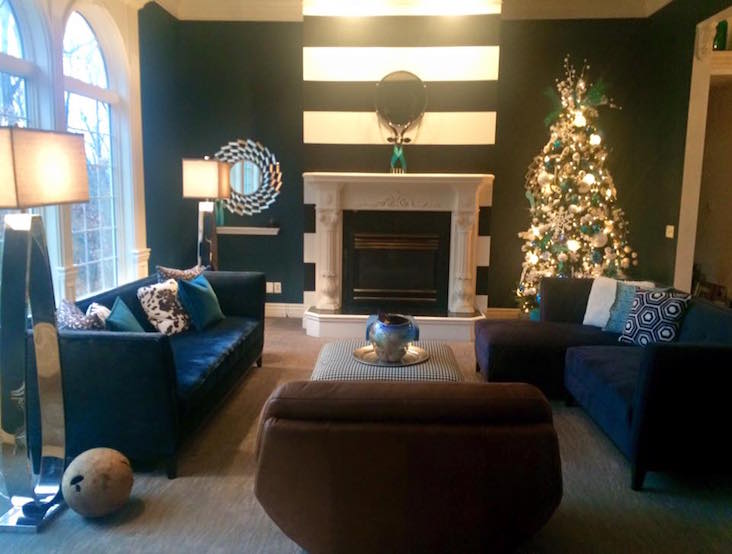 To find out more about Anne Tuckley HOME, visit her website.