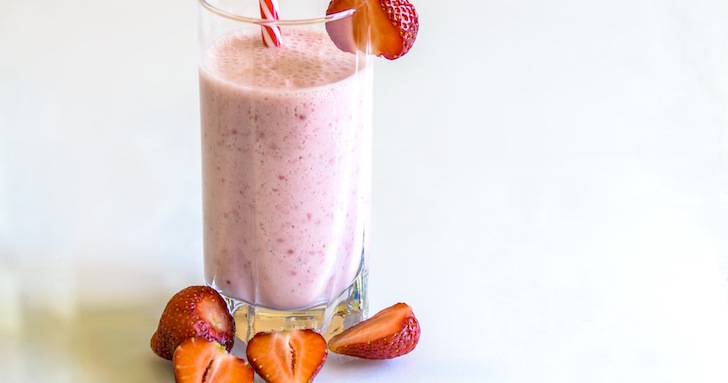 Take out your blender and fruit, because we're talking smoothies!
Over the past decade, smoothies have become a summer favorite, and rightfully so. Smoothies are jam packed with nutrients, fiber and antioxidants, which are perfect for summer!
Here you'll find a mini crash course behind smoothie basics, specific add-ins for certain health benefits, simple DIY recipes, and more!
The Basics
Although every smoothie is unique, these are just a few essentials that make it just right:
Frozen fruit (or fresh fruit and ice)
Liquid base (water, milk, almond milk, juice, coconut water, concentrate)
Vegetables (options based on preference)
Yogurt, for a creamy base
Greens (kale, spinach, chard, collards, beets)
Sweetener (honey, agave, dates)
Add-ins and Benefits (Superfoods)
Ginger — great for aiding in digestive health
Chia Seeds — whole grain, fiber, protein, omega-3, aids in energy
Bananas — potassium, vitamin C, manganese, fiber, aids in eye health
Peanut butter — protein, potassium, fiber, healthy fats, antioxidants, vitamin E
Spinach — vitamin A, vitamin K, magnesium, protein, antioxidant, low in calories, lowers cholesterol, anti-Inflammatory
Pineapple — detoxifier, good for digestion help, immune system support, eye health, anti-inflammatory
Oats — whole grain, protein, fiber
Acaí powder — antioxidant, fat burner and metabolism booster
Kale — fiber, iron, vitamin K, antioxidant, bone health, digestion
Beets — Vitamin C, fiber, manganese, immune booster, potassium
Flax Seeds — omega-3, antioxidant, fiber
Top 10 Superfoods for Spring (according to Health.com)
Walnuts
Asparagus
Spring garlic
Legumes
Spinach
Artichokes
Salmon
Strawberries
Eggs
Blueberries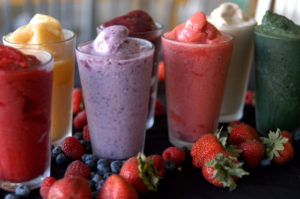 Main Squeeze Natural Foods Cafe
If you don't feel like making your own smoothie, COMO has you covered. Located in the heart of downtown Columbia, Main Squeeze Natural Foods Cafe is just one of few shops that create 100 percent real fruit smoothies. With ingredients including raspberries, blueberries, peaches, and pineapples, these smoothies are handcrafted and totally organic.
Aside from smoothies, Main Squeeze also has a variety of vegan and organic food options, along with juices, soups, salads, and protein shots.
We spoke with Leigh Lockhart, owner of Main Squeeze, to discover some of the benefits, tips, and tricks to smoothie making, along with exclusive insight into how certain ingredients improve the overall quality of health smoothies.
BW: What are some of the major benefits that come with health smoothies?
LL: Well, smoothies are cool because you get the fiber, you get the whole plant in the smoothie. When people drink juice, they're primarily going for the nutrients and not the fiber, which is fine except for that with the smoothies, you have the balance of sugars from the fruit with the fiber of the fruit, which is better for your digestion and fills you up more. It has less sugar than fresh juice, and you can put crazy amounts of nutrient-dense foods in smoothies. Kale would be the most popular thing people add to smoothies. It doesn't change the flavor or texture very much but it packs a powerful amount of nutrition.
BW: What sets Main Squeeze apart when it comes to the ingredients and certain recipes?
LL: My philosophy is to serve the best quality product that I can. And what quality is to me may be slightly different from what other for-profit businesses consider quality. Quality, to me, is certified organic products, and that means these are products that are certified by the government as free of chemical pesticides, fertilizers, and chemicals.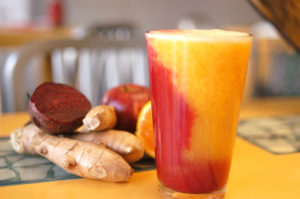 Recipes to try at home
Spinach, Grape & Coconut Smoothie (Realsimple.com)
1 cup seedless green grapes
1 cup packed baby spinach
½ cup ice
¼ cup coconut milk
Triple Berry Blend (foodnetwork.com)
1½ cups mixed blackberries, strawberries and raspberries
1 cup milk
1 cup ice
Add sugar to taste
Chai (foodnetwork.com)
1½ cups chai tea concentrate
1 cup milk
1 cup ice
Sprinkle with chai spice or ground cinnamon
Be sure to follow @COMOLivingMag on Pinterest for more delicious and healthy smoothie recipes you must try this summer!