…one sports bra at a time!
Sports bras seem to be the last thing on our minds when it comes to working out. News flash ladies — they're important! A good sports bra can make or break a cardio sesh. So how do you find the right one?
When looking to buy, it is important to remember three things: size, bounce, and comfort. Too often, women buy a smaller size than they need. Ladies — stop this. Fight the sag and buy one that properly covers both breasts. Don't be afraid to get sized professionally as well.
The second most important thing to remember is bounce. Try the bra on and run in place for a couple of minutes in the dressing room. Did the girls stay in place? If so, you probably have a durable bra that will let you be mobile and active. No more scaring the neighbors with the horrifying boob bounce on your morning jog.
Last but not least, when buying the perfect sports bra, remember comfort. Make sure the material feels comfy on your skin. The band and straps can play a large role in this, so look for something that doesn't push into your skin and put pressure on your breasts.
With these simple tips, finding the perfect fit for you will be a breeze. Still not sure on what to buy? No need to stress. Below is a list of the best sports bras from great local stores in the COMO area.
For bigger chests:
Brooks Moving Comfort Maia bra
Find it at Ultramax Sports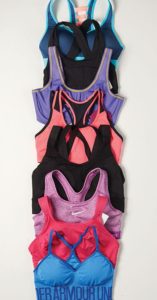 700 E. Broadway
Lululemon Oxygen bra
Find it at Sumits Hot Yoga
505 E. Nifong Blvd. Ste. 103
Nike Pro padded definition bra
Find it at Dick's Sporting Goods
227 N. Stadium Blvd.
Wacoal underwire bra
Find it at Dillard's
2300 Bernadette Dr.
For medium to smaller chests:
PrAna Soleil bra
Find it at Ultramax Sports
700 E. Broadway
Medium impact and support bra
Find it at Target
2400 Bernadette Dr.
Under Armour low impact bra
Find it at Dick's Sporting Goods
227 N. Stadium Blvd.
Lululemon Minimalist bra
Find it at Sumits Hot Yoga
505 E. Nifong Blvd, Set 103