photo by Cassidy Shearrer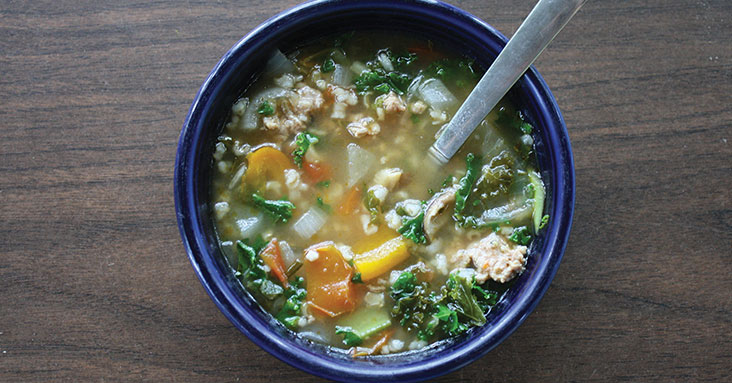 Fresh herbs and quality stock are the keys to this soothing soup.
I made up this soup recipe last summer while housesitting for a friend who had a thriving herb garden. It was my last week of living there, and I was trying to use up the groceries I had stored in her fridge. So, like many a stir-fry or homemade pizza before it, a new meal was born. It's slightly spicy, super fresh, and a great meal to have on hand when those first days of fall finally arrive.
Ingredients:
1 tablespoon olive oil
1 onion
1 bell pepper
2 roma tomatoes (or similarly sized tomatoes)
6 small chopped mushrooms (shitake)
4 sprigs fresh thyme
Equal amount fresh oregano
1 to 5 inches fresh rosemary sprig
2 to 3 garlic cloves
1/3 pound sweet Italian sausage
2 teaspoons concentrated stock (I recommend Better Than Bouillon)
2 cups instant brown rice
Salt and pepper, to taste
8 cups water
Chopped kale (or spinach)
Directions:
Chop onion and bell pepper and saute in soup pot, with olive oil, for around 10 minutes. Add tomatoes, mushrooms, herbs, garlic, and sausage. When sausage begins to brown, add water, stock, rice, salt, and pepper. Bring to a boil, then lower to a simmer for at least a half-hour. Add kale or spinach, then simmer five more minutes. Skim fat after cooling, if desired.