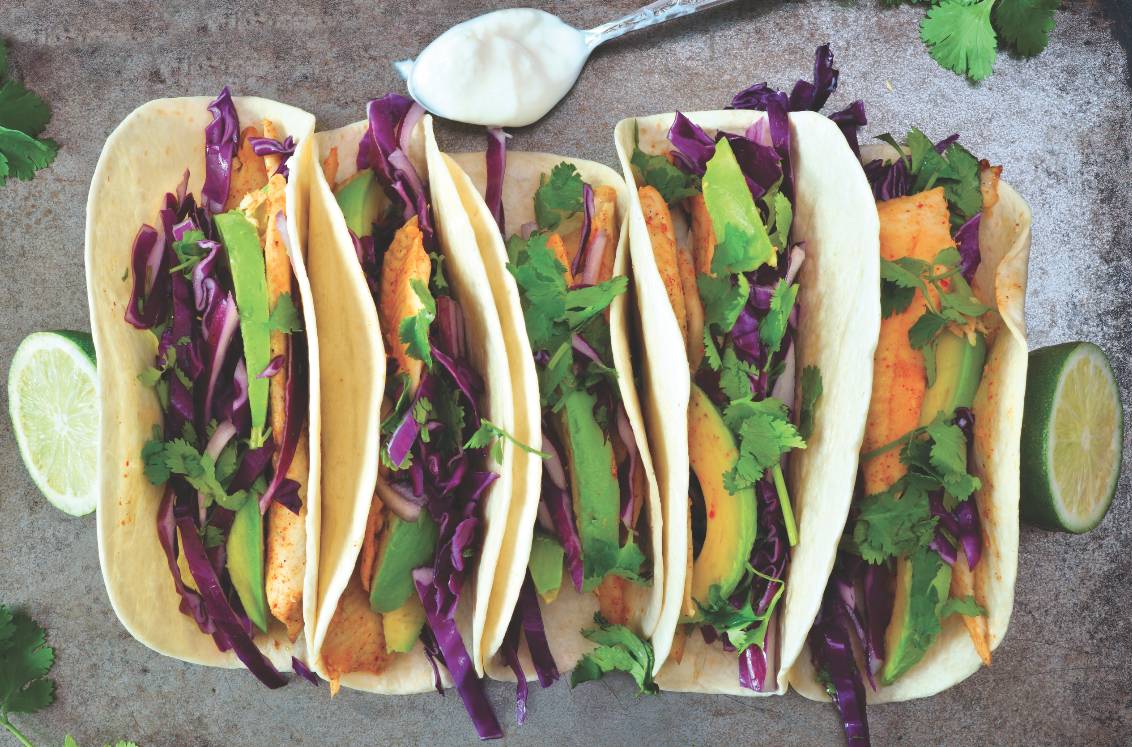 This healthy twist on fish tacos saves both time and calories by skipping the deep frying. A refreshing combination of grapefruit and cilantro makes this slaw bright and tangy. Avocados give these tacos a touch of creaminess.
Recipe Notes:
Prep Time: About 30 minutes
Makes 4 servings
Dairy free
Nut free
Ingredients:
24 ounces tilapia
12 tortillas
2 grapefruits
8 ounces shredded red cabbage
2 avocados
2 shallots
2 teaspoons cumin
½ ounce cilantro
2 tablespoons olive oil
Directions:
Prep the ingredients by washing and drying all produce. Preheat the oven to 400 degrees F. Halve, peel and thinly slice the shallot. Pick the leaves from the cilantro, and then roughly chop the stems keeping both separate.
Segment the grapefruit using a small paring knife. Remove and discard the grapefruit peel and pit by carefully cutting around the flesh. Working over a large bowl, carefully slice between the membranes to release the grapefruit segments. Squeeze the inner core of the fruit to collect any remaining juice. Set the segments aside leaving the juice in the bowl.
Make the cabbage slaw by tossing the cabbage into the bowl along with the cilantro stems, shallot and half the grapefruit. Drizzle with olive oil and season with salt and pepper.
Wrap the tortillas in foil, and place them in the oven to warm. Halve, pit and peel the avocado and thinly slice. Toss half of the avocado slices into the cabbage slaw.
Heat a large drizzle of oil in a large pan over medium-high heat. Pat the tilapia dry with a paper towel. Slice it into 1-inch wide sticks. Season liberally with salt, pepper and cumin. Add the tilapia to the pan, and cook for 2-3 minutes per side until golden brown and opaque in the center.
Place a piece of tilapia and some cabbage slaw in each tortilla. Top with a piece of avocado, a grapefruit segment and some cilantro leaves. Serve the extra cabbage slaw on the side.
Recipe from Hello Fresh