Broadway, Downtown Columbia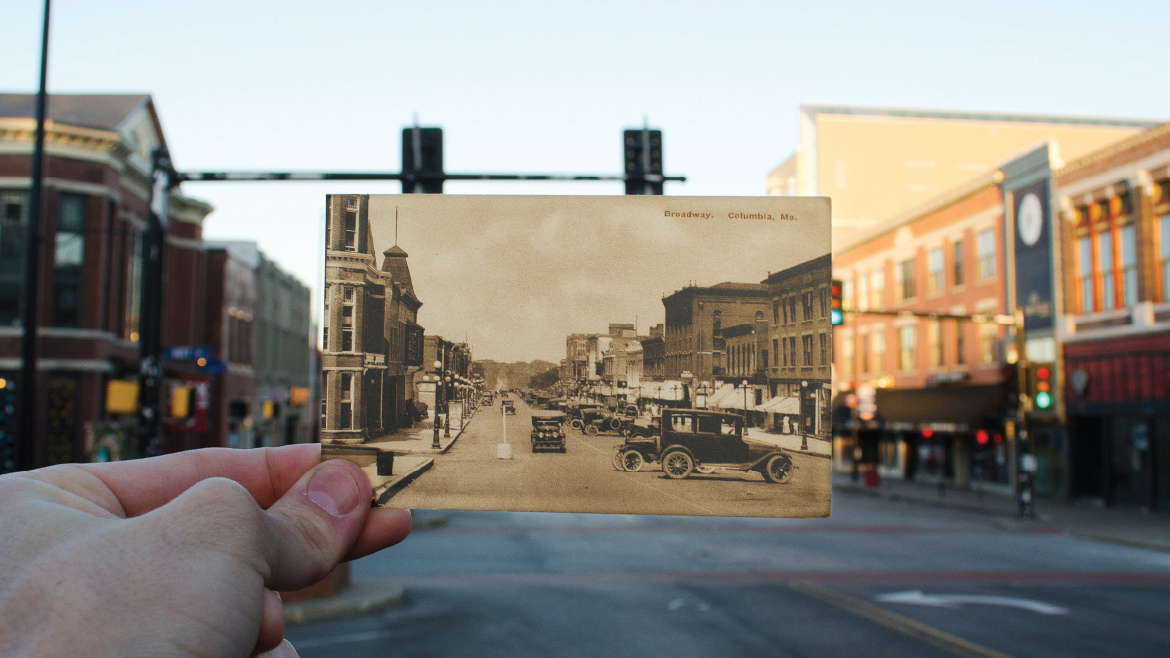 Broadway has always been an integral part of the Downtown Columbia Historic District, one of the areas on the National Register of Historic Places.
This western view shows that, at one time, vehicles parked in the middle of Broadway.
A historic building of note is part of the original Stephens Publishing complex at 1020 to 1018 Broadway (on the left). According to ColumbiaHistoricHomes.com, it once housed the Columbia Missouri Herald and was built in 1892. The building is on the National Register of Historic Places.
The Columbia Missouri Herald was a weekly paper that began operations in 1870, according to the Library of Congress. The newspaper was created and published by Edwin William Stephens and the E.W. Stephens Publishing Company.
Stephens served as president of the board of curators for both MU and Stephens College and served as president of the Missouri Press Association. An excerpt from the Centennial History of Missouri said, of Stephens, "His vigorous style and his trenchant treatment of all things important, both local and statewide, in the Columbia Missouri Herald, made his influence broad and his ideas widely hearkened to." The excerpt also lauded the Herald as "known for its editorial and typographical excellence as America's model weekly."
According to the Department of Natural Resources, the building is late Victorian style and is one of the largest 19th century buildings in The District. It sits at the corner of Broadway and Hitt. The building was once topped with a clock tower, which was removed during remodeling in 1972. The building includes an ornate bas-relief with a winged orb and sunburst, and tall, narrow windows.
The building is 13,000 square feet and is now owned by John Ott. Today, the building houses Strange Donuts, Seoul Taco and Günter Hans, with The Factory Lofts located on the second floor. The five Factory Lofts apartments were renovated in 2012.