Levi Is the King Of the Castle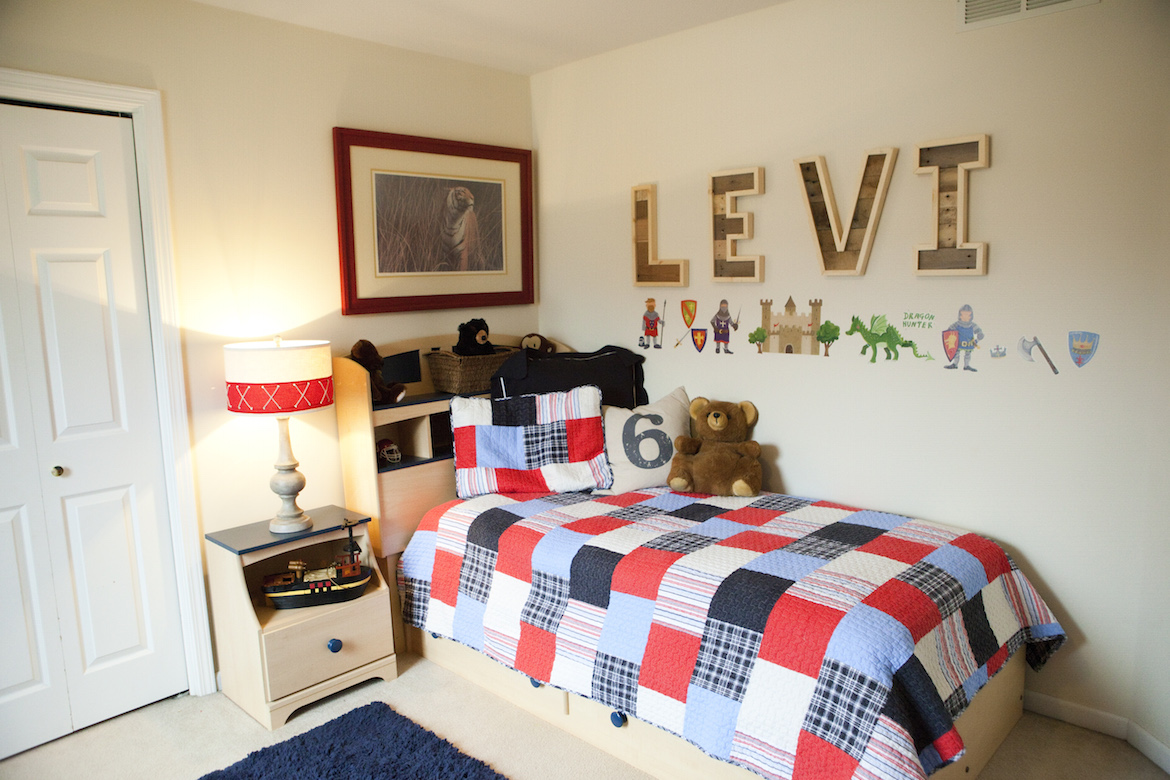 When Jayme Tips and I sat down to discuss what her sweet four-year-old son, Levi, loved, she mentioned that he loves to play with his castles. With the theme in mind and the beautiful plaid bedding Jayme had purchased, I was off and running. My first stop was Johnston Paint and Decorating. I can always find what I need there, and the customer service is top notch. I mentioned the castle theme and was directed to some wonderful wall stickers that they special order. They can easily be added and removed from walls or furniture. This was the perfect addition to the room. The stickers were inexpensive and an easy thing to change as he outgrows his room.
The room was previously Levi's older sister's room and was a light pink. When reviewing the plaid bedding with the interior designer at Johnston Paint and Decorating we decided on the color "Feathered Down" by Benjamin Moore Aura in a matte finish.
After we found the perfect color for the walls, I decided we needed a bookshelf. I was fortunate to find an inexpensive bookshelf on an online swap shop for just $10. I transformed the bookcase with Cottage Paint, also sold at Johnston Paint and Decorating, in red and lightly applied a dark wax to tone it down. I applied a few of the stickers to the bookcase and changed out the hardware for a fresh new look. The tiger print was from my neighbor's garage sale and was just waiting to be placed in the perfect room. The knotty pine frame was coated with two coats of red Cottage Paint and waxed dark to match the bookcase.
The castle theme was brought to life with the Roommates Peel and Stick Décor Dragon Hunter Wall Decals by York carried by Johnston Paint and Decorating. The gorgeous handcrafted pallet letters are from Mayberry Acres located in Ashland, Missouri. The letters made a bold statement on the wall, and Levi loved seeing his name.
The furniture in the room was donated by a family friend. I added a navy rug, curtain rod, curtains and some additional lighting. The best compliment was when Levi told me it was perfect! My heart melted as I thought, "It's not perfect, but you, my little King of the Castle, certainly are!"
Mayeberry Acres
[email protected]
573-680-8277
mayberryacres.com/about/