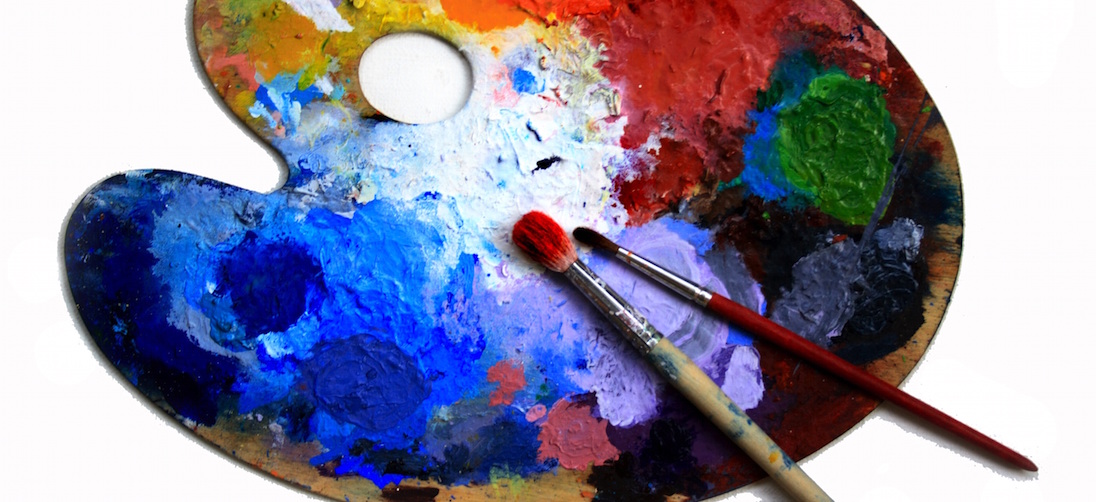 Initially known as the School of Service, Access Arts was founded by local architect Hurst John. As the father of a son with cerebral palsy, John observed how the rest of his family would benefit from their interactions with his son, who enjoyed art. In 1971, he developed what would become Access Arts, which gained its 501(c)3 status in 1973. John founded Access Arts to be "an atmosphere of inclusion," according to executive director Shawna Johnson.
That ideal has driven Access Arts for the past 44 years. "We believe that it's important for everyone to have access to art and art education," says Sarah Catlin, the newest member of Access Arts board of directors. "It's in the name — Access Arts!"
Access Arts has grown up since 1971. Initially meeting once a week, in the basement of their office, Access Arts has expanded to offering year-round classes on their three-building campus. Classes include 3-D art, such as jewelry making and weaving; graphic art, like drawing and painting; and clay art.
Now serving an average of 800 artists annually, the students come primarily from Columbia and surrounding cities. Johnson did note, however, that they had a pair of students from Kansas City, who came to take a weaving class that they were unable to find in their hometown. "We have great facilities," says artist-in-residence Patrick Hutti. "We're able to offer a lot of choices that some high schools might not."
Access Arts is also involved with community children's programs. Last summer, Access Arts partnered with Boys and Girls Club of Columbia to let their kids experience a collaborative art project. "We did a collaborative piece at the Boys and Girls, where we found out people's strengths and we moved people around a lot," Hutti says. For this project, the students worked together to create a number of clay vessels, which will eventually be placed in one of Access Arts community partners' facilities. "Everybody was able to learn something about themselves," Hutti says.
While Access Arts is well known for its youth classes, it also offers a number of courses for adults and students. "We have a significant part of the student body that's older," Johnson says, "people who have empty houses for the first time, or who used to be artists, or who wanted to be artists and never had the time."
These artists are often veterans. Hutti, who became an artist-in-residence in July, works closely with the VA as part of his community outreach. He wants to provide veterans with opportunities to utilize Access Arts resources and teachers. "Oftentimes it's not just talent," Hutti says. "It's having the right tool, or the right instruction, and bridging the gap over that initial fear — the 'I can't make art' fear — and when they see that it's just having the right tool, or the right technique, it becomes accessible."
Empty-nesters make up another significant portion of Access Arts artists. "We have one student who's almost 80," Johnson remarks. "Once the kids leave the house, people find they have time to pursue art."
As Access Arts engages the community through art and teaching, they also rely on the community financially. Their funding comes from benefactors such as the city's Office of Cultural Affairs, Boone County Community Trust, Boone Electric Community Trust and the Missouri Arts Council. They also depend on community fundraisers through local businesses, like Lucky's Market and Bluestem Missouri Crafts. These local efforts help to raise both money and awareness for Access Arts.
Access Arts also benefits from its artist-in-residence program, Johnson says. A mutually beneficial relationship, Access Arts is able to offer newly graduated artists materials and facilities so they can continue to make art and grow their portfolio. In return, Access Arts is able to offer their students skilled teachers from outside Columbia who are able to bring different skills to the program.
When asked about the future, Catlin gets excited. "We want to offer more programs to more people, obviously," Catlin says. "We have the ability to grow, and the facilities to grow. We do a great job with kids and with adults, but we tend to lose students in their teenage years." Johnson agrees, noting that adding more students would allow them to add more programs.
When it comes to teenagers in the program, Hutti wants to see them use Access Arts to further their dreams as artists. "We have the ability to bridge the gap between college and high school. Not just that they'd get into college, but that they'd get scholarships." Hutti says, noting that high school students are also able to receive guidance and mentorship from the artists-in-residence.
This guidance can often be the difference between getting into an art school and "getting into a top art school and having a career as an artist," Hutti says.
As for teaching students whose college years are behind them, Hutti enjoys taking the "stress out of people's life for three hours out of the week." Helping people develop new artistic skills while learning about themselves is something g Hutti believes in, and it's been Access Arts' mission since 1971.
Jenny Sennott
"My proudest moment has been watching one of my special needs students blossom from a hesitant beginner to a confident, accomplished weaver."
Patrick Hutti
"My proudest moments are when I see the joy my students have from making art."
Shawna Johnson
"Art education is so vital to a person's development. This organization continues to make it possible for everyone to be creative. I like knowing that my efforts are part of that."
Doris C. Agwu
"From individuals with special needs to our beloved veterans, Access Arts strives to create wonderful experiences for any and everyone."
Sherry Wohlgemuth
"I took a class years ago and loved it. Life got busy, but then I got my kids involved in classes years later, and it just seemed like a good fit. I believe in the mission, and that makes it easy to be involved."
Sarah Catlin
"I wish everyone knew how fabulous our teachers and visiting artists are and that anyone can enjoy making art. We have something for everyone."
1724 McAlester Street
Columbia, MO 65201
573-875-0275