La Di Da Children's Boutique Owner
Name: Chrissy Maurizi
Business/Title: La Di Da Children's Boutique Owner
Age: 33
Years lived in CoMo: 20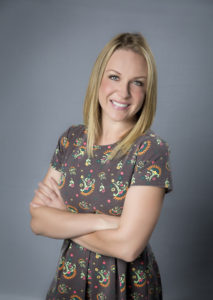 Family: I'm a single mom of three children, Braden, Alyssa (my cheerleader) and Charlie-Lane, as well as a caregiver to three young adults with special needs. I'm not certain, but I'm pretty sure that qualifies me for Angelina status, minus the Brad part. I'm the third generation of my family to provide care for individuals with development disabilities. My mother, Tina, along with being a care provider, also owns Countryside Nursery School. We both love children. My father, Dr. Michael Maurizi, just recently returned from a tour in Afghanistan. We are immensely proud of him serving our country and are happy to have him home.
On a typical weekday night I am: Spending time with the kiddos and obsessing over my favorite children's brands online (I'm a true boutique head).
Favorite restaurant to frequent in CoMo: Chris McD's, hands down. The filet is beyond words. Yum!
What I do for fun: Happy hour with the girls, trips out of town and spending precious time with my family.
Community involvement: I volunteer with my church in many ways: Sunday school, prison ministry, bucket passing… you name it. I also love to help out at Love Inc. It's a very special program that is near and dear to my heart. I also volunteer with the humane society.
The most rewarding part about my job: I absolutely love interacting with moms and children in the store. Finding the perfect outfit and chatting it up about the trials and tribulations of parenting. There is no manual for how to do it right… just other moms who can relate and might be able to offer advice or a shoulder to lean on.
The most rewarding part about being a mom: Being a parent is the coolest thing anyone can ever do. Everything until that point and the things you thought were fulfilling are nothing compared to being a parent.
In a single word, I am: Loyal
Favorite Accessory: Boots. I'll wear $2 filp-flops all summer and then when fall hits, it's onward to $100's on boots. That's how I justify it anyways. It all balances out in the end.
Guilty pleasure: Heavenly Ham. I go in and buy a ham, then go to Schnucks to get Velveta and Hawaiian sweet rolls. I'll wake up in the middle of the night and make mini ham and chesses.
Favorite Cocktail: Buffalo Trace. I'm a whiskey girl. Give me Johnny Walker and keep the vodka.
What makes you smile?: Living in the present and realizing that I don't have to regret yesterday. There's no need to rush tomorrow.