From the Local Market: Figs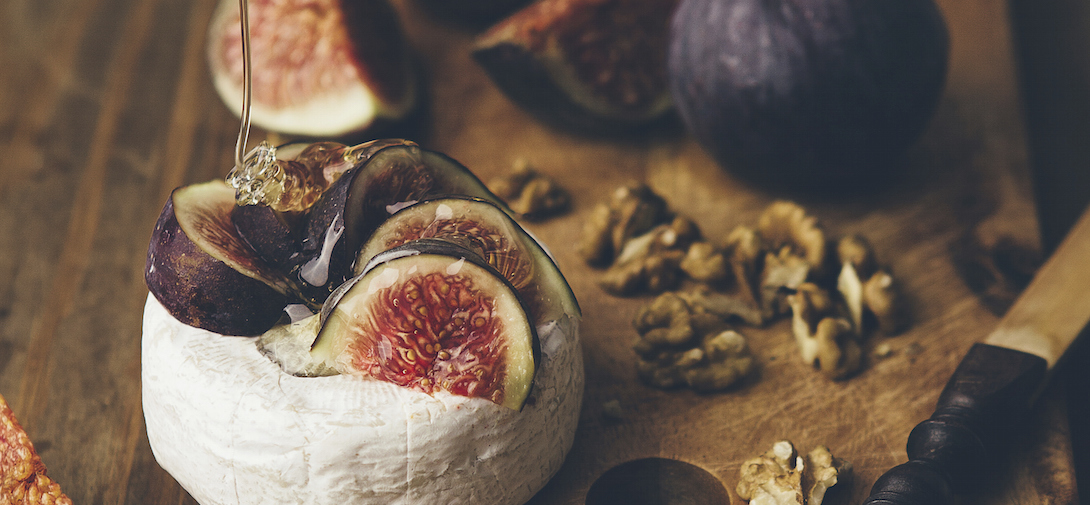 Fig trees can range in height from 10 to 30 feet. The fig tree is considered a Mediterranean plant and grows best in hot temperatures. During the winter months, fig plants can be brought inside in order to be protected from the cold. Since we are located in the Midwest, State-by-State Gardening suggests that gardeners will have better success growing fig plants by planting on the south of a building. This will provide sunny exposure and can also help break wind in the winter. Butting the plant up against a trellis will help with stability. If you prefer to plant indoors, the Figs, or Ficus carica, can be grown in a large pot, such as a whiskey barrel.
Figs are one of those lusciously sweet fruits that are perfect to eat by themselves or roasted with other root veggies. Read below for some of the best-hidden benefits from this little purple fruit.
Helps Lower High Blood Pressure: Figs are a great source of potassium, which is a mineral that helps control blood pressure.
Lose Weight: Figs are a great source of dietary fiber, which helps with weight management.
Protect Against Postmenopausal Breast Cancer: A study was done involving 51,823 postmenopausal women. Of those women, 34 percent saw a reduction in breast cancer risk compared to the women who weren't consuming fruit fiber. Fruits richest in fiber include apples, dates, figs, pears and prunes.
Insulin-Lowering: Here's a fun fact. You can eat the leaf of the fig tree. The fig leaf has been shown to have anti-diabetic properties and can help reduce the amount of insulin a diabetic might need from injections.
Protect against Macular Degeneration: Eating three or more fruits a day can help reduce your chances of early ARMD or vision loss. It's easy; throw a banana into your smoothie, throw some figs on your salad and snack on an apple.

Granola with Honey-Scented Yogurt and Baked Figs
Recipe from CookingLight.com
Ingredients
1 cup old-fashioned rolled oats
1/3 cup chopped pecans
1 large egg white
1 1/8 teaspoons vanilla exract, divided
2 tablespoons packed brown sugar
3/8 teaspoon ground cinnamon, divided
¼ teaspoon salt, divided
1/8 teaspoon ground nutmeg
2 tablespoons maple syrup
2 tablespoons plus 2 teaspoons honey, divided
9 firm, fresh, dark-skinned figs, stemmed and quartered
3 cups plain fat-free Greek yogurt
Directions
Preheat oven to 300°.
Combine oats and pecans in a small bowl. Combine egg white and 1/8 teaspoon vanilla in a medium bowl; beat egg mixture with a mixer at medium speed until foamy. Fold oat mixture into egg white mixture. Combine brown sugar, 1/4 teaspoon cinnamon, 1/8 teaspoon salt, and nutmeg; fold the sugar mixture into oat mixture. Fold in maple syrup.
Spread granola evenly on a foil-lined baking sheet coated with cooking spray. Bake at 300° for 25 minutes, stirring once. Remove granola from oven; stir to loosen granola from foil. Cool on a wire rack.
Increase the oven temperature to 350°.
Combine 2 teaspoons honey and remaining 1 teaspoon vanilla in a large bowl, add figs and stir gently to coat the fruit. Arrange the figs, cut sides up, in a single layer on a foil-lined baking sheet. Sprinkle figs evenly with the remaining 1/8 teaspoon ground cinnamon and remaining 1/8 teaspoon salt.
Bake at 350° for 10 minutes or until the fig juices begin to bubble. Remove from oven, and cool completely. Combine the remaining 2 tablespoons honey and yogurt in a small bowl. Spoon 1/2 cup yogurt mixture into each of 6 bowls; top each serving with about 2 1/2 tablespoons granola and 6 fig quarters.