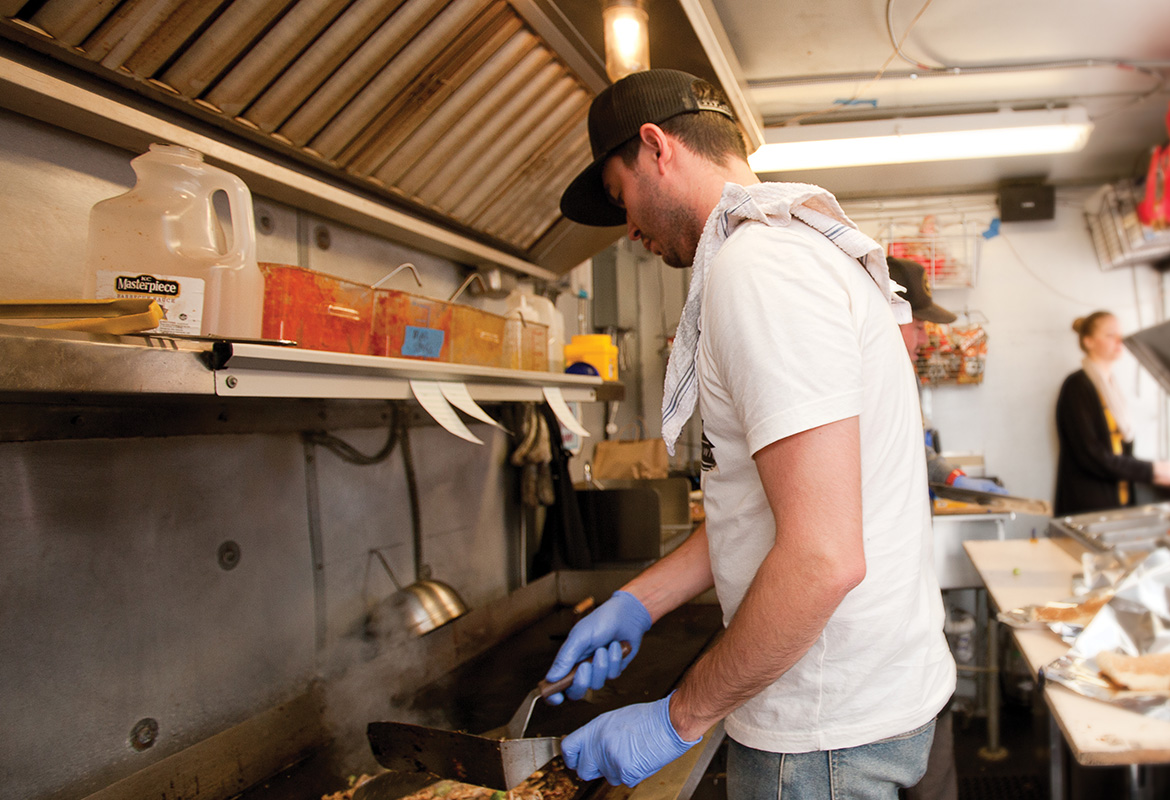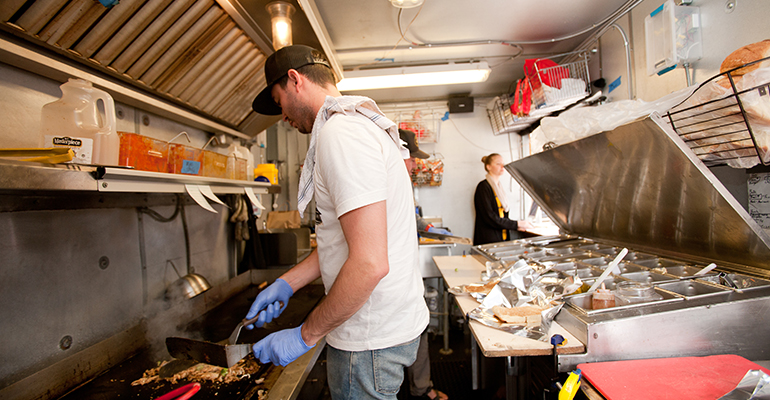 Food trucks offer a creative experience for owners and customers alike. 
I'm a fan of a good sandwich — kind of partial to a Monte Cristo, sprinkled with powdered sugar and dunked in raspberry preserves. Or chicken salad, toasted to perfection on French bread, layered with melted provolone cheese and garnished with a hint of red onion. Even a peanut-butter-and-jelly on plain white bread tastes amazing after a long hike in the mountains.
But this was not just a sandwich.
This was a call-your-friends, open-your-tailgate, sit-down-and-prepare-to-get-sticky kind of sandwich. It was an open-wide, melt-in-your-mouth, close-your-eyes-and-savor kind of sandwich.
The beast of a concoction featured dry rubbed, smoked pork spare ribs, run through a meat grinder, hand-pattied and seared on a grill. The meat was blanketed between two slices of thick homemade bread and topped with broccoli slaw, capped with a sweet barbeque sauce that couldn't help but drip down your chin.
And I have the stains on my jacket to prove it.
It was more than lunch; it was an experience for those not wanting to be tamed by the constraints of silverware, a table or even a napkin.
I'm talking about the Baby Back Burger from Grill-A-Brothers, one of the area's newest food trucks, and one of many mobile restaurants in town that serves up an enterprising eating experience.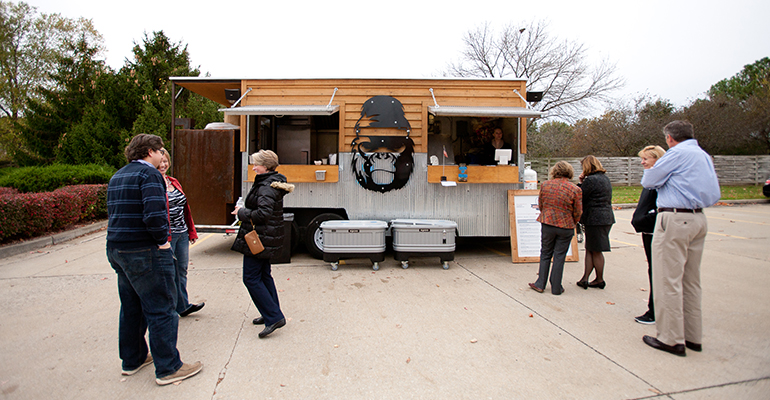 Stats and Trends
According to mobile-cuisine.com, a comprehensive online resource for the mobile food industry, 2015 marks the seventh year of consistent growth for food trucks. Over 4,130 operate in the United States, and they bring in a combined $1.2 billion annually. Food truck revenue has increased 12.4 percent over the last five years and continues to climb upward.
Street operations bring in 55 percent of food truck revenue, and special events account for 18 percent, the second highest revenue source. The average customer spends $12.40 per order, and the average cost of a food truck is $85,000 plus startup expenses.
With more than a dozen mobile restaurants operating around town, Columbia is no exception to the food truck trend.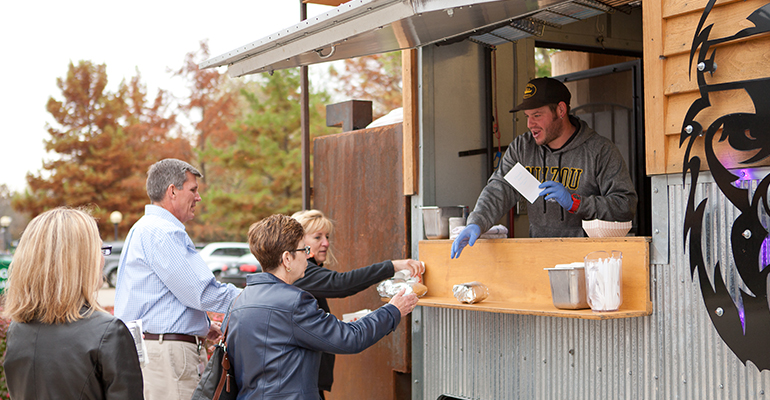 Playing with Fire
Tim Eisenhauer opened Playing with Fire, a wood-fired pizza truck, in 2013. "I couldn't find a job that offered the creative outlet I needed," Eisenhauer says, "so I had to make a spot for myself." He grew up watching his mom run her own business and wanted the flexibility of being his own boss.
Playing with Fire focuses on Neapolitan-style pizza, which has rules that dictate what ingredients can be used and how they should be cooked. Sauce is made only from tomatoes and salt, so Eisenhauer uses San Marzano's sauce, from Naples. Dough can only contain flour, water, salt and yeast — no sugar or fat. So to develop flavor, Eisenhauer uses a natural starter (a mixture of water, flour and yeast used to make dough), which he feeds every day, and lets the dough cold-ferment for 48 hours before it is used.
"Toppings are minimal," he says, "so all the ingredients need to be the best quality to shine through." The Margherita is their signature item, and it anchors the menu. In addition to tomato sauce, this pizza is accentuated with mozzarella, basil and olive oil. Another customer favorite is the Fennel Sausage. It highlights house-made fresh fennel sausage, red onions and heavy cream, infused with wild fennel pollen.
There are limitations to running a business literally on the move. "Since my office, kitchen and place of business are all spread out, I don't feel like I can perform all aspects of my job at any given time," Eisenhauer says. "And we lose time setting up and tearing down when we could be moving on to another location."
Eisenhauer's favorite spot to serve is Logboat Brewing, on Fay Street. "I like that it's a place where people are hanging out and can take the time to sit down and enjoy their pizza," he shares. Eisenhauer has gotten to know the Logboat guys well and appreciates their accommodating spirit. "I like that we can tell people we're there every Friday. It helps build personal relationships with our customers."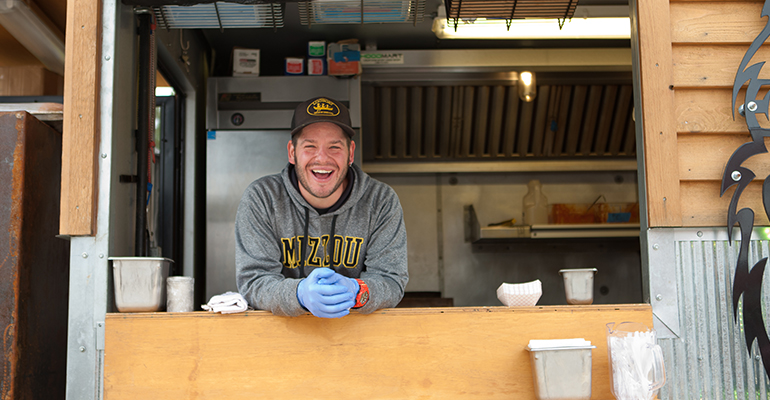 Best of Both Worlds
Chick and Lissa Orscheln are grateful to have a full-service restaurant in addition to their mobile trailer. "We have a lot of working space here," Lissa says as she looks around their full-size commercial kitchen. The couple has a hard time imagining being contained to a food truck.
Smokin' Chicks has been in business since 1996, with their current restaurant located off West Broadway. Chick says they purchased their trailer about the same time the restaurant opened.
"It's another venue to get our food out to the market and meet customers," Chick says. The Smokin' Chicks trailer can be found at special events and festivals, such as First Night, Heritage Festival, Art in the Park, Roots & Blues, Mizzou Homecoming and more.
Since the trailer offers less space, the team keeps it simple and streamlines the menu to popular and portable items, keeping fried or smoked items for the restaurant.
Top items include the Memphis sandwich, featuring layers of southern-style pulled pork and horseradish coleslaw on a giant Kaiser roll; and the Texas, made with layers of brisket and coleslaw.
Having done it for so long, the Orschelns know their calendar a year in advance and know what works. "We try to plan out, be organized and not have anything happen that's unexpected," Lissa says.
Food Truck Chaser
The OrscheIns' years of experience are a far cry from the story of Carl Casper, who is brought to life by Jon Favreau in the 2014 movie "Chef." In an effort to unleash his creative freedom, Casper goes searching for a job that brings him joy, and he ends up on an unexpected adventure.
"You're gonna laugh," he tells his buddies back home over the phone, "I got a food truck!"
With the help of his friends, Casper revamps the broken-down vehicle into a state-of-the-art kitchen. He decides to drive his food truck across the country, starting in Florida and stopping in cities and towns along the way to open up shop.
Thanks to his son's skills on Twitter, the truck draws crowds at each location, and the men buy food at local markets and make sandwiches until the lines have diminished. At the end of the night, they toast to the life they've created. The story, while slightly exaggerated for the big screen, captures the heart and passion behind the food truck industry in Columbia and across the nation.
In real life, Joe Knight, a mid-Missouri native and self-proclaimed food truck fanatic, finds himself waiting in food truck lines often. "My obsession stems from the thrill of greatfood either being brought close to you or having to search it out," Knight says. He has tried at least 15 different food trucks in and around the places he's lived, and he contends that the access and environment of eating from a truck creates a powerful experience that just makes the food taste better.
Just how far will Knight go to find a mobile meal? While living in Minneapolis, he and his wife, Miriam, once drove 30 miles through traffic to find a tater tot truck serving a local hospital. "We sat with all the hospital employees and stood out from the crowd as we enjoyed our tots from a truck," he says.
Some may think of food trucks as their source for a meal, but Knight considers the experience a quest. "It makes for entertaining and engaging eating," Joe explains. "And that makes memories."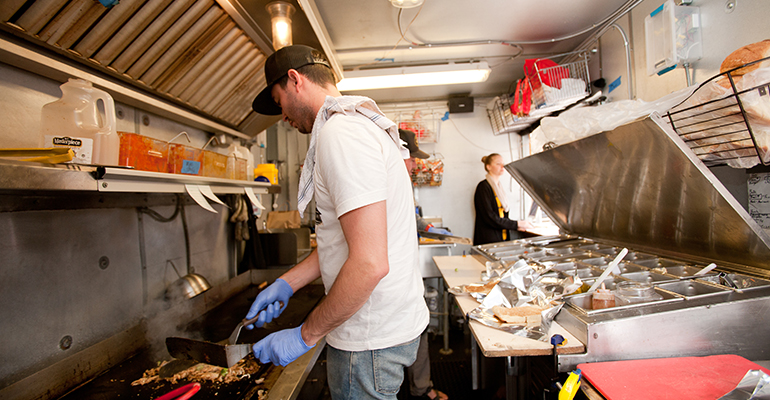 Learning on the Road
The passion and simplicity of a food truck resonates with Patrick Dierkes and Daniel Thorne, who opened Grill-A-Brothers in June.
"We have always enjoyed sharing our love of food with family and friends," Dierkes shares. "We want people to have a good time and a good sandwich."
Their menu features a few of their favorites, but with an added twist. Stroll up to their portable eatery and you can experience dishes like a Miami Cuban known as the Tony Montana; a "Torta Ahogada," or Drunken Pork; and a Grilla's original General Tso and Tso's sandwich.
Or you can experiment with customer Mike Watson's new favorite, the Bun-Mee. It features Vietnamese Banh Mi, filled with pulled pork in a spicy chili sauce; pickled carrots and turnips; and fresh jalapenos. "It's a lot of sandwich," Watson says, struggling to find words between bites. "And it's got a kick to it!"
The duo has wanted to open a restaurant for a long time. Dierkes worked at Sub Shop and Panera to get a feel for both the local and corporate industries. Thorne spent time serving up Mexican food with Pepe's of Columbia to learn the trade. After meeting, the two realized they shared the same vision for both the menu and the atmosphere of the truck.
"The concept was always grilled sandwiches," Dierkes says, "and we consider ourselves brothers." And so, Grill-A-Brothers began taking shape. "The trailer shows our personalities too," Dierkes continues. "We used our construction experience to build the exact food truck we wanted."
The Grill-A-Brother's truck is more like a work of art, a combination of functionality and style. On the outside, the trailer sports 11-gauge steel siding, as well as Grill-A-Brothers' custom-designed Gorilla logo raised off the side of the truck. Behind the logo, programmable LED rope lights change colors and patterns at the touch of a button.
VIDEO: Inside the Grill-A-Brothers truck
The duo went with a mobile business because of the flexibility and range of options it provides. "It's great being able to travel to anywhere with a full commercial kitchen," Dierkes says. The team set out to be self-sufficient and self-contained, including installing a built-in oven and smoker on the side of their rig. Yet they admit that having access to the commercial kitchen at the Elks Lodge has been a lifesaver. It allows them to serve in one location while preparing a catering order in the other.
Dierkes and Thorne also admit that being a business on wheels has its downsides. "In a brick-and-mortar restaurant, food items and equipment remain stationary," Dierkes shares with an infectious laugh and the memory of an avalanche of cartons falling out of cabinets and off the shelves as they rolled down the road. "In a food truck, they do not."
"We hit the ground running," shares Nick Meyer, a chef by day and DJ by night. "They needed someone who could run a flat top stove, so I said 'let's do it!'" Meyer remembers his first night, serving 150 people without ever seeing the menu. Their original wait times exceeded 30 minutes.
Just five months later, the team's learning curve has leveled off. "I really get excited about service," Thorne says. "All three of us can do any job efficiently. What was stressful is now relaxed." And wait times shrank to 12 minutes or less, which the team deems good for a made-to-order sandwich.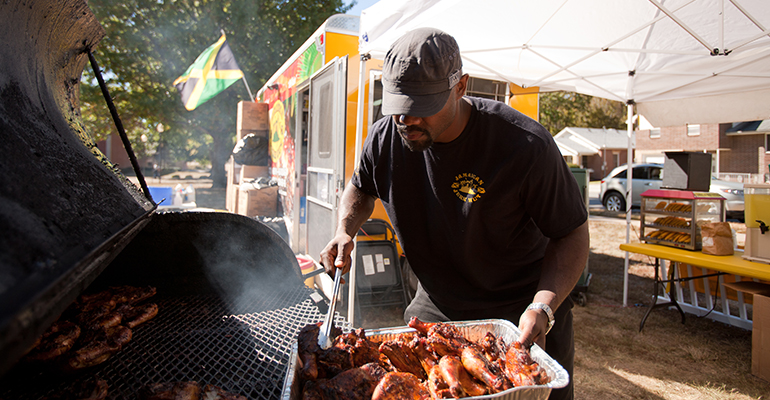 Work and Play
While Grill-A-Brothers may be the new kid on the block, Rex Scott and the Jamaican Jerk Hut team are the consummate veterans. The group of friends has been in business for 10 years and serves the mid-Missouri area on weekends during the warmer months while maintaining full-time jobs.
The idea started as a hobby at Lincoln University in Jefferson City, when Scott and co-owner Colin Russell would get together for fun to cook traditional island barbeque. Eventually it turned into a block party, then catering for the college's homecoming activities, and the venture just kept growing. Along the way, Winston Osbourne joined the team in a non-ownership role.
Scott describes the food truck business as customer-centric. "I think it's the new business model," he says. "It meets people where they are." He also believes the mobile route allows them greater flexibility and gives more people a chance to experience what the team can offer.
"We like the interaction, and we like to think we are fun," Scott says with a grin, as Jamaican music blares from the speakers, Osbourne dances around in the kitchen and the distinctive colors of the Jamaican flag flap in the wind.
Scott says it's usually their jerk chicken that gets people to the truck, and the beverage of choice is Rasta lemonade, an extra fruity concoction that the team makes in-house. All of their meat is either dry-rubbed or marinated with a Jamaican Jerk spice that's a combination of spicy, sweet and flavorful.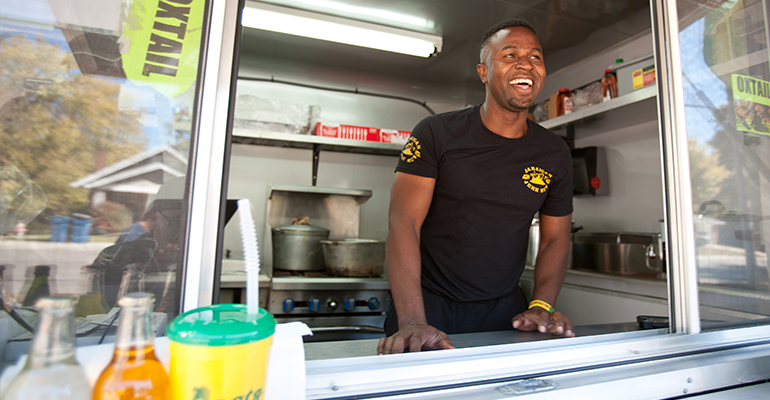 On event weekends, like Lincoln's homecoming, the business will feed up to 2,000 people. For the last two years, on non-event weekends, Jamaican Jerk can be found at Macadoodles in Columbia, where they serve 500 to 700 customers per weekend.
"It's working out great," says Bobby Guill, general manager of Macadoodles. "They have a great reputation around town, and so do we. It's a great match for both of us and another service to bring to our customers."
While "Chef" was a fun flick to watch, it was definitely light on some elements of reality. Between prep time, health regulations and city ordinances, operating a food truck takes a home base, time to plan and a lot of grit.
Scott is quick to mention the limitations as well. To serve on the weekends, the process begins early the week before. They start seasoning and marinating on Tuesdays, drop off equipment and supplies on Thursday and arrive early Friday morning to set up and start cooking.
"The biggest hurdle was finding a commissary," Scott says. To comply with city health codes, the group must do all its prep work in an approved commissary that meets local rules and regulations. The city also requires unlimited access. Jamaican Jerk rents kitchen space from Déjà Vu Comedy Club, which is closed most weekdays.
"We've had lots of opportunities to go brick-and-mortar," Scott says, "but the reality is we'd have to be open more." He realizes the extra time and work would compromise one of his core values. "We're out here for fun and the chance to hang out with friends," he says. "We don't want to lose that experience."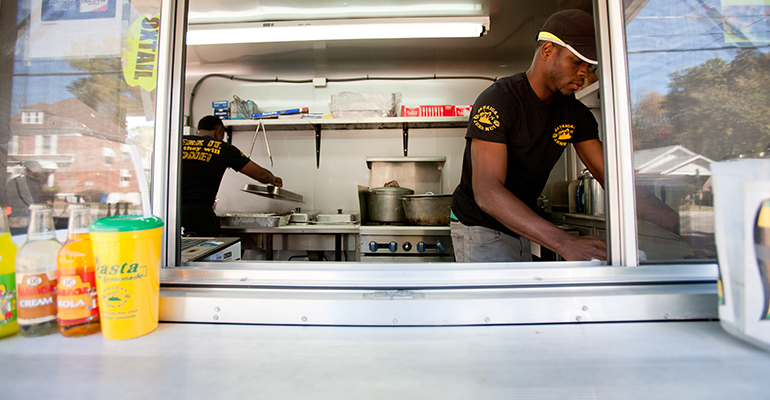 Waiting for Spring
Despite the hurdles, Columbia food truck owners seem content with their chosen business model and the lifestyle it provides, including the opportunity to take the next few months off. Unfortunately for customers, that means the trucks are packing up for the winter, storing their supplies and making plans for next season.
Now that your appetite is whetted to try an authentic Italian creation, baked in a wood-fired oven; a new twist on your favorite sandwich; or the zesty, fruity taste of lemonade that you can't find anywhere else, all I can suggest is to dream about spring.
Make plans now to enjoy a leisurely evening at Logboat, stretched out on the lawn sipping beer and savoring the taste of Brussel sprouts combined with cream, mozzarella, lemon zest and lardo, all baked on a crust. Stop by Art in the Park, say hello to the Orscheln's, and share some pulled pork nachos and sweet tea with a friend. Cruise over to Macadoodles and experience your favorite meat rubbed or marinated in an infamous jerk sauce, a creation that's been slightly adapted to suit our mid-Missouri taste buds, but doesn't skimp on the traditional jerk kick. Or search out the Gorilla for your next outdoor lunch spot or catering gig, roll up your sleeves and dig into the Baby Back Burger for yourself. I guarantee it will not disappoint.