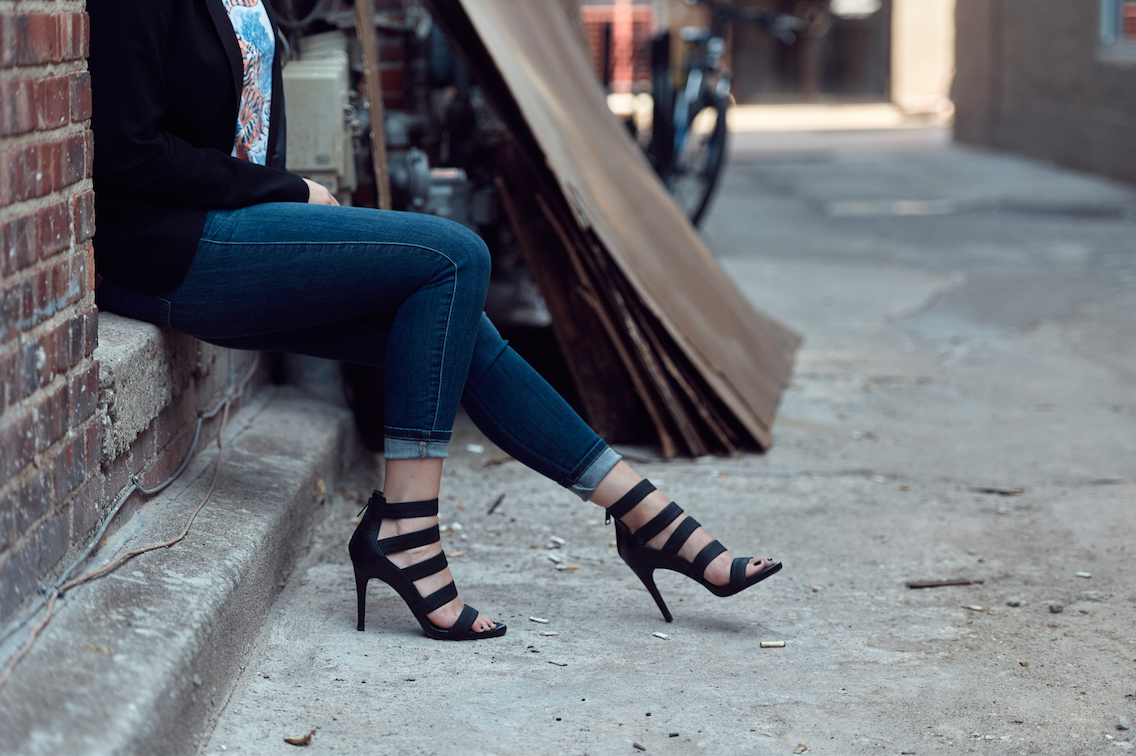 They might be new to town, but they're not new to style. Amy and Noelle Rhoades came to Columbia from Houston. With Fall in full swing, layering pieces are crucial for this Mid-Missouri weather! One minute it could be chilly and rainy, 30 minutes later, warm and muggy. You just never know! Our local boutiques have plenty of layering pieces for you to choose from whether you're heading out for a day of shopping in The District, or tailgating before a Mizzou football game.
Ps- Welcome to Columbia, Rhoades family!
On Amy:
Lo & Behold-
Oriental Kimono- Lightweight in a slouchy silhouette. Wear it with a pair of jeans or throw it over a little black dress for those cool late summer, early fall evening. Perfectly priced at $69.
Soft Pink Tee- Laidback and slouchy easy tee with a relaxed V-neck and a subtle high-low hem. Perfect for anyone's closet. Perfectly priced at $42.
Harper Skinny Boyfriend Jeans- Black Orchid's Harper Skinny Boyfriend embraces the comfort and artistry of true relaxed denim style, cuffed at the hems with a fashionable, lived-in look.
Girl Boutique-
            Jeans- Joe's Jeans, The Billie Crop, $225
Sweater- Umgee Green bolero kimono knit sweater, $72
Blouse- Umgee printed blouse, $79
Georgie Faye's Designer Shoe Rack– Joie, Jana suede wedges, $175
On Noelle-
Lo & Behold-
Relaxed Lily green cargo pants- Cut in Level99's light-weight stretch linen, these pants are slouchy and soft- sitting just away from sitting just away from your body for a cool, casual look. This fabric is made using sustainably harvest materials, so it's eco-friendly. You'll love these cargos for $120
Joah Brown black "My boys tee"-  Classic worn-in crew tee for everyday wear, and soft to the touch. Created in Los Angeles, California, Joah Brown is a fashion brand for every lifestyle. They put an emphasis on superior craftsmanship have a incredible knack for fashion that won't break the bank. Get it for just $48
Jenny Bird necklaces; Byron Banting Necklace- Custom metal casted flags, Czech clear glass beads and colorful wooden beads detail this snake chain necklace. Wear alone or layer it with your other favorite necklaces. Round snake chain is comfortable around the neck. Get this beautiful piece for just $75.
La Feria- Gold earrings, $120
Girl Boutique-
            Jeans- Joe's, Vixen Ankle, $172
            Blazer- Velvet by Graham & Spencer, $229
            Tank- Chaser Tiger Tee, $69
Georgie Faye's Designer Shoe Rack- Via Spiega, Fion black strappy heels, $225
Sumits- Lululemon wrap sweater, $89
Photos By Keith Borgmeyer
Hair and Makeup by Blanc Studio
Styled by Girl Boutique and Lo & Behold
Photos taken in Alley A and Shortwave Coffee