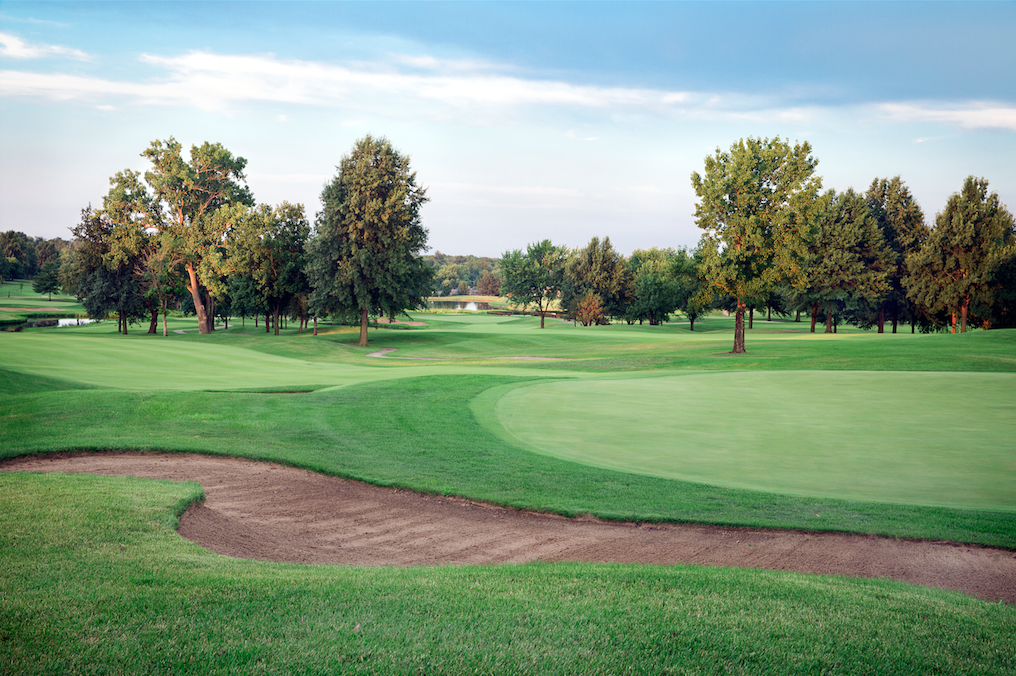 It's a hot, sunny day, with clear blue skies and humidity that makes your skin crawl. The greens are lush, glistening in the distance as brightly colored flowers pepper the clubhouse walkway. Sweat drips off the faces of those practicing at the driving range, and laughter beckons from the swimming pool. It's just another summer day at the local country club.
Or in Columbia's case, this summer scene can be found in three locations across the city: Columbia Country Club, The Club at Old Hawthorne and Country Club of Missouri. Although all three clubs have more than just their landscapes in common, they also look very different behind the scenes. Whether steeped in history, tradition or a business opportunity, each club operates with a distinct management model and set of membership values. And thanks to recent renovations and an influx of new members, all three clubs are faring well.
Columbia Country Club
Arcis Golf, a golf management company based in Dallas, manages Columbia Country Club. Arcis currently owns 50 golf and country clubs and manages 18 others. Locally, Columbia Country Club is led by a board of governors that works with the staff and represents the membership.
Brett Bieske, PGA general manager, works for Arcis and serves as the sole communicator between the company and the local board. "It's a great partnership with open lines of communication," he says.
Bieske's team works with Arcis to develop game plans and budgets that satisfy the annual business goals and meet the needs and wants of the board and general membership.
"Locally, each club has a unique niche, and we're not as competitive as most people think," Bieske says. "CCC is known as the value club, and that gives us an advantage. We're also the club with the richest tradition and the newest course."
Bieske has been with the club since 2007 and says potential members will fit at any of the clubs, but he knows one will usually stand out as a home away from home. That was the case for Randy Minchew.
Minchew, president of Golfso Ltd., joined Columbia Country Club in 2012 when he moved his office downtown. He's made some great friends, enjoys the staff and says the fees fit his budget well.
"I was impressed with the plans for the course makeover," he says, "and I was looking for a good group of golfers to compete against."
Plans for Columbia Country Club began in 1915, and the original nine-hole golf course opened in 1921. CCC recently opened its newly designed, award-winning course in 2013, which created a 30 percent surge in membership. The current total membership sits at 367, with those participating in golf coming in just under 300.
Membership in Columbia Country Club includes an initiation fee as well as monthly dues. Those interested in joining can choose between a social membership for $75 a month, which includes use of the swimming pool, dining facilities, clubhouse and driving range, all the way up to a full golf family package for $335 a month, with several options in between. Those needing to forgo their membership are asked to give a 30-day resignation period.
According to Bieske, Columbia Country Club may be the best value, but they don't offer several key amenities that are available through the other clubs. What they can't provide in amenities, however, he hopes to make up for in environment and new blood.
"We are putting an emphasis on the next generation of golfers," Bieske says. "And that means we're creating programs and events that occasionally veer from standard golf traditions of the game. Come play with us, and you'll see a casual, welcoming environment that appeals to the social scene of the new generation."
Bieske loves the youthful vibe of the club and wants members to feel like they can kick back and relax. The last remodel included a covered veranda and inviting patio space that create the feel of an outdoor barbecue.
Columbia Country Club's revenue is not only driven by dues but also includes significant monies from outside catering opportunities, tournaments and special events.
As Bieske shows off the open and breezy event facilities, he shares his hope that the community would embrace the club as their own. "We want to be part of the city because we are Columbia's Country Club," he says.
"Most people don't realize that anyone from the community can utilize our space through hosting a wedding or holiday party, coordinating a business meeting or raising funds for a charity with a golf tournament," Bieske says. The club can accommodate events from 75 to more than 500.
The Club at Old Hawthorne
Unlike most country clubs nationwide, which are owned by the membership or have been bought out by management companies, The Club at Old Hawthorne is owned by a family: local developer Billy Sapp and his wife, Glenda. They are a for-profit venture and pride themselves on membership satisfaction and driving club usage through creative events and innovative programming. They pay taxes and have no limitations regarding outside income.
The Club at Old Hawthorne operates without a board of directors and is managed by PGA general manager Travis McCubbin. Together with his team of department heads, owners and advisory committees comprised of members, McCubbin oversees club operations.
"The Sapps are here every day," McCubbin says. "They are active in the club, support the staff and offer feedback on their experience and other members' experiences."
McCubbin says he appreciates the efficiency and freedom of the business model. "Mr. and Mrs. Sapp believe that membership satisfaction will equal financial stability and success, and he trusts us to make our members happy," he says.
The Club at Old Hawthorne opened its doors in 2007, with the Sapp's home, a 1938 replica of President Andrew Jackson's Southern colonial mansion, serving as the clubhouse. The club has grown to almost 600 total members, with 346 participating in golf.
If Columbia Country Club is known as the value club, then Old Hawthorne reaches the golf addict. "We're the shiny, new gem," McCubbin says, "so we tend to attract people who are new to town or those who are looking for a complete golf residential community."
The Club at Old Hawthorne offers a high-quality, modern facility with a championship-length golf course. Other unique amenities include a fitness center and practice facility, which ranks in the top 50 in the nation, according to the Golf Range Association of America.
Scott Hovis, executive director of the Missouri Golf Association, predicts The Club at Old Hawthorne will be one of the top clubs in the state for years to come. "It has everything you look for in a golf course and country club and gives players of all skill levels a chance to enjoy the beautiful layout," he says.
Another unique feature is Old Hawthorne's connection with the surrounding subdivision. Although common around the country, it is the only Columbia club affiliated with a housing development. According to McCubbin, their model follows a Florida trend. "Convenience matters," he says. "People want to be five to 10 minutes away." If you live in The Community of Old Hawthorne, membership in some level at the club is mandatory.
"Our residents need to support us because the club's success affects their home value," McCubbin says.
One of the best decisions they made early on, he says, was to offer low-cost, non-golf memberships for residents of The Community of Old Hawthorne. They can join for as little as $50 a month in social dues, with no initiation fee. Other memberships are also discounted for residents.
Like the other two clubs, Old Hawthorne's financial model is driven by initiation fees and membership dues. "When membership is good, everything is good," McCubbin says. To retain members, the club focuses on creating a world-class experience in a comfortable and approachable atmosphere. Labor is their highest expense, followed by facility investment and maintenance.
"People always want something new," McCubbin says, "so we have to continually improve our offerings of facilities and programs."
They won't make improvements, however, until they can pay for it. Once they reach their next membership goal, the plan is to add tennis and pickle ball courts as well as a basketball sport court.
Country Club of Missouri
The Country Club of Missouri operates with a more traditional business model. It's owned by the members, and a board of directors, made up of members, serves as the governing body. There is no general manager.
The staff, including clubhouse manager Lisa Tye, who joined the team in 1996, works for the board. The operation of the club is broken down into eight standing committees, led by committee chairs, who work together to accomplish the goals of the club. All of the members have ownership in the club based on voting rights and decision-making.
"Our members are involved at every level," Tye says. "We have the luxury of a lot of feedback."
The Country Club of Missouri was founded when a group left Columbia Country Club to build an 18-hole course. It celebrated its 40-year anniversary in 2011. It's the only club with tennis facilities and has earned the reputation as the most social club of the three options.
Tye says the club has an atmosphere where everyone knows one another, including members and staff. "It's like Cheers around here most of the time," she says. "And we're very proud of that."
Current membership sits just over 600. The tennis and pool memberships have flourished in the past six years and currently number around 160. "Families want to spend their recreational dollar where they can spend time together," Tye says. "We offer that sense of community, with activities for the whole family." The sense of family is magnified by the fact that approximately 85 percent of members live within five miles, so the club becomes their gathering place.
Tye remembers the days when a coat and tie were required but says times have changed. The country club scene is evolving into a space for young families, and the average age of the member has dropped.
To meet this demand, the club added two additional weeks of summer camp this year, in addition to several half-day camps, Tye says as a gaggle of children file by with swimsuits, golf clubs and tennis racquets, each stopping briefly to say hello.
CCMO remodeled its clubhouse facilities last year by updating the dining room and lounge as well as the Golf Pro Shop and Breezeway. "The patio has always been our most popular space in the summer," Tye says, "but now that we've updated our dining area and added a large U-shaped bar, we are active inside during the summer months as well."
These spaces, remodeled to accent the style of Frank Lloyd Wright, create a lively feel, and sales have increased by 30 percent in those areas as a result. The club also added an expansive event center and is now able to accommodate most of its members' special events without having to close the clubhouse.
The renovations have also proven helpful in increasing membership, which is up by 10 percent since the dining facilities reopened last April. "Marketing is helpful, but so is reinventing yourself," Tye says. "We're sure that if we build and make improvements the members want, they'll continue to support their club."
CCMO's members sell memberships more than any source of marketing, Tye says, and this business philosophy has driven CCMO to make significant changes at least once a decade to keep pace with the changing membership. Next on the list is giving the pool house a facelift.
Working together
The uniqueness of the business models, amenities and environments does make it easier for potential members to find what they're looking for. "In talking with people, I can usually tell which club will be the best fit," Bieske says.
Bieske, McCubbin and Tye all take pride in the way the clubs cooperate with one another. Whether it's recruiting new members, coordinating the PGA Junior League, working with the Missouri Golf Foundation or participating in the annual Charity Cup, the clubs join forces to support the community and promote the game of golf.
"The golfing community is very tight knit in Columbia," Tye says. "It's very reciprocating among the clubs."
And despite the differences between clubs, many golfers keep dual memberships and play all three courses. As one Old Hawthorne member teases McCubbin, "I had to play with my peeps at CCC today, but don't worry; I'll be back tomorrow."