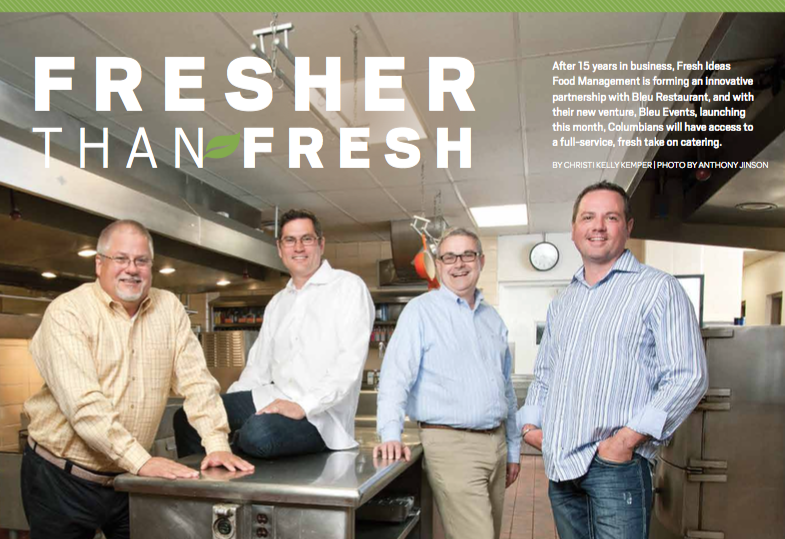 It's a big year for Fresh Ideas Food Management. The company, which provides food service management for clients in education and commercial settings, is celebrating 15 years in business, steady growth and an innovative new venture with an acclaimed Columbia restaurant.
Fresh Ideas is joining with Bleu Restaurant in Columbia to form Bleu events, a Fresh Ideas company. Fresh Ideas owner and President Matt Clervi and Bleu owner and founder Travis Tucker say the new company will offer a totally unique approach to catering.
The joint venture launches this month and will offer clients a full-service caterer with a commissary approach, which means the food is prepared in a central kitchen and delivered out to event locations.
Bleu events will do everything from rentals to linens, floral, a food truck, event catering and a test kitchen designed to not only test concepts but also host parties.
"This is a whole new world to bring to our clients, and it's really exciting," says Kris Lensmeyer, Fresh Ideas director of business development.
Full-service catering includes everything from event coordination and conception to total event execution, basically "everything that needs to happen to make the event a success," Tucker says. "There are no limitations on what we can do."
The company will do events ranging from a few boxed lunches to four-course plated meals for 1,000-plus: corporate events, weddings, retreats, family events.
True to the Fresh Ideas name, Clervi says they're also planning to incorporate locally grown and seasonal produce. Lee Farms in Truxton, Missouri, is in the process of planning and producing for the new venture and will provide tomatoes, potatoes, garlic blooms and zucchini squash, for example.
"We want a tomato right off the vine, ready to eat immediately," he says. "If they want a half-ripened, salsa-grade tomato, Bleu isn't using that kind of produce and won't be selling a lot of tomato dishes in December."
The Authentic Cooking Experience
Since its inception in 2000, Fresh Ideas has provided food service management within the K-12, higher education and commercial markets. Based in Columbia, the company now operates across Missouri, Kansas and Arkansas with about 850 employees.
Major accounts include Central Methodist University, Stephens College, Westminster College and William Woods University. The company also currently offers onsite catering for existing clients.
But when it partners with Bleu, Fresh Ideas will be able to take its catering service to the next level. Clervi says they plan to start with Bleu staff and some existing Bleu clients while bringing in new ones in Columbia and eventually Kansas City and St. Louis.
The central kitchen will not only serve as a production center but also a platform for innovation.
And some of the food ideas on Clervi's radar are truly creative — think edible balloons with edible sour apple skin or "dragon fire" from liquid nitrogen — many of which come from employees.
A Columbia-based food truck will provide another innovation center, test marketing food concepts for up to six months before taking the ideas to clients.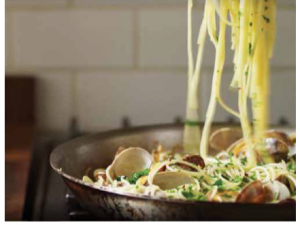 "We want to create restaurant concepts," Clervi says. "Our chefs are coming from restaurants, and this is what gets them excited: authentic cooking. We want to give them a playground to play in."
Food displays will be another playground for the new venture. The company plans to experiment with creative ideas, such as gallery displays where food is showcased in velcro-secured wall containers rather than a traditional buffet.
"It gets people excited," Clervi says. "The sounds, the smells, we want people to go into an event and know Fresh Ideas did it."
Tucker, who has a background in the restaurant industry and worked at the University Club before opening Bleu, says events are an experience because you're helping someone celebrate something: a milestone in life, a grand corporate event.
"It's all about creating experiences, and interaction is key," he says, through the use of stations, creative food ideas and guest interaction. "It goes far beyond just eating; we all do that every day."
Clervi and Tucker have been talking about possibilities for a couple of years and finally decided the time was right to come together and pool their expertise.
Although Bleu Events represents a big leap, company leadership expects Fresh Ideas' core business to continue to grow at a steady, patient pace.
Today the company serves just less than 30 clients, Clervi says. About 90 percent of those are in the higher education segment, 8 percent in K-12 education and the remaining 2 percent in business/industry. They've seen 10 to 20 percent growth over the past 10 years.
"That's by design," he says. "You can't be everything to everyone. We like to stay in our lane."
Solutions and Service
When Clervi met up with his friend and colleague John Orscheln over lunch back in 1996, Clervi had big ideas for a restaurant venture. Orscheln, then an admissions officer at Wentworth Military academy in Lexington, Missouri, with family ties to Orscheln Industries, heard him out but suggested a twist: a fresh take on food service management rather than a standalone restaurant.
"We wanted to turn it upside down, not make it all about the money," Clervi says. "We wanted to focus on building a great company."
The two started brainstorming names on a napkin, starting with Fresh Ideas. "We had another 40 ideas after that but kept coming back to it," Clervi says.
The name resonated because it represented what the pair wanted to be and do: They wanted to embody freshness in a number of ways, from food preparation to menu planning to the company's overall philosophy toward food service.
That philosophy continues today.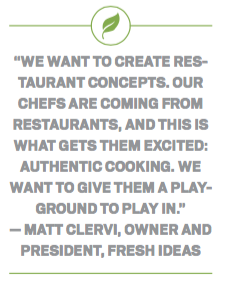 "Fresh Ideas is a quality level we have to live up to and maintain," says Dennis Owens, co-owner and chief operating officer. "It can be thrown in our face as soon as we serve something frozen."
Customers say Fresh Ideas lives up to that standard. Steven Mandeville, vice president for finance and facilities at Maryville University in St. Louis, says Fresh Ideas goes above and beyond and treats Maryville like it's the company's only client.
"They have that small company feel but with the abilities of a large food service provider," he says. "They continue to amaze me with their creativity, quality of food and ability to cater some of the nicer events on campus."
At Maryville, Fresh Ideas serves as the campus-wide food service provider, managing a large dining facility with multiple stations — including pizza, a grill, salad bar, Mongolian grill and deli station — as well as a Kaldi's Coffeehouse and a small weekend café. Fresh Ideas also provides all catering and special events on campus.
The company also helped Maryville plan and implement a new meal plan program, and they rolled with the punches when circumstances changed midstream.
"They didn't complain or say, 'We can't do that,' but rather said, 'What's best for the student is our main focus, and we'll figure the details out later,'" he says. "They are always willing to find a solution and provide the best service possible."
Employees First
The Fresh Ideas business model centers on four key factors: employee satisfaction, resource management, customer satisfaction and financial results.
Although all four are critical for success, employees are first on the list for a reason.
In an industry known for sky-high turnover, employee satisfaction is a complex undertaking. The turnover rate for employees in the restaurants-and-accommodations sector was more than 66 percent in 2014, which constituted a rise over the previous three years and a 10-point increase from 2010, according to the National Restaurant Association. Although restaurants have higher turnover than other segments of the food service industry due to higher numbers of student and part-time employees, the rates industrywide are considerably higher than the average 44 percent for all private sector industries.
After the company picked up its first account in 2000 — Central Methodist University, which is still a client today — Clervi and Orscheln started talking in depth about employee satisfaction and the processes they wanted to put in place.
"It's about listening to them, paying competitively, offering bonus programs and giving them the tools to be successful," Clervi says. "We study employee satisfaction as much as we study our financial statement."
When trying to attract, engage and retain good employees, it also helps to be a "hip and cool company" on top of the latest trends, he says. The company attracts food service veterans tired of the status quo and, on the business side, draws in professionals who value creativity and flexibility.
Sometimes new clients "look at us a little odd" when Fresh Ideas leaders describe their employees-first philosophy, Owens says.
"They think customer satisfaction ought to be first, but we depend on our employees to provide customer satisfaction," he says. "We can't be everywhere at one time, so we have to have a happy employee to be able to provide customer satisfaction."
Sarah Carnes, who handles social media and graphic design, says the company really does live up to its name.
"At other places you're constantly told no, but at Fresh Ideas we're always being told, 'Let's try and see how it goes,'" she says. "The possibilities are endless."
Clervi says the emphasis on employee satisfaction is trendy now, but Fresh Ideas has been focused on it for 15 years. "It took a long time to build the culture," he says, citing Enterprise Leasing's employee-centered model as inspiration.
So what does an employee focus look like? Lensmeyer, who joined the company about three years ago and comes from a food service background, says she noticed right away that every decision the leadership team makes goes through the "how will it impact employees" filter.
Whether it's a decision on payroll, bonuses, performance goals or safety guidelines, employee needs are "at the forefront at all times," she says.
Giving management the resources they need is another priority at Fresh Ideas, which Clervi says contributes to employees' sense of well-being. With accounts and staff spread out over a multistate chunk of the Midwest, technology is one resource company leadership has come to rely on.
"We build relationships through technology," says Owens, who has 40 years of experience in the food service industry and clearly remembers when today's technology wasn't available. Today the company uses a Web-based system for sharing ideas, posting announcements and facilitating meetings.
And when it comes down to it, company leaders are right there working alongside employees.
"Our leadership teams work the events, work side by side with unit directors," Clervi says. "Our competitors don't do that."
But don't think customer satisfaction is an afterthought; it's the reason for the employee focus, and the company prides itself on working closely and strategically with every client.
"We try to understand, listen, learn their goals for the students and the strategic plan for their institution and then be a part of the solution," Lensmeyer says.