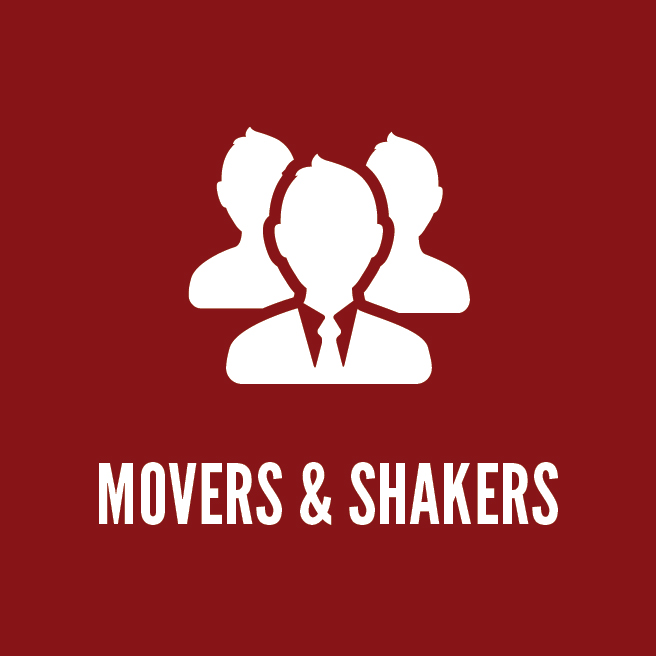 David Kurpis
Kurpis was hired as the next dean of the University of Missouri School of Journalism, replacing Dean Mills, who will retire in August. Kurpis was selected from four finalists for the position. He is coming to Columbia from Louisiana State University, where he is vice chancellor for enrollment management and a professor in the communication school.
Boone County National Bank
Jill Cox was promoted to senior vice president of commercial banking. Several other BCNB employees were also promoted: Jason Germany and Kristin Sidel were named managers, and Joann Gao was named an assistant manager; Tyler Pagano was promoted to a financial associate; Kristin Petty, Jane Beck and Susie Conrad were made senior tellers; and Madison Hart and Megan Daly were promoted to teller II.
Columbia Hospitality
The Columbia Convention and Visitors Bureau and the Columbia Hospitality Association announced their Star Performers: Anthony Sims of Hampton Inn and Suites and Shelby Virmilye of The Broadway were named Rising Stars of the Year; Jean McCurren from Hampton was named Salesperson of the Year; Leela Jashani of Budget Host Inn and America's Best Value was named General Manager of the Year; Richard King of Thumper Entertainment was named Hospitality Star of the Year; and Brigette Allen of the Tiger Hotel was named Hospitality Employee of the Year.
Julie Moravchik
Moravchik brings 20 years of broadcast journalism experience to her new position as news director at CBS affiliate KRCG. She previously worked as the news director at stations in South Dakota and Wisconsin, where she helped expand station operations and garnered several Emmy Awards.
Alexis Hildebrand
Hildebrand was hired in the direct division of MBS Textbook Exchange. In her new position, Hildebrand will be directly involved in working with assigned clients and building relationships with MBS customers.
Wes Parks
First Midwest Bank named Parks community bank president for its two Columbia locations. He will oversee daily operations for both banks while working from the main First Midwest Bank, located on Rock Quarry Road and Stadium Boulevard. Parks is an MU graduate and lives in Columbia.
Ann Barber Colgrove
Colgrove became The Callaway Bank's new vice president in March. She is a past president of the Southern Boone County Chamber of Commerce and will work from the bank's new facility on West Broadway in Ashland. Colgrove will be responsible for finding and executing lending opportunities for the bank.
Great Circle
The children's charity announced new members of its board of directors: Peggy Gordin, vice president of patient care and chief nursing officer at St. Louis Children's Hospital; Julie Thomas Sward, president at Moneta Group; Jasmine Davis, vice president and senior product manager at Wells Fargo Advisors; and Jack Gillis, executive director with J.P. Morgan Private Bank. Gillis will also serve as chair of the board.
Andrea Quiroz Jira
The Columbia Convention and Visitors Bureau announced Quiroz Jira as a convention sales manager. Her main responsibility will be marketing Columbia as a destination for event planners in various markets. Quiroz Jira previously worked at the Missouri Artisans Association, the Columbia Chamber of Commerce and the University Concert Series.
MU Office of Advancement
The fundraising division of the university announced three new hires: Sherry Wilson, who will be the executive director of advancement for corporate and foundation relations; Bruce Broce, who will be director of development in Kansas City; and Kristen Thayer, who will be the advancement officer for the College of Arts and Sciences.
Joan Naumann
Veterans United Home Loans added Naumann as chief operating officer. She will oversee more than 450 employees and set the company's strategic direction, and she is charged with improving client satisfaction and operational delivery. Naumann joins Veterans United after 12 years at CitiMortgage in St. Louis, where she recently worked as managing director of mortgage operations.
Melissa Boukezzula
Visionworks Marketing Group hired Boukezzula as office and traffic manager, where she'll monitor content produced for Visionworks clients, handle vendor bidding, manage projects and coordinate community outreach for 12 area McDonald's. Before joining Visionworks, Boukezzula worked in consultation and training for several agricultural companies throughout North America.
Karin Bell
Bell was promoted to senior vice president and small business administration manager at The Bank of Missouri in Columbia. Bell has worked in the bank's SBA department for five years.