COMO Connect has a ticket to ride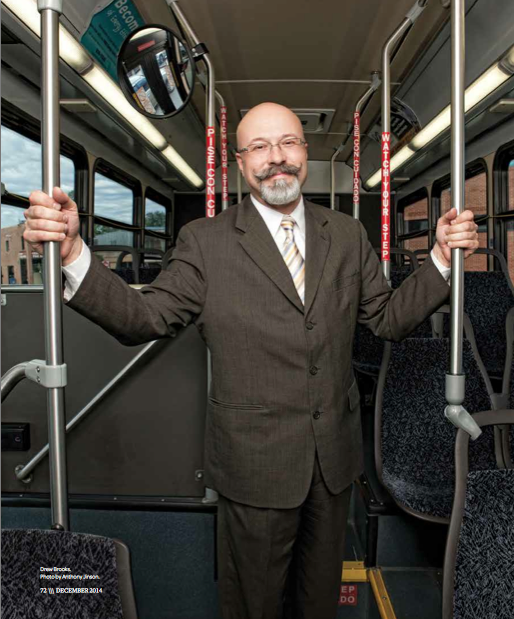 When City Manager Mike Matthes first challenged Columbia Transit to consider innovative ideas and ways to improve Columbia's faltering bus system, no one could have imagined the depth of the changes that would be implemented. "We didn't just make some small changes around the edges," says Drew Brooks, the multi-modal manager for Columbia Public Works. "We completely shook up the system, like an Etch A Sketch, and started over."
In the old outdated system, buses made all of their transfers at the Wabash Station; they came in at the same time, transferred riders to their second bus and left at the same time. This meant that if one bus was delayed, all the subsequent buses were forced to wait for the transfer passengers. Although a central connection system may work for smaller towns or cities, Brooks says the system was inefficient and unrealistic for a city of Columbia's size. That's where COMO Connect came in.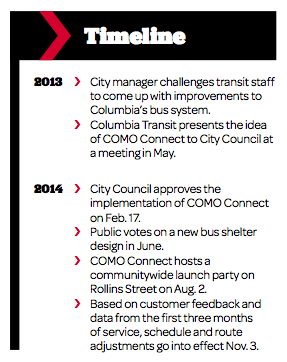 Change is rolling in
After months of public planning meetings, surveys and talks with both city officials and community members, Columbia Transit developed the idea of COMO Connect. As opposed to transferring all riders at the Wabash Station onto their new routes, transfers would now be made along the bus routes themselves. While planning those routes, transit officials such as Brooks were sure to include a school, a medical facility, a grocery store and a bank on almost all of the bus routes. "We really want to encourage choice riders, people who have a car but would still consider using the bus, to try taking the bus for running errands around their neighborhood," says Teresa White, marketing specialist with Columbia Public Works.
Increased convenience is the main goal of COMO Connect. When the system was first introduced, Columbia Transit hosted several information sessions, where riders could sit down with a transit professional and map out their new route. An information bus wrapped in COMO Connect's new branding was also created, going to events such as Earth Day and high school orientations across the city to inform riders about the changes and encourage them to give the new system a try.
"One of our goals and main obstacles has been to change the public's perception about taking the bus and to show them that even if you have a car, the bus is still a viable option," White says. She adds that a large part of that has been community involvement and education that informs the public on the importance of a healthy public transportation system, not only for the environment but also for city infrastructure.
The dreamers
As Columbia Transit was imagining the changes COMO Connect could provide for the city, it got two local colleges, Stephens College and the University of Missouri, involved. Students at Stephens College helped with the creation of COMO Connect's branding. The new logo, eight different colored arrows, each representing one of the new bus routes, was meant to signify how an efficient transit system could connect the whole city, whether it be community members, businesses, health care or educational institutions.
At MU, students in a sustainable technology class, part of the Department of Architectural Studies, worked in groups to design new bus shelters. These shelters implemented solar lighting, green roofs and even space for local artists to showcase their work. In June, community members were invited to vote on their favorite shelter design, and the chosen design will begin to go up in select locations in the coming year.
All about logistics
In the first month COMO Connect was in place, ridership increased by 11 percent. In the first three months of the system, transit officials were able to collect enough feedback from customers and data from the buses to decide what changes needed to be introduced to the system, changes that officially went into effect in early November.
Going forward, Brooks, White and the rest of the team involved with COMO Connect hope to continue to improve ease of use for their customers and educate the public on the need for an active public transportation system.
"People may say: 'Why should I care? I don't ride the bus,'" Brooks says. "You benefit when your employees get to work on time, when your customers are able to make it in to your store, when your patients are able to come to their appointments, when traffic on the streets is alleviated. Even if you never take the bus in your life, it still impacts you in a major way."