It's Beginning to Look Like Winter
Waiting until the first sight of snow is a little late to ensure your home is in tip-top shape. Mid-City Lumber shows you ways to practically prepare for the colder months.
WINDOWS AND DOORS
Over the past 20 years, the efficiency of windows and doors has come a long way. The R value (the resistance of particular material to conductive heat transfer) of windows has at least doubled, but if you notice draftiness in your house, it might be time for a window upgrade. Mid-City Lumber offers a wide range of replacement windows by Andersen, Silverline, Jeldwen, Simington and Ellison in styles and models that fit any home's architecture and décor. All replacement windows are sized in house to ensure the least intrusive replacement necessary.
Check the weather stripping on your doors: These strips are considered wear items like tires on your car. Elasticity is lost with repetitive opening and closing, which will cause air leakage. These strips are also commonly chewed on by loveable family pets and serve as entertainment to kids who pull them loose. Also, don't forget about the door sweep at the bottom.
Check the weather stripping on your windows: The most common spots for wear are at the meeting points of the two window sashes. Take a look at all latches on the windows and doors. These latches have adjustments on them to make sure there is the correct amount of tension so they will seal properly.
Hint: Another simple trick is to open your blinds or shades during the sunny part of the day and close them in the evening. This might seem minute, but everything helps.
INSULATION
When it comes to defending your pocketbook, insulation is crucial. Insulation is normally installed when the home is being constructed with a minimum R-38 rating, which means it is 10 to 14 inches thick. Most of the time, the insulation is blown in. Over time, it will settle or blow around in storms because most attics are vented.
A quick trip to the attic with a flashlight, and these issues can easily be inspected. During your inspection, if you notice your insulation has settled or shifted, you have a couple of options:
1. Have a contractor add additional insulation.
2. Use batting insulation, and add it yourself (no machine necessary). Many houses are light on insulation along the outside edge where the ceiling joists and outside walls meet. Over the past few years, this problem has been addressed by installing an energy heel on trusses or an energy rim on conventional framing. The energy rim allows additional insulation where the walls meet the roof system without limiting the ventilation of the roof system.
Hint: When checking your home's insulation, do not overlook the garage. Make sure it is adequately insulated where the two attic spaces meet. Insulation is one area where the more you have, the better.
EXTERIOR PENETRATIONS
Exterior penetrations include things such as electrical conduits feeding the panel inside the house, as well as those going out to supply things such as air-conditioning condensers. Another common penetration is around the dryer vent.
A lot of penetrations with imperfections you can fix yourself. Spray foam sealant works great for large holes, and many sealants and caulking come in colors that match your house. There's also Tamko roofing cement to help seal around flues and chimneys.
HEATING/AIR CONDITION SYSTEMS
The HVAC system heats and cools your house and requires a lot of air circulation to work properly. Modern technology has made the newer systems deliver heat and air much more efficiently with a lot less energy consumption.
Do you have an older system?
• Do a simple walk around to makes sure no furniture or rugs are blocking the outlet or return air ducts.
• Change the filter often, especially if you have pets, a wood-burning fireplace or live in a dusty area such as near a gravel road.
• Installing a programmable thermostat to change the temperature a few degrees night or day when you're not at home can be a money saver.
Hint: If you're not using a room, simply shut the door and shut off vents to the room. There is no reason to heat unused space.
Safety Checklist
Whether your home is old or new, checking for safety is important for a functioning home. Here are some tips and tricks to ensure your family and house are free of winter hazards:
• Check all smoke and carbon monoxide detectors, and change batteries if necessary.
• Check flues and condition of all wood-style heating equipment.
• Read and follow pilot light instructions on gas fireplaces/furnaces.
• Practice family fire drills and other emergency drills.
Gary Hague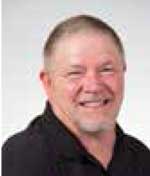 Gary has a construction background and has worked for Mid-City Lumber for 12 years. He specializes in siding, decking, roofing and insulation. Contact Gary at 573-474-9531.