Laurie Digges takes on a challenge of a lifetime and forges a remarkable friendship along the way.
Early on the morning of July 27, Laurie Digges gazed out at the cool waters of Alta Lake near Whistler, British Columbia, and said to herself, "Let's do it." With that, she plunged into the thunderous wake of hundreds of wet-suited athletes and started to swim. So began the moment she had been working toward for nearly a year.
"The water was crystal clear, there was fog coming up over the lake, and the sun was coming up over the glacial peaks," Laurie says. "It was just magnificent. We had done all the work. This is what you train for."
Laurie and her friend Mackenzie Rickman had traveled to B.C. to compete in Ironman Canada, the most difficult Ironman in North America. The one-day event, an extreme triathlon that includes a 2.4-mile swim, 112 miles of mountain cycling and a marathon, would test the bounds of their athleticism, forge a remarkable friendship and put some demons to rest.
A year earlier, Laurie hadn't been able to walk. On Aug. 7, 2013, she suffered multiple injuries when she was struck by a car and landed under it after the driver failed to stop at a stoplight.
"I heard a crash and never lost consciousness," Laurie says. "I'm under the car looking up, thinking the back wheel is going to run over my head. But for whatever reason — I think the car hit the curb — the back wheel missed me. I remember looking up and seeing the underneath side of the car."
Laurie was nearing the end of a training ride for the MS-150, a two-day cycling event that raises money for multiple sclerosis. She, Julia Norregaard and Lisa Rosen were stopped and unclipped in the bike lane on Green Meadows Road at Providence. Two cars were parked alongside them when a third car came from behind and ricocheted off the parked car that was closest to Laurie.
"The car hit me, and I went under it," Laurie says. "Julia flipped up over the car, and it finally came to rest on the pedestrian island. I'm awake, and Julia rushes over and sits next to me, screaming, and calls 911." Jake Taylor, a friend and the driver of one of the parked cars, rushed over, as did construction workers nearby who were building what's now Macadoodles.
"The ambulance arrived, the paramedics arrived, and I knew that while it was awful, it wasn't life altering," Laurie says. "I could move my fingers and my toes, I could scream, I could see, I could hear. But I knew, obviously, I was not right."
Laurie's bike had gone under the car with her, probably on top of her legs. Although the side of her body nearest the road was skinned from top to bottom, the upper side received the greatest impact. She suffered a crushed fibula, shattered cheekbone, sheared ear and lateral knee damage.
Laurie spent most of the evening at University of Missouri Hospital and Clinics Trauma Center and remained in the hospital for two more days. Julia suffered injuries as well and was treated that evening. "I can't say enough about the health care that I got that day," Laurie says.
When she got home, it was unclear whether she'd need to have surgery on her knee. The doctors wouldn't know for six weeks. Mackenzie, recognizing that six weeks of waiting would be an eternity for Laurie, suggested setting a goal. When Laurie asked her what she had in mind, she said, "You need to do Ironman Canada."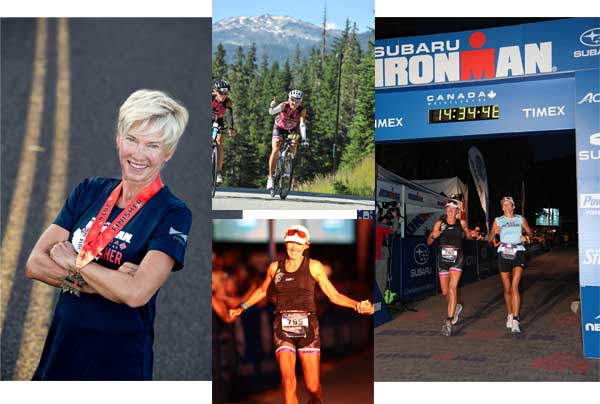 Laurie had been running competitively for 30 years and had completed seven half-Ironmans, but about a year before the accident, she retired from triathlons. She sold her gear and moved on.
"I knew that even though Laurie may not have admitted it at that time, it was a bucket-list item for her," Mackenzie says. "And I knew that if she had somebody to do it with, she would do it, and it would be a great motivator to put the accident behind her."
Mackenzie's offer was about a whole lot more than the race.
"For the first nine years of doing races, Laurie was always the person who took me under her wing," Mackenzie says. "No matter what race we did, she'd beat me. I always chased her and hoped some day to catch her. There were many races in which she hung back with me and did things slower for me. So this was my opportunity to help her."
To Mackenzie's surprise, Laurie registered for the Ironman in September — just after learning she didn't need surgery. She was using a walker. Her rehab involved standing on a mat with her leg in a brace, trying to pick up her foot. Her goal was to walk to the mailbox.
By late October, they began meeting at the pool, and Laurie started getting stronger. The active lifestyle she had led for so many years paid off.
"There's no question in my mind that conditioning helped," Laurie says. "I love to be active. There's just a level of fitness with regular tennis, yoga, weight training and biking. I knew I had the base to gradually work my way up to Ironman training."
Training began in January, and Laurie had the good fortune of spending much of the winter in a climate conducive to swimming, cycling and running. She and her husband, Charlie, went to Naples, Florida, in February. Mackenzie came down later that month to accompany her on her first venture back on the bike.
"We chose a scenic route, but it was busier than we thought," Mackenzie says. "It took us into Fort Meyers Beach, and it was a weekend, so the traffic was unexpectedly heavy." Along with the congestion, there wasn't a bike lane for nearly half the ride, forcing the women to ride in a narrow space. Laurie was terrified, but remarkably, she pedaled through her fear and finished the ride. All 40 miles of it.
"I wasn't going to let anybody put that fear in me. I wasn't going to let the driver of the car that hit me take away something I loved." — Laurie Digges
"I wasn't going to let anybody put that fear in me," she says. "I wasn't going to let the driver of the car that hit me take away something I loved. You work your way through it. It took a long time."
When race day arrived, the women had acclimated themselves to long periods of biking and running. They had learned to push through pain and keep going when they wanted to stop, looking for inspiration along the way.
"The course was everything it was advertised to be," Laurie says. "The venue was just awe inspiring. It was just glorious: glacial lakes, rivers the colors of the Caribbean. It took your breath away."
Equally incredible was the level of fitness required to complete the race. Eighty miles into the bike ride, the course rose 2,500 feet over 20 miles with 10 more miles to go from the top. Then there was a marathon to run. The course followed a meandering valley trail and circled around a couple of lakes before doubling back for a second loop.
"You just feel thankful you're able to move. You find little things like that to remind you why you're doing this." — Mackenzie Rickman
"A couple of times on the run, we passed some spectators and volunteers in wheelchairs," Mackenzie says. "You just feel thankful you're able to move. You find little things like that to remind you why you're doing this."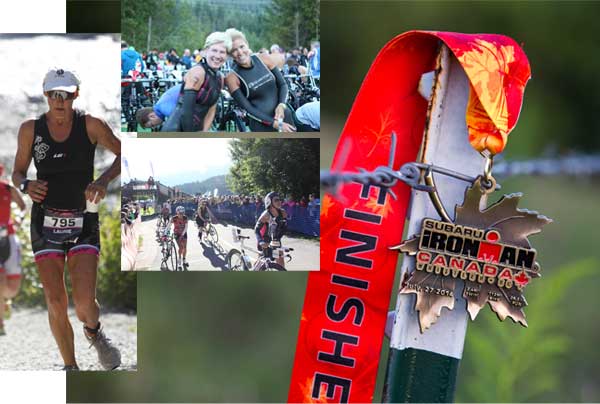 Laurie and Mackenzie drew on each other's strengths, which seemed to surface during different parts of the race. By the time they neared the finish line, the sun had set, and the announcer's calls, once off in the distance, began to grow louder.
"You hear the announcer, you hear the people, you hear the music," Laurie says. "You know it's so close. You go down the 2/10-mile finish line, the only downhill of the course, and it's lined with hundreds of screaming spectators and volunteers. The announcer calls you by name: "Laurie Digges, you are an Ironman. Mackenzie Rickman, you are an Ironman."
It was 9:30 p.m., 14 and a half hours after beginning at Alta Lake. The women beat their 15-hour goal by a long shot. Reflecting on the events leading up to that day, Mackenzie recalls the moment she learned Laurie had registered for the race.
"I literally almost fell off my chair," she says. "She couldn't even walk. That's when I committed that we were going to train together, we were going to race together; we were going to cross the finish line together."
Laurie grasps Mackenzie's hand, eyes welling up with tears. "If you are as fortunate as I to have a friend that will pick you up from the bottom and take you to the top, may you be so lucky."