The Dish | Sweet Lemon-Pecan Linguine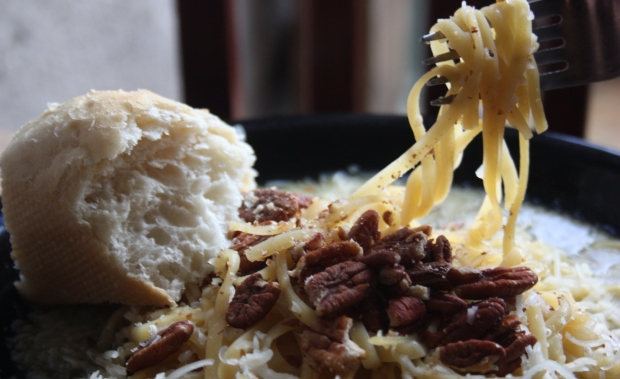 By Susan and Todd Schapira | Photos by Julie Everson
It's not often that you get the recipe for any one of the homemade dishes that comes from the kitchen at Abigail's, a quaint restaurant in Rocheport, Missouri. Locals have been begging for the chocolate mocha cake for years now, but the recipes aren't shared, even between friends.
This dish is all about easy prep. Abigail's owners, Sarah and Todd Schapira, had this dish prepared in minutes.
Ingredients
• ¾ cup pecan halves
• kosher salt
• 10 to 12 ounces dried linguine
• 4 cloves garlic
•  2 to 3 lemons
• 5 to 6 tablespoons unsalted butter
• freshly ground black pepper
• 4 to 5 tablespoons sugar
• ⅓ cup dry white wine
• ½ cup freshly grated Parmigiano-Reggiano cheese; for garnish
Directions
Preheat the oven to 350 degrees F. Spread the pecan halves on a rimmed baking sheet.
Fill a large Dutch oven with water and bring to a boil over high heat. Add a generous pinch of salt, then the pasta. Cook according to the package directions.
Meanwhile, toast the pecans in the oven for 6 to 8 minutes, stirring them halfway through, until they are fragrant and lightly browned. Cool slightly, then coarsely chop ¼ cup of them.
Mince the garlic. Use a zester or Microplane grater to zest 2 or 3 lemons (to taste), taking care to avoid the white pith. Squeeze enough juice from the lemons to yield ½ cup.
Drain the pasta, reserving ¾ cup of the pasta cooking water. Return the pasta to the pot (off the heat).
Melt the butter (to taste) in a large skillet over medium heat. Stir in the garlic, and cook it for 1 minute. Then add the chopped pecans, salt and pepper; cook for 1 minute, stirring to coat, and heat through.
Add the lemon juice and sugar (to taste), stirring until the sugar has dissolved. Cook for about 2 minutes, during which time the sauce should thicken a bit. Stir in the reserved pasta cooking water and the wine, and then immediately pour the sauce over the pasta,  and toss to coat. Place over medium-high heat; cook for 1 to 2 minutes or just until heated through.
Divide among individual wide shallow bowls, leaving much of the excess sauce/liquid in the pot. Top each portion with lemon zest, toasted pecan halves and the cheese. Serve warm. Serves 4.