Discovering Our Town, Small-town Magic
By Kristi McCann and Angela Huhman
It's a shame how many Columbians think Rocheport stops at the entrance to the winery and never venture out to see the eclectic town in our own backyard. Don't get us wrong, we love the winery. We've spent many a night listening to the live bands that play there as we sipped on sweet Les Bourgeois creations. But after or before you relax with a glass of vino in hand, we challenge you to venture down Highway BB and take a left at the dead end to discover the small-town magic waiting in Rocheport.
Where to stay
During our adventures in Rocheport, we visited with as many bed-and-breakfast owners as we could. Most of the owners were transplants from places outside of Missouri who decided to leave their hometown big cities for something a little lower key. Or the female part of the ownership duo had dreamt up the perfect little cottage to host guests in their dream B&B.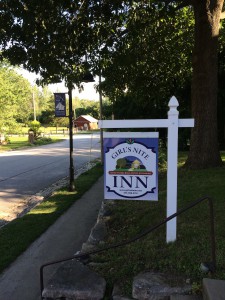 Girls Nite Inn
Although it's not your traditional B&B setup, we thoroughly enjoyed the retreat atmosphere of the Girls Nite      Inn. It's an ideal location for a group stay where quarters and common areas are comfy but still close, so you don't feel completely separated from the rest of the group. Instead of a traditional premade breakfast, Girls Nite Inn owners Diane Dunn and Lisa _____ stock the fridge full of essentials to prepare meals. We encourage some cooking and wine drinking.
Mount Nebo Cottage
The spacious historic cottage hosts up to five guests comfortably in the 1,600-suare-foot space. The original structure was a house of worship until 1967, and if you look closely, the main bedroom is creatively positioned right where services would have taken place. Our favorite touch was the 12-foot harvest table, which was refinished by B&B owners Darrell and Angela Rapp and welcomes large meals and memory making. And if you sit at the head of the table, you have a great view of a 1904 world map, which is believed to be from the World's Fair in St. Louis, that Darrell acquired from his father.
Yates House
This B&B boasts affiliation with Select Registry, which confirms that Yates House has been selected among the most comfortable and welcoming cottages as quality alternative lodging. Aside from the beautiful outdoor garden spaces and six luxury staying rooms, the Yates House features fine dining with locally grown foods as well as cooking classes taught by Dixie Yates herself.
The Amber House
Steve and Claudia Dodge purchased The Amber House just two short years ago. Together, the two have built up the B&B and often welcome guests coming in town for University of Missouri football games. "It's nice to be able to experience Columbia and the game and then come back out here for a little relaxation," Claudia says. The décor has a little more formal feel than the other lodges, but you can't miss the building as it's one of the first things you see when entering Rocheport.
Where to eat
There's a story behind every place to eat in Rocheport, from the sweet owners of the Mulberry Grill and Bakery who leave fresh-baked bread on the doorsteps of Rocheport locals to the husband-wife team who opened Abigail's restaurant and were moving Abigail into her college dorm the day we visited. No matter where you go, we promise delicious food, great company and impeccable hospitality.
Rocheport General Store & Café
Stop in on a Thursday night, and you're sure to have a beer next to one of the business owners in town because it's locals' night at the General Store. But if you miss out on Thursday night, we recommend snagging a homemade ice-cream cookie sandwich as an afternoon snack.
Les Bourgeois Blufftop Winery and Bistro
As we mentioned before, a stop at the winery is a must when going to Rocheport. Although many visitors come for the Missouri-grown wine and a chance to get out of the Columbia city limits, don't miss out on a casual yet elegant dining experience at the Blufftop Bistro. Savor house-smoked meats, fresh vegetables straight from the winery garden and seasonal menu selections. Plus, don't forget to pair your meal with a glass of Les Bourgeois wine.
Angie's Pick: Collector's Series 2012 Chambourein
Kristi's Pick: La Belle Vingnoles
Abigail's
Recognized by national magazines and newspapers, Abigail's is a family-owned restaurant that features daily menu items. Enjoy open lunch Wednesday through Sunday from 11 a.m. until 2 p.m. Dinner begins at 5 p.m. by reservation only. Each dining experience is different at Abigail's with the continually rotating menu, and the restaurant has a homey feel complete with a menu board that is displayed to you tableside and a choice of desserts handwritten on an envelope. We indulged in fresh spinach risotto ravioli and Portobello cap salad. And we couldn't resist the homemade chocolate espresso cake! We wanted to give a special shout-out to our lunchtime friends, Barbara Koirtyohann and Carol Sue Bass, who dined next to us and shared their experiences in Rocheport.
What to do
Rocheport is the perfect town to do a little exploring in. Whether you're in the mood to antique shop or chat with the locals, there's a place and time to do so. The best part about Rocheport is everyone there has some sort of story to tell. Whether they're a local who has been running a business, a biker stopping in during his or her trek on the Katy Trail or a visitor exploring all the town has to offer, there are endless conversations to be had.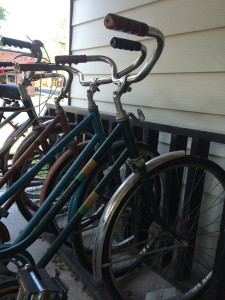 Trailside Café and Bike Shop
If you forgot to bring your own bikes, or your B&B doesn't provide them for you (Girls Nite Inn has a plethora of options), Trailside Café and Bike Shop is the place to rent. The shop is located just seconds off the Katy Trail next to the café where bikers, walkers and visitors stop for a quick bite to eat. While we were there, we ran into a hiking group that formed from the Newcomers Group in Columbia.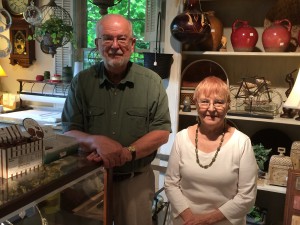 Richard Saunders
The adorable shop is located in a 175-year-old home and is bursting at the seams with fun collector's items, antiques and gifts. Meandering through the winding shop, we discovered room after room of fun treasures at affordable prices. The shop is complete with an outdoor oasis of master gardening and benches to sit and enjoy some afternoon sunshine.
Because Every Mother Matters Shop
You might recognize the shop name from the April/May issue of Columbia Home when we featured Steffany Cooper's organization, Because Every Mother Matters. She was inspired to start the nonprofit when she traveled to Africa for the first time to adopt twins. The organization strives to prevent the devastating impact of African mothers dying daily due to pregnancy-related causes. Steffany runs the organization and the BEMM shop right out of her home. Stop by to explore worldly crafts or pick Steffany's brain. She's always willing to share her story! Fore more information about her organization, visit bemm.org.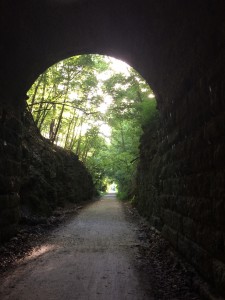 Other Things to Do and Places to See
-Art and Antiques and Blacksmith Shop
-Behind the Times
-Clark Street Lodge
-Drew's Guide Service
-Friends Together Antiques
-Stockton Mercantile
-Manitou Studio
-Mulberry Grill and Bakery
-Katy Trail B&B & Mighty MO Canoe Rental
-Red Caboose Art Studio Gallery
-School House Bed & Breakfast Inn and Dormitory
-Shirahaze Gallery
-Terrapin Creek Ranch
-White Horse Antiques
-WJW Sculpture