Bets On with SportsFormulator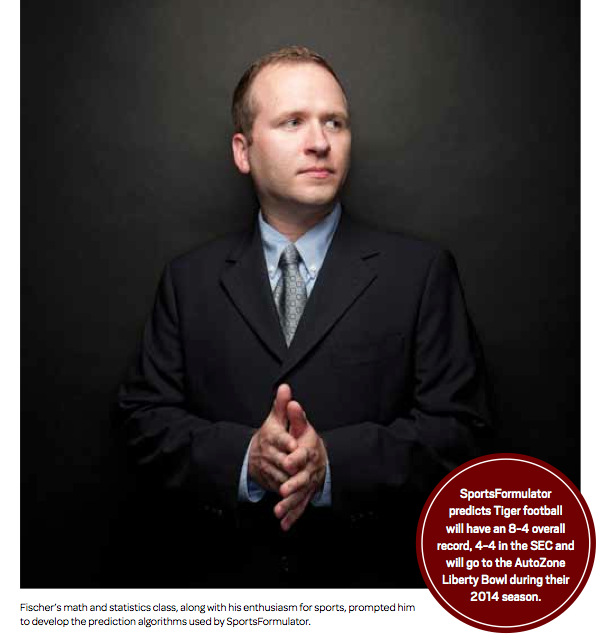 Like many people, Matt Fischer loves sports. So much so, that he's turned it into a career.
When his office job wasn't cutting it, Fischer decided to take his sports interests and turn it into a company. And after attending Startup Weekend in October 2012, SportsFormulator officially launched.
SportsFormulator is a data-driven sports prediction company. With the recent growth of data availability, SportsFormulator uses game analytics and big data as the basis of its predictions. Using algorithms that he developed, Fischer can predict the outcomes of various sporting events, including the NFL, college football, the NBA, college basketball, MLB and the NHL.
"I had the idea and had just been doing it for fun for a few years," Fischer says. "It's something that I basically started as a hobby, and I decided to commercialize it."
Two months after the company's inception, Fischer quit his government desk job to run SportsFormulator full time. Headquartered in the business incubator at 500 E. Walnut, the prediction site had about 30,000 unique visitors in just a few months without advertising.
In the past year, Fischer and his formulas successfully predicted the Seattle Seahawks to win Super Bowl XLVIII in preseason and the L.A. Kings to win the 2014 Stanley Cup in preseason. They also predicted that the Miami Heat would win the 2014 NBA Finals in preseason, though they ended up losing to the San Antonio Spurs. SportsFormulator also beat ESPN Insider predictors in college football and the NFL for the 2013-2014 season, according to the SportsFormulator website.
"I think it's something people want more of now," Fischer says. "They want objective picks rather than just the locals saying the team's going to win by 10 points. It's just bringing a kind of different perspective from sports and doing it kind of in an analytical viewpoint."
The method
Fischer's prediction algorithms are the result of his education and a lifelong sports dedication. The math and statistics classes he took while getting his business degree helped him develop a mindset for analyzing data and crafting his formulas, he says. But it was ultimately his enthusiasm for sports that prompted him to craft a way to forecast game outcomes.
Before using game statistics professionally, Fischer tested different data-based formulas trying to observe any trends and search for meaningful game statistics. Through trial and error, he crafted his algorithms.
"I think numbers can tell you who will win a game," he says. "I just started kind of studying the numbers and [looking at] what good teams do well and what the bad teams don't and crafting my own little formula to predict the scores."
Every day, Fischer uses his sport-specific algorithms to analyze game data and predict game outcomes.
"I take every game that's on the schedule that day, and then I take the ones that are most likely winners and put those toward the premium picks," he says.
Although some predictions are free, Fischer's premium picks are only accessible to subscribers. He started offering membership to the site a year ago, and through free advertising via social media, hashtags, sports-related message boards and word of mouth, Fischer has seen a steady increase in members.
Although initially Fischer thought SportsFormulator would be used as a content provider to newspapers, magazines or other sports-related outlets to run his predictions, many of his subscribers use his company for betting on games, he says.
"I didn't start gearing it toward gamblers, but after two weeks, those were the emails I was getting, like, 'How confident are you in this game?'" he says. "So I started doing a little bit more to cater to them."
Currently, SportsFormulator has about 775 followers from around the world. Subscription numbers will likely increase in the fall, he says.
"[Subscriptions] takes a dip in summertime because baseball is not as popular," Fischer says. "Football season is a big time of the year; that's where we get a lot of interest."
Users can subscribe to SportsFormulator to get Fischer's premium picks via email on the SportsFormulator website. Once subscribed, followers have the option of following Fischer's selections for five days, 30 days or one year.
Six-month subscriber Matt Murrie signed up for the service after hearing about Fischer's work with algorithms instead of "gut feeling" that other predictors rely on, he says.
"I'm really interested in the data side of it," Murrie says. "There's a lot going on right now with big data, and it's interesting to see what someone's doing with it in sports."
Murrie, who follows football, baseball and basketball with SportsFormulator, is looking to continue his subscriptions during the upcoming football season.
"I've never seen a service like this before," he says. "He takes the gut out of it and uses numbers, which bring a whole new light on sports data."
Fischer monitors the games his formulas have correctly forecasted and has found huge success in his predictions. For the 2013-2014 NFL season, he accurately predicted 56.5 percent of games.
"You don't know what's going on in the personal lives of the players; that's what keeps me from being 100%," he says.
Murrie remains confident in Fischer's skillset. "On ESPN they do some predictions, and there's a couple other places you can look, but his win percentage is much greater than all the others," he says.
Despite his success, Fischer aims to keep improving his formulas.
"I look back at the end of every season and see if there's something I can tweak to have been a little more accurate, so it's something where I'm never going to have a finished product," Fischer says. "There will always be tweaks to everything so I can hopefully get better season after season."
The future
A year and a half after SportsFormulator's inception, Fischer only has plans for further growth.
"Now that I've done it for a year and a half, I have a record that I can run on," he says. "I think I have proof of concept, and I'm ready to take the next step."
And for Fischer, the next big step is tackling fantasy sports. Right now SportsFormulator publishes predicted score outcomes, but a fantasy division will be focused on individual player performance.
"The fantasy sports division will be offered to help people win their fantasy leagues or the daily contests that sites offer now," he says. "We will offer what our formula predicts for player performance and allow users to see our optimal lineup and compare players."
With a fantasy league formula already developed, Fischer is waiting on financing before further developing a fantasy sports department.
Instead of just predictions, Fischer also hopes to bring more content to the site.
"My audience I don't think is very interested in getting recaps of anything," he says. "They're more into getting the previews and predictions, so getting more articles and detailed breakdowns of the games is basically it."
And as SportsFormulator grows, so will the staff. At present, Fischer runs the site by himself with the help of an intern.
"Being a one-man show right now, cranking out content like that every day is difficult because I'm pulled in all directions, trying to run the business and turn out the predictions every day, too," he says. "That would be probably one of my first hires, someone that would be able to crank out content on a regular basis."
But Fischer says he wouldn't bring on new employees until SportsFormulator consistently generates steady revenue.
"I want to get to that point where I feel like even if we have a down month or something, I can still make payroll and won't be putting this person's livelihood in jeopardy," he says.
Fischer says he's looking to hire a team to help with expanding a fantasy sports department and content creation as well as a programmer to automate his system and get it online. He hopes to start making hires by the end of the year.
Because the data-related sports prediction industry is less than 10 years old, SportsFormulator doesn't have a lot of competition, Fischer says. And with SportsFormulator's continued growth, it seems like he's carved his niche.