The Dish: White Cake with Caramel Icing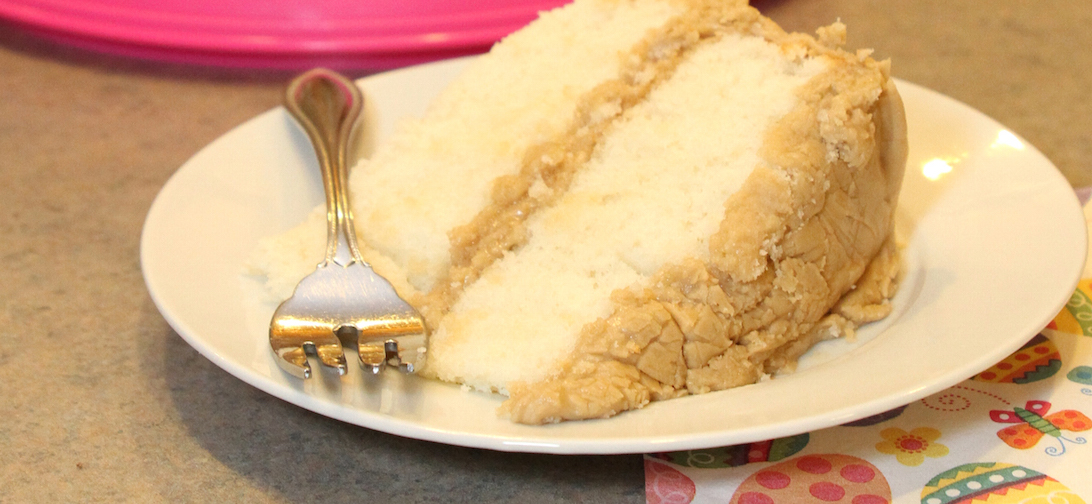 A pinch of creativity and a dash of family history won Jane Hinds Le Dessert Préféré.
White Cake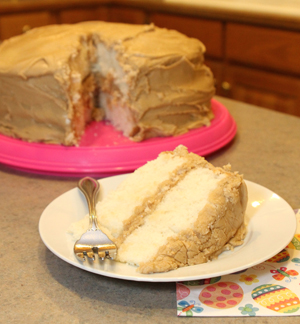 Ingredients:
• 3 cups sifted cake flour
• 3 teaspoons baking powder
• 2 cups sugar
• ½ cup butter
• ½ cup milk
• 1 teaspoon vanilla
• 1 cup water
• 3 egg whites, slightly beaten
Directions: Combine cake flour and baking powder. (I haven't sifted the flour since I was a kid following my mom's directions!) Cream the sugar and butter. Add the milk and vanilla. Add the flour mixture and the water to the wet ingredients, alternating adding each. Add the egg whites. Bake in two 8-inch cake pans or one 9-by-13-inch pan at 350 F degrees for approximately 20 minutes, depending on the size of the pan. Remove from oven as soon as a toothpick inserted in the center comes out mostly clean. Be careful not to over bake as moistness is the key to this cake.
Caramel Icing
Ingredients:
• ¾ cup butter
• 1 ½ cups brown sugar
• ½ teaspoon salt
• 6 tablespoons milk
• 1 pound powdered sugar
Melt the butter, brown sugar and salt over low heat, bringing to a boil for two minutes and stirring constantly. Add the milk, and bring back to a boil. Remove from heat, and allow it to cool slightly. Add this to one pound of powdered sugar. Beat until thick.
Traditional variations: I make this cake with one pink layer and one white layer with seven-minute frosting for my mother's birthday every year, just like her mother used to make her and just like her Aunt Ola Sandknop O'Donnell used to make for her. Photographed above, this cake is made with the recipe doubled and baked in two 10-inch cake pans. I make it this way for a big crowd; plus, a gigantic cake looks impressive. This cake with a sour cream and almond topping instead of icing was always served at our family's Christmas dinner in Edina, Missouri.
About the contest: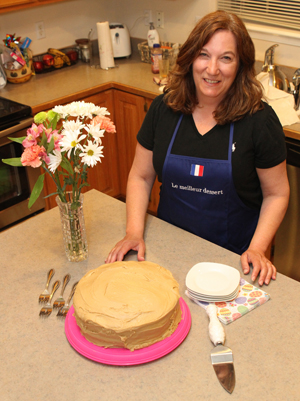 Jane Hinds' delectable white cake with caramel icing was chosen as the winner of Le Dessert Préféré at La Petite Ecole's fifth annual Soirée Gourmande. The French Immersion School hosts the fundraiser each year to raise money for its scholarship fund, and this year's soirée was sponsored by Les Bourgeois. Mike Keene from Schnuck's was the judge who awarded Jane her title.
Photography by Whitney Gibbens