The media landscape of 1985: an exciting ride
Many things we take for granted today simply weren't around in 1985. Cellphones and Dick Tracy-like miniature devices, the Internet, flat-screen TVs, inexpensive computers, the social media explosion and so forth, though widely anticipated, were still the stuff of dreams in the mid-1980s. Cellular telephones arrived first a few years later, initially in your car, the bag phone and the incredible miniaturization that followed. The term "Internet" didn't enter the lexicon until the early '90s with Netscape, an early enabling technology, and flat-screen monitors and social media weren't ubiquitous until recently.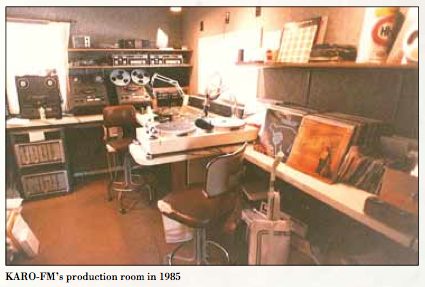 In 1985, Columbia had the two daily newspapers it has today. Three television stations served the area, a fourth or fifth on occasion, and the cable TV company was only 8 years old. Television choices were measured in the dozens, far from the infinite number of options today. Many of us had home video tape recorders. If you didn't mind having a 10-foot dish outside, satellite TV, though somewhat pricy, offered more choices. There were two AM radio stations and four noncommercial FM stations. In addition to three commercial FM stations licensed to Columbia, other AM and FM choices were available from nearby cities.
For some reason, we don't do a very good job remembering names of the people whose bylines we read or the people we watched and listened to. The firmest memories are probably of Paul Pepper, who guided viewers through the weather for years on KOMU-TV, and Tribune editorialist H.J. Waters III, who began signing his daily commentaries in 1966. Other names we recall include Dan Corkery, Don Shinkle, Tom Bradley, The Breakfast Flakes (Chris Kellogg and Sally Chase) and Andy Tutin. Largely forgotten are the legions who wrote, reported and appeared in and on various media outlets, many of them students on their way to distinguished media careers elsewhere.
For me, 1985 was a year of considerable challenge guiding 2-year-old KARO-FM through a number of ambitious projects. The limited-coverage FM station was profitable after only a few months on the air, and a year later it was free of debt. Confident of success, I bought the studio-office building and the corner lot it stood on at 503 Old 63 N., only to discover that zoning prohibited construction of a new building. This led to the Planning and Zoning Commission, which flat out and with some acrimony denied the necessary zoning change. Then it was on to the City Council, which overruled the lower commission approving the necessary change 6-0. From there it was on to work with architects, contractors, bankers, attorneys, the city staff and a whole retinue of others.
While the building was going up as 1985 progressed, the fortunes of the easy-listening FM station were starting to go down, leading to worries about how to pay for and support the new premises. This meant a format change to build audience and broaden advertiser support. In March 1986, the station, now called K102, moved into the new building, and the more "upfront" adult contemporary format initiated at the same time restored the station's growth trajectory.
Behind the scenes, moves on the federal regulatory level began in 1984 to repatriate the 101.5 FM frequency that had been set aside for Columbia in 1947 but was later abandoned. Sliding over from 101.7 to 101.5 would allow the station to power up and broaden its coverage regionally. The obstacles were numerous, but with considerable tenacity, K102 held on, and regional coverage began in February 1992. Thirty-one years after the station opened, what is now KPLA serves a large area of central Missouri from a 1,049-foot tower in northeast Columbia.
Fifty years ago, only two TV stations served Columbia. Columbia's two AM stations were supplemented by an assortment of scratchy signals more tolerated than a pleasure to listen to. The FM dial was completely open; the closest stations were simply out of range and unavailable. The Internet and the host of fixed and mobile devices that render the Web and all that resides there accessible have profoundly altered the availability and breadth of choices in the media landscape. There will be both victims and survivors across the media landscape in the years to come. While balking at predicting the future, it has been and continues to be an exciting ride.