Randi Berry and Nathan Minear
Photography by Rachel Holt of Salt and Light Photography
If you know Randi Berry and Nathan Minear, you wouldn't have been surprised to see a hint of camo and country among soft purples, lace fabrics and Swarovski crystals at their wedding.
After dating for seven years, Nathan pulled Randi's engagement ring out of a box of shotgun shells and proposed, just the two of them, in front of their Christmas tree.
If you haven't sensed a theme yet, the couple's first kiss was even in a hog barn, and their hunting bows made an appearance in their engagement photos.
"Everything fit our personality to a tee," Randi says, "which is what I wanted from the beginning."
The two are high school sweethearts. Randi was just 14, a freshman at North Shelby High School in Bethel, Mo., when she met Nathan, who was a senior at the time.
"The poor kid was going to prom even after high school," Randi says. She remembers the exact day she and Nathan began dating: It was Sept. 19, 2005.
Pinterest, planning and preparation
Just a month after the proposal, Randi reserved the venue and began shopping for a Maggie Sottero dress.
"Two of my prom dresses were Maggie Sottero," Randi says. "I knew I wanted her to be my dress designer because of how her dresses fit me, and I had always loved them."
If anyone was her wedding planner, Randi says it was one of her photographers of Salt and Light Photography, Rachel Holt.
"I would ask her questions about everything," Randi says. "I mean, she goes to a million weddings."
The wedding photos reveal it was a day clearly planned by Randi herself. Handwritten signs, created by one of Randi's four bridesmaids, lined the entrance to the resort. Randi and her bridesmaids wore distressed cowboy boots, including a blue pair for the bride's something blue. Mason jar wine glasses, wooded centerpieces and camo kooizes that read, "They bit the bullet," adorned the reception tables.
Randi says she had a Pinterest board dedicated to her wedding, but of course she had been planning it for a while. "When you have been dating someone for so many years, you basically have your whole wedding planned in your head," she says.
The big day

Randi and Nathan said, "I do," on Oct. 19, 2013, at the Cedar Creek Resort in Columbia. But Randi says one of her favorite moments was before the ceremony during the couple's "first look."
Randi approached Nathan, who was facing away from her, tapped him on the back, and he turned around to see Randi in her wedding gown for the first time. "Nathan is the emotional one of our relationship," Randi says. "His facial expressions were priceless. All I could do was laugh at him."
It's easy to get swept away in the planning of a wedding and easy to obsess about getting everything just right. But it's the attention to the sentimental details that keep the heart behind planning a wedding. Tied onto Randi's bouquet was a small two-photo picture frame. You could see that the pictures were portraits of two men, Randi's grandfathers who had passed away.
"It was my way of them helping me walk down the aisle," she says.
A family affair
A family friend who does competitive barbecuing catered the reception, and Randi's brother, who owns a trucking company, drove her two-tier cake eight hours from Oklahoma in a flatbed trailer off one of his semis.
"It just so happened that my sister-in-law is a cake baker," she says. "But the problem was, she was eight hours away from my wedding location. It was crazy, but my brother is a math whiz and had it all figured out to where the cake wasn't going to move at all, and it was fine; it was perfect."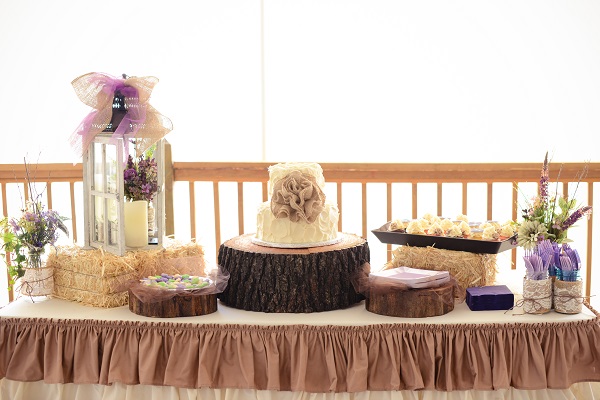 Like any wedding reception, there were moments to laugh, blush and cry, especially when Nathan lifted Randi up and carried her all the way to her seat at the head of the wedding party's table. But Randi says the best man's speech by Nathan's younger brother was probably the funniest moment of the reception.
"He confessed to me during the middle of it that if I ever got tired of the old bull, I could come to him instead," Randi says. "Nathan's mom was about to pass out because she was laughing so hard. It was priceless."
Looking back on the wedding, Randi says she wouldn't change a thing.
"Apart from cutting the cake and Nathan giving me a piece, I don't think I ate another piece," she says. "I would just slow things down to take it in all over again."