What's Happening at Rangeline?
Double the size, double the fun
After three short years at its current location, the Wilson's Rangeline gym is expanding, thanks to the overwhelming support of its members. Construction has started, and by completion the structure will reach nearly to Big Bear Boulevard and almost double in size.
New gym amenities to be incorporated by fall of 2014 include:
• an additional multipurpose room equipped with rings and climbing ropes
• an additional group fitness room
• new cardio equipment
• new flooring
• specified stretching areas
• a reorganized gym layout
Do Not Disturb:
Don't worry. Throughout the entire construction process, Rangeline members will be able to utilize the gym space as usual. There are no scheduled closings or disturbances planned during regular business hours.
Grit and Bear It
It's statistically proven that high-intensity interval training is the most efficient and effective way to train. Going away from steady state cardio, Wilson's Rangeline location offers a 30-minute training that stays at a level of maxed-out intensity. Grit is specific to the Rangeline location and taught with the effectiveness to burn 400 calories during the class and spiking your metabolism to burn an excess 400 calories throughout the rest of the day.
"I like to tell members it gets you fitter faster," Kelie Morgan says. "It uses your aerobic threshold while incorporating your anaerobic threshold." Kelie, a Grit instructor, has been teaching the class since it made its debut in April of last year.
According to Kelie, the class is not only perfect for intense athletes but also beginners because there are options for everything. It's a team atmosphere and a fun way to train in a group setting. It's not intimidating in regard to the choreography or the complexity of the moves. The class is taught to music, but there's no emphasis on beats or rhythm.
"People who would most benefit from the workout are people who are looking to take their training to the next level," Kelie says. "You get in, you work hard and you go home."
Look below to see Kelie demonstrate moves directly from a Grit workout.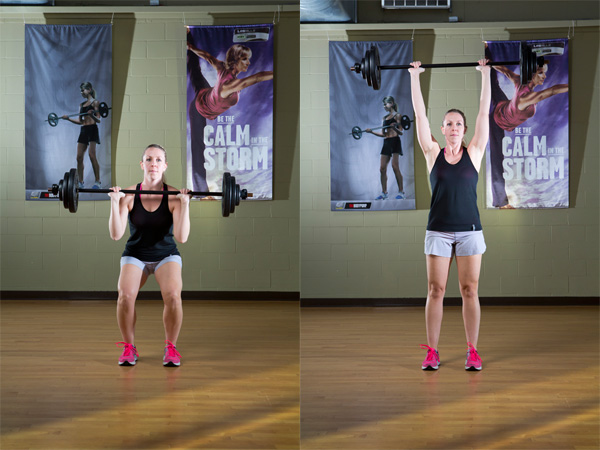 Clean and Press
-Lift the bar, staying close to your body, flipping and catching close to your collarbone.
-Complete an overhead press using the legs.
-Reverse the bar back to your set position.

Crawl Pushup
-Place one hand down and back by your shoulder for a tricep pushup position. The other is in a regular pushup position.
-As you push down, drive your knee up.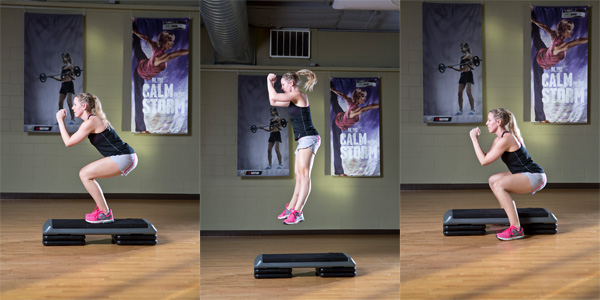 Sumo Plyo Squat
-Propel quickly off the step, going for height.
-Catch yourself in a wide squat on the floor with soft knees and your toes out.