Legacies of Love from Jenny McGee
Contemporary painter creates abstract relational messages.
"My doctor told me I had a 50/50 chance of living," Jenny McGee says. And though those words are powerful enough to fill anyone with fear and anxiety, Jenny's response back to her personal statistic was, "Don't we all?"
The profound statement hangs in the air when she repeats it, and attached to it is a "take that" attitude. For Jenny, her diagnosis of breast cancer was not the ending but the beginning of something beautiful.
Hate cancer
Hanging proudly in Dr. Michael Trendle's office at Missouri Cancer Associates is a piece of artwork by Jenny. Entitled Hate Cancer, Love a Cure, the image depicts a hand with its middle finger confidently raised up. And as Jenny describes the piece in detail, she can't help but smile.
From afar, the piece depicts a rather vulgar message surrounded by the beauty of flowers and bright colors. But upon taking a close look, you can see the true details the work portrays. The base of the hand is supported by "CANCER," bold and in all caps. Above it is a paper mache-like formation of a hand.
"The shredded brochures, which form the hand and middle finger, are the anger of being diagnosed and was an emotional response from receiving all the information and statistics that completely overwhelms you at first," Jenny says. "The flowers are the hope I was holding onto that I was going to be taken care of and that I could get through the difficulty of cancer. The flowers were the blossoming of hope beyond the hatred."
Jenny's positivity and spit-fire personality completely mask the extent of her survival story. In 2009, she went to the doctor after discovering a lump in her breast. The doctors performed a needle biopsy and told her she would be fine. Knowing her own body, she insisted she was not fine and urged the doctors to more carefully analyze it. As a result, the doctors concluded that Jenny's body was being attacked by very aggressive breast cancer.
An extended vacation
The news the doctors delivered was devastating to both Jenny and her family. "It was definitely a shock, a real shock," Jenny's husband, Dave, says. "We had our plans about what life would look like, and the news derailed those plans."
Now, we're not talking putting future dreams on hold, worrying about the medical bills and figuring out a solution to get through demanding treatments. Jenny, her two kids, Jonathan and Ema, and Dave had to decide what the best option for them as a family was. And that decision did not include continuing to live in the rural country of El Salvador, where they resided.
In 2001, Jenny and Dave had traveled to El Salvador on their honeymoon. What originally started as a few weeks of volunteering with a community development and transformation program called ENLACE turned into an eight-year commitment to service and cultural involvement.
"At first, we wanted to see what we could do in a year's time," Dave says. "After that, people would ask us how long we were staying, and we would add on a year here and a year there. Finally, I tacked on three years because I was holding a position with ENLACE that would keep me there for at least that long."
Jenny and Dave worked to help link churches to training and resources by developing housing, health care clinics, etc. for rural communities. Their inspiration to begin such a rewarding journey came from Jenny's parents, who were missionaries, and from one of Jenny's college friends who worked with relief efforts.
But in the midst of building relationships with the Salvadoran people, building a life for themselves and building hope for needy communities, the news of Jenny's diagnosis arrived.
Whom shall I send?
"I guess I began painting in private, you could say," Jenny says. "When Dave and I were first married, I would express to him how passionate I was about wanting to create and how much that meant to me to be able to peruse art as a dream and, potentially, a career. I didn't believe that was possible at first."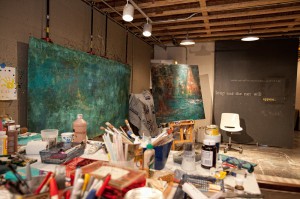 Once living in El Salvador, Jenny created a small art space in their home and began dabbling in paint in secret. Her interest in expressing and evoking emotion through art only grew through witnessing hard times and evolution in El Salvador.
"One of the most paramount inspirations in my series that I developed while living in El Salvador was having the opportunity to work with a man named Douglas," Jenny says. "I had this idea of wanting to collaborate with a gang member as part of the series I was working on. This one particular painting that I worked with Douglas on is called Whom Shall I Send? It talks about God sending the unlikely to minister and to deliver a message of hope and love."
And a delivery of that message is exactly what she got. "He took the painting, which was a very heavily textured red, framed painting with the title of the piece typographically laid out on the canvas. He set it up at a firing range, and he shot through it using a 7-mm handgun."
Although Jenny admits she isn't very knowledgeable about guns and can't remember if that was the exact weapon he used, his explanation of the art is one she will never forget.
The red was a symbol of the blood shed in his life and the violence of the country he was living in. The bullet holes were not only a physical breakthrough but also a metaphorical breakthrough of the canvas for him; they represented how he was able to stop the cycle of violence that he was habituating in his life.
"We hugged, and it was quite an amazing experience to see someone with a first-grade education and a not-so-pretty past engage in an artistic process," Jenny says. "For Douglas to interpret it and get a valuable experience out of it was incredibly impactful for me. To share in the collaboration and get to know someone like Douglas is an experience that gave me a lot of hope while I was going through my own challenges."
The best decision
Douglas was an inspiration for Jenny to stay strong when times in her life got rough. The first of her many challenges was the decision to move back to the United States.
"Our life in El Salvador and the eight years we had spent there ended in 10 days," she says.
"We found out Jenny needed radiation," Dave says. "That was the deciding factor. The newest machine in El Salvador was from the last '70s. Ultimately, we wanted to pursue the best health care for her."
Columbia fulfilled the requirements that were most important to the McGees: quality health care and close proximity to family. Jenny's sister and parents reside in Columbia, and her brother lives just a short road trip away in northwest Arkansas.
The Columbia community not only fostered Jenny's recovery, but it also shed light on how she could successfully make art a career, just as she had dreamed. Jenny's first show in Columbia was at Broadway Brewery, shortly after she began chemotherapy. Since then, her art has continued to evolve, and she has been in remission for four and a half years.
The collection that represents a personal evolution for Jenny is hanging at Broadway Christian Church. It is the series she worked on slowly throughout her time in El Salvador from 2002 to 2008. The series includes the piece she worked on with Douglas, Whom Shall I Send?
The art of Jenny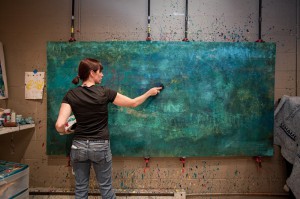 "Her art has always been about creating hope for others and has been a personal outlet for her," Dave says.
For now, Jenny most enjoys commissioned pieces, such as the one on this issue's cover. "It's a very personal process I've developed with my clients," she says. "I want to create visual legacies of love that portray the reasons why or how they love someone else."
She's worked with people to express all sorts of relationships: husband and wife, mother and daughter, family and friends. And when Jenny works on a commissioned piece, she immerses herself fully in the process.
"Usually I meet two to three times with the client," she says. "We discuss reasons for their love, how they met and what they love most about that particular person they're creating for. That process takes a lot of vulnerability, and sometimes we don't always have the words to express what or why or how deeply we feel."
After a handful of meetings, Jenny sits down with all the information she's collected, and the ideation of the artwork begins. She writes words of feeling and emotion and specific details onto a chalkboard as she sifts through colors that she and the patron have discussed together. While she is working, she'll turn on specific music and songs, such as a wedding song, that came up in conversation. And from there, she starts the process of painting.
In addition to commissioned artwork, Jenny sells pre-existing pieces, which are popular among individuals who do not know her personally but love the style and feel of her work. She replicates her work onto archival paper as well as metal, which has a glossy finish similar to the gloss of the originals.
A piece of Jenny's work hangs at Windsor Street Montessori School, where her children attend. It's roughly a 5-by-5-foot tree made out of recycled sugar cane.
"Our house is also filled with ever-revolving Jenny art," Dave says. "But we do have a wall dedicated to local artists or friends' artwork that we love."
Although Jenny's love for visually appealing art is apparent, her dream is to focus on commissioned pieces and fill her days with creating intimate expressions through art. "Sometimes words can only go so far," she says. "Having those words and visuals to impactfully express how you feel about someone creates a powerful piece of work."
Each day, Jenny is inspired by relationships. It's the people such as Douglas and her family who inspire her to keep creating. She is forever captured by the power of love, and it's inspiration that comes her way on a continuous basis. A recent example of this was the passing of Jenny's friend Elizabeth.
"Her parting words will stick with me forever," Jenny says. "It's a gift to be able to share our words with the ones that we love while we still can."
Contact Jenny about commissioning an unforgettable gift at 573-289-5023 or [email protected]