Beckett-Taylor Insurance celebrates five years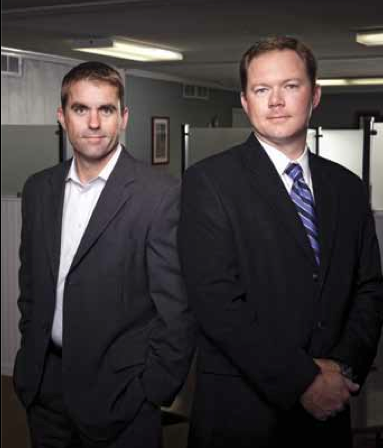 Not many young companies can say they survived an economic downfall, but unlike those failed businesses, Beckett-Taylor Insurance has prevailed. The locally owned and operated company prides itself on providing personalized insurance tailored to customers' needs at an affordable price.
This year marks the fifth anniversary of Beckett-Taylor Insurance offering services to the community. "We started in a one-room office with a cubicle divider between the two of us," says Jake Taylor as he reflects on the start of his company with Matt Beckett. "We've grown every year since then, even in a down economy."
The company is now licensed in 10 states, in addition to Missouri, including: Alabama, Arkansas, Arizona, California, Georgia, Kansas, Michigan, Minnesota, North Dakota and Tennessee. "Most of those customers have some sort of tie to Columbia. We want to be the best in our local market and serve our customers here better than anyone else."
Personalized attention
Both Columbia natives, Beckett and Taylor grew up together and had a vision to start their own company. Taylor, who had a background in insurance, is a sales person but also maintains carrier partner relationships. Beckett is also a sales person but takes care of in-office tasks and management when he's not out selling.
"We make great business partners because we're essentially a 180 of each other," Taylor says. "We complement each other well."
He credits the success the two of them have experienced to the personalized attention the company gives. "We work for our customers," he says. "We've been able to continue to bring on new carrier partners to give our customers more options. That's a big accomplishment because we're only as good as our carrier partners and what we have to sell."
All about relationships
The growth that Beckett-Taylor Insurance has experienced has come from referrals after performing well with other companies and customers. They've made a large investment in their computer programs and technology to ensure their business is efficient and up-to-date.  According to Taylor, the insurance business is all about relationships, and really the only thing a company can control is its reputation. "This town is small, and if you don't take care of somebody, you won't be in business very long," he says.
The staff has also been integral to the company's growth during the five years Beckett-Taylor Insurance has been in business. In addition to Beckett and Taylor, Dee Riffel, Dawn Jones and Kim Davis help manage the day-to-day responsibilities. "We have some of the best employees in the business," Taylor says. "That's what it takes to grow because Matt and I can't do everything anymore."
Five years from now, the company hopes to double in size. "We don't want to be the biggest agency," Taylor says, "but we want to be the best at what we do."
And to Beckett and Taylor, being the best means being reputable and trustworthy. "We're a company with heart," Taylor says. "We believe in what we do and how we do it. All of our employees care deeply about our agency. The bottom line is when we engage with somebody, we engage. Our goal is to engage 100 percent with them."