Flashback – Missouri United Methodist Church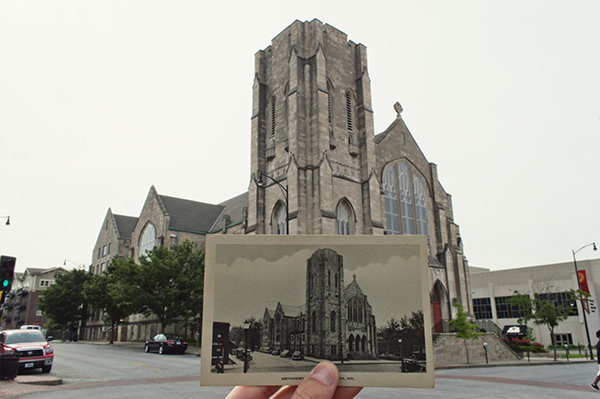 The Missouri United Methodist Church, with its Indiana limestone facade and imposing bell tower, has stood watch over downtown Columbia for more than 80 years. Plans for the building were first made in 1911, as the Methodist congregation saw the need for more space to accommodate activities and educational programs for university students. The building's central location, between the University of Missouri campus and the heart of downtown, was chosen to bring in the student crowd.
However, the new building was put on hold during World War I. Eventually funding for the building was secured, and construction on the neo-gothic "Cathedral on Ninth Street" began in 1925 under the Phillips Construction Co. The building, featuring stained-glass windows from the Jacoby Art Glass Co. in St. Louis, was dedicated four years later after being finished by the John Epple Construction Co., just as the stock market plummeted and the Great Depression began.
With the Depression came debt problems for the new church. Many of those who had agreed to help finance the church's construction found themselves unable to honor those commitments, which left the church beset by lawsuits and creditors. However, by 1947 the church had paid off the mortgage and become solvent.
In 1980 the building was added to the National Register of Historic Places for its architectural and religious significance and in 2004 saw the addition of a new education unit that houses 33 class and meeting rooms, ample office space and a new chapel. Even with these new additions, the church retains the "impression of high religion and aura of authority" that make it one of Columbia's most recognizable landmarks.