Design of the Times: Lori Pewitt builds a community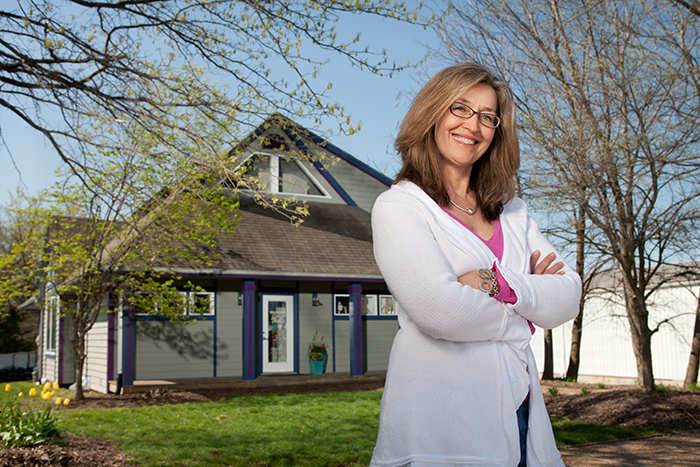 Walking into the offices of Interior Design Associates is like walking through the front door of your home. That is, of course, if your home is a combination of colorful, classy and contemporary cool.
Warm lights and soothing hues bathe the walls in the opening hallway. Modern art pieces from around the country line the room, along with assortments of mirrors, couches and light fixtures. The hallway leads into the design firm's showrooms and offices, which are tucked away in what at first seems like a misplaced little blue house in the middle of a business plaza on Rogers Street.
For the rest of us whose humble abodes and office spaces might not be so up to date, it's a good thing Lori Pewitt is here. In fact, she and her business, Interior Design Associates, have served Columbia for the past three decades. Her business is one of the oldest interior design firms to have seen the town transform into the sprawling community it is.
An eye for design
Growing up, Pewitt didn't have much exposure to studying art and visual design. In her small hometown in northern Illinois with a modest 400-person population, art classes weren't even offered until high school. During her junior year, Pewitt's interest piqued with the addition of a new course offering interior design.
"My head could always see more than my hands could do," she says of her affinity for interior design.
Bringing blueprints to life allowed her to move her creative inspirations from the flat surface of a page and transform them to a physical space. From there, it was only natural to continue studying interior design in college. In 1979, she graduated from the University of Missouri's interior design program. She left for a brief stint back in northern Illinois to work as an interior designer from her home. Then, as luck would have it, she returned to Columbia.
Back in Columbia, a chance meeting with a former classmate would shape the future of her career. Pewitt ran into her friend Diane Bashor, with whom she had taken interior design classes at MU. Bashor had opened Interior Design Associates and was looking for a new partner. Pewitt was soon on board.
A short while later, Bashor moved away and left Pewitt to take over the young business. Pewitt seized the opportunity, bought the remaining share of the business and became the sole owner of the firm.
"My biggest decision on that was trying to find another partner or just tackling it myself," she says. "And I chose to tackle it myself."
But as Pewitt soon learned, she would find help expanding the business in all kinds of places.
After a few relocations in the downtown area, Pewitt moved the firm to its current location at 1202 Rogers St. What was once a one-story residential property was bought from John Simon, architect and owner of Simon Associates Inc. The bungalow was transformed into a three-story building to accommodate the growing firm's needs.
The business relationship didn't stop there. Interior Design Associates and Simon Associates continue to work together today by utilizing Simon's skill in building and Pewitt's expertise in design. 

"She's a great resource for us," Simon says. "We tend to concentrate on the nuts and bolts of construction and then utilize Lori's experience with details, color and coordination of materials. Her resources pull the finishing touches on our projects together."

Pewitt's newness to the Columbia interior design community and her new position of business owner meant there were a lot of things to learn. "It was exciting, kind of scary and just so much to learn and absorb," she says. "I used to go to the installers and install with them so I could see how the products went in. I wanted to be in the field to see and understand it all."
It's that attention to detail and quality service that Simon says make Pewitt an asset to the community.

"Her business is more than just about choosing something from a catalog," he says. "It is also about installations and larger aspects of building and design projects. She's got the ability to fine tune to bring it all together."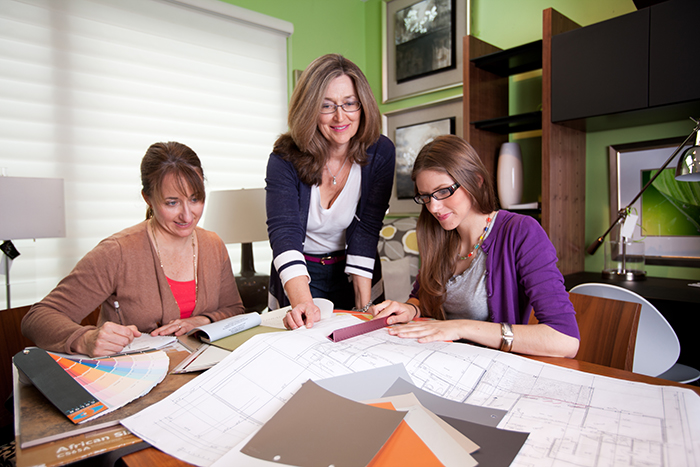 Before and after
Working in a space with offices, meeting rooms, showrooms and altogether a huge collection of design samples, the Interior Design Associates building promotes a high level of energy and movement.
Pewitt's day starts early with a flurry of phone calls and straightening out appointments for the day.
These meetings can range from individuals beginning a couch-hunting process to companies finalizing the installation of light fixtures for a new board office. The businesses she's worked with have specialized in everything from Web programming to furniture sales to home loans. Pewitt has been working with Veterans United Home Loans for several years on continuing projects. In spring of 2010, the home loans provider contacted Interior Design Associates to do paint consulting for an office.
"We're a very dynamic, energetic company," says Alisha Strope, executive project manager of Veterans United. "We also have had a lot of growth, so it's been a lot of fun creating new workspaces that support our functionality as well as our culture. Lori has helped us mesh our culture with our workspace design elements."
The company has several branch buildings and varying atmospheres, from an energetic communications team buzzing on headsets to a teams that collaborate in meetings. Incorporating design elements to facilitate the type of communication each group needs most has kept Pewitt busy working with them for several years.
She recently helped the Veterans United Network create a living room environment to broadcast Google interactive Web sessions and interviews with digital storyteller Sarah Hill.
"She's always positive, optimistic, ready to listen to the newest challenge and embrace that with a lot of different ideas and creativity," Strope says of the designer.
Pewitt also travels with her work and brings her Midwest influence to others around the country while also bringing back new ideas. Several times a year, she helps Norwegian furniture manufacturer IMG set up showrooms at a semi-annual wholesale market in High Point, N.C. Markets in places such as High Point, Las Vegas and Dallas are specialty events to help those in the interior design industry buy new products as well as get ideas of styles and trends developing in other regions of the country.
Pewitt, who just wrapped up another High Point Market project in April, finds design inspiration in her travels.
"You just have to pay attention to life," she says. "If I'm traveling, I might poke my head into a store or see what different markets are doing. It expands the thoughts. Different products and different people's tastes translate to our environment."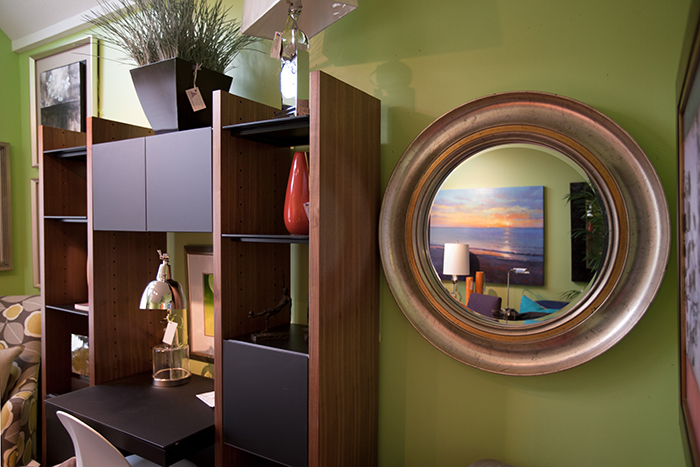 Solid foundations
Pewitt's environment might be hectic, but she still finds importance in being involved in the community.
Shortly after becoming a business owner, she joined the board of directors for the Ronald McDonald House Charities of Mid-Missouri. Along with serving as the board president for a number of years, working on both the old and new Ronald McDonald houses and helping others find their "home away from home," she reinforced her importance of fostering relationships within the community.
It was through her work with the charity that she became close friends with Cheryl Baumann, who also served on the board. Baumann originally contacted Pewitt to help design a house she was building after she moved to Columbia from Dallas. Soon after, Baumann worked part time with Interior Design Associates.
"She has a very strong work ethic," Baumann says of Pewitt. "If somebody needs to meet on an evening or Saturday, she tries to be available for that. And she's really good about understanding what people are looking for. She doesn't have one look that she does. She can do contemporary or traditional and everything in between."
Even beyond her professional life, Baumann says, Pewitt's customer service extends from a desire to help people on a personal level, something Baumann has seen in their friendship.
"She's really been like a sister to me," Baumann says.
Pewitt, who has a daughter studying fashion design at Stephens College, says that balancing work and home life can be a struggle. With 20 to 40 projects going on at one time, she still finds that the relationships she builds and uses to gauge what a person needs most from their environment is what keeps her moving around the clock.
"We really value whom we work with," she says. "We really care that somebody loves their space. Whether it's work or home, I think we're really affected by our environments. If someone walks through the door, and they're just happy to be there, I think that's really rewarding."
And from the growing list of clients working with Interior Design Associates, others must be catching on, too.