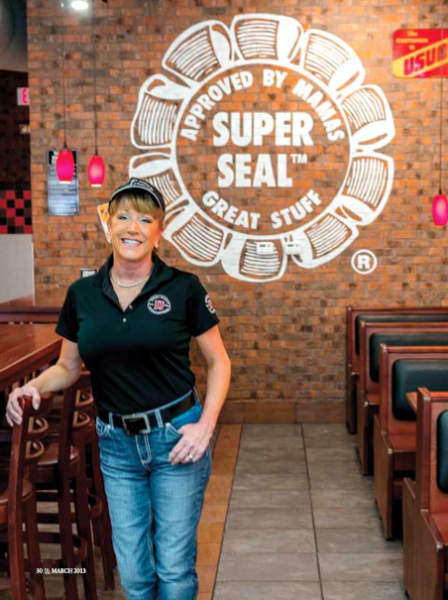 They say that if you choose a job you love, you'll never work a day in your life.  Perhaps that's the secret to Amy and Mike Monahan's success as franchise owners of Jimmy John's Gourmet Sandwiches. Since they took over Columbia's downtown store, sales there have quadrupled. During the past decade, they've opened five more stores — four locally and one in St. Louis — and they added Sake Japanese Bistro and Bar to the mix last May.
"Mike doesn't sit still well," says Amy, a former nurse who quit her job to manage a real estate business with husband, Mike, back in the late '90s. Mike had also left his position as area supervisor for Dominos Pizza. "We weren't busy enough without our jobs."
They hired a business broker and learned that a restaurant Amy had always loved was for sale. Jimmy John's Gourmet Sandwiches, which had opened in 1996 in downtown Columbia, reminded her of the sandwich shops she visited growing up outside Philadelphia.
"I'd always loved Jimmy John's," she says.  She recalls cheese steaks served on fresh-baked bread, saying it's one of the things that distinguishes Jimmy John's from its competitors. (Their bread becomes day-old after a mere four hours.) The Vito, made with salami, capicola ham, provolone, onions, lettuce and sauce, is her favorite.
"When the business came available, we jumped right into it," says Mike. They closed in September of 2000. It was the company's ninth store. Franchising began in 1993, a decade after Jimmy John Liautaud set out to open a hot-dog stand with $25,000 from his father. When the equipment proved to be too costly, Liautaud switched to sandwiches made with bread he baked himself, giving out samples around town.
Today there are more than 1,425 franchises, 26 of which are company owned. Mike credits the blossoming of the franchises to everything from the company's product to the economic downturn.
"When the economy tanked, people still wanted to go out and eat," he says.  "We saw a big increase in sales. We've increased by double digits almost every year we've been open."
Mike and Amy say that it all comes down to "the operators," adding that quite a few of their 200 employees have been with them for many years.  Their son, now 24, worked for them "forever."
You could say there's a fine line between work and family life for the Monahans. One day this winter, Mike left the house at 6:30 a.m. and didn't get to bed until 2 the next morning. Although that's unusual, Mike and Amy work a minimum of 80 to 90 hours a week. It's common for Mike to visit all Columbia stores and the St. Louis location in one day.  Amy, who used to spend a few weeks at each store, now spends much of her time at Sake.
"It's been fun," says Amy.  It's not really hard, just a lot of work."  In addition to running their restaurants, the Monahans stay active in the community, donating time and treasure to about 50 local organizations. They've been sponsors of the True/False Film Festival since its beginning and have been guest speakers for students in MU's hotel and restaurant program.
"Afterward, some of the students said: 'You're the best speakers we've had all year,' says Mike.  "Maybe it's because we hand out sandwich cards."  A little enthusiasm can't hurt either. "Every day is different. Sure beats sitting behind a desk."