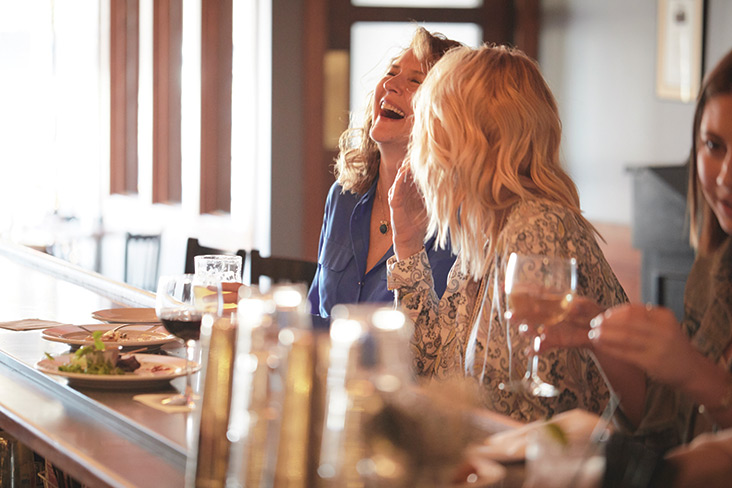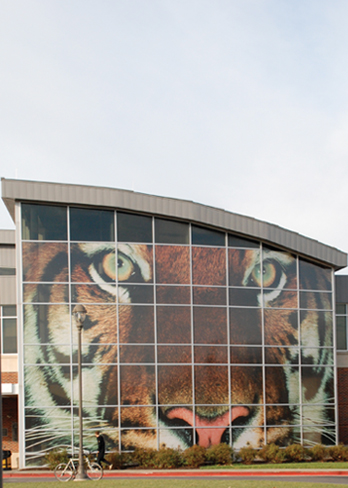 In 2000, the University of Missouri kicked off a $1 billion fundraising drive that finished in 2008. As part of the drive, the athletic department raised more than $156 million. Missouri is set to begin another fundraising drive soon, and the athletic department will shoot for even more money to redo its master plan, says Tim Hickman, MU senior associate athletic director of operations.
The athletics department is trying to build the facilities into one interactive area that creates a full-fledged athletics community — almost its own campus. "One thing we've worked on is really making all of our facilities into a sports park," Hickman says.
Texas-sized growth–
In 1996, the Big 8 merged with four Texas schools from the Southwest Conference to create the Big 12. Since the merger, the Missouri Athletics Department has undergone a Texas-sized growth, spending more than $155 million on 18 major renovations. Those renovations have included the constructions of Mizzou Arena, the Missouri Athletics Training Complex and a new scoreboard in "The Zou," among many other improvements. Most recently, the Golden Girls and gymnastics teams received an overhauled practice studio worth $5.6 million.
"We've basically touched every sport in the last 13 years," Hickman says. "The ability for [the gymnastics team and the Golden Girls] to have a better defined, better climate control, better contained area, up-to-date facility — all of those things are huge for them to compete at the highest level."
The spending has been warranted, as the Athletics Department has been laying golden eggs for the University of Missouri and the city of Columbia.
In the 2009-2010 school year, the athletics program brought Columbia more than $118 million, according to a study conducted by students from the Trulaske College of Business Crosby MBA Program at the University of Missouri.
Stagnant '70s and '80s
But renovations have not always been so common at Missouri.
"We're getting to where we need to, to be competitive in the long run," Hickman says.  "There was a period of time in the '70s, '80s and early '90s where the University of Missouri was pretty stagnant as far as growth in facilities and investment in facilities. It got way behind, and so we spent a period of time trying to catch up a little bit. Now we're kind of to that point, so now we're trying to continue to make that next step to get us more to the upper echelon."
The budget went from a bottom-of-the-barrel $21.9 million in 2001 to a big-boy $53.2 million in 2011, according to numbers given by Kevin Hayward, MU associate athletic director of business. Every aspect of the budget increased, with ticket sales jumping from $7.7 million to $20.1 million, and donations increasing from $5.5 million to $14.4 million.
"We've become more successful across the board in various sports, built more facilities, we have higher ticket sales, we have higher donation totals, our conference revenue is more, so it's just continued to raise the profile and the scope of what we're managing here," Hickman says.
Even still, Missouri's $53 million athletics budget seems small next to the budgets of other universities that exceed $100 million.  Money and mega-growth are dominating the college sports landscape, as conferences are negotiating TV contracts worth billions of dollars. Missouri may be on its way to the truly big time with its move to the Southeastern Conference (SEC), potentially earning more than $8 million more a year in media rights alone, according to an MU analysis reported by the Associated Press.
Football reigns
In the world of college sports, football is the most important game, with men's basketball a distant second. Mizzou has steadily improved on the gridiron, earning 40 wins from 2007– 2010, six straight bowl appearances and a slew of NFL draft picks coming from nearly every position on the field.
Missouri's money increase has kept it competitive and helped the football team to on-field success, but to become an elite athletics program, Missouri has a ways to go, even in football. Missouri's football recruiting ranking has never reached higher than 21st, according to Rivals.com, but shows a slight rise on average — from 34.4 in 2002–2006 to 33.4 in 2007–2011.  Football attendance has generally been on the rise for Mizzou — but usually sits below the yearly Big 12 average — and hit a record 62,975 in 2010.
Missouri's Memorial Football Stadium seats 71,004, making it one of the 30 largest home college football stadiums in the U.S.  Memorial Stadium is the fourth biggest in the current 10-team Big 12 and will be the 9th biggest in the SEC.
Stable overall ranking
While Missouri's revenue and facilities budget have more than doubled in the last 10 years, its overall place in the world of college sports has risen only slightly. The Learfield Sports Directors' Cup measures athletic success across every sport, and Missouri's ranking has been relatively stable over the last 10 years.
In 2001, Missouri finished 53rd, and in 2011, Missouri finished 41st. But the rankings are erratic; Missouri ranked highest at 36th in 2008 and second highest at 37th in 2002. The average ranking from 2001 to 2005 (before the Missouri Athletic Training Complex was built) sits at 45, while the average ranking from 2006 to 2010 hovers slightly higher at 43.4. The standard bearer for overall athletic success has been Stanford University, which has won the Learfield Sports Directors' Cup 17 years in a row.
Yet, as Mizzou completes its move to the SEC, fans can glimpse a rise in overall excellence and elite status on the horizon.