To fly, or not to fly, from Columbia Regional Airport — that is the question.
Unlike the famous philosophical question posed in Shakespeare's Hamlet, this question explores more practical issues: expense, time and convenience.
Is it really more expensive to fly out of Columbia Regional (COU)? At first glance, comparing Delta fares from COU to fares out of Kansas City (MCI) and St. Louis (STL), it may appear so. When one considers expenses such as gas and parking or use of an airport shuttle, however, the cost changes.
There has always been a perception that flying out of COU is more expensive. Some customers of COU may have been disappointed in the past by high fares along with poor service. That perception is slowly fading due to success in recent years of better commercial air service.
Service improvements, plus the growth of the entire mid-Missouri area, are major factors in the success of COU. "With a catchment area of over 440,000 people, this is a market capable of supporting air service beyond what it is currently receiving," says Jill Stedem, spokeswoman for Columbia Regional.
And it is true. The population of Columbia currently is 107,000, and University of Missouri enrollment has hit 33,000. More people are trying COU; planes depart the airport with an average 82 percent capacity. And the airport provides three round trips daily by Delta Airlines, the largest airline in the world.
The airport has the numbers to back up the trends. In 2007, the total number of passengers who departed from COU was 9,090; last year that number leaped to 35,429. And as of September this year, the count was already at 28,711.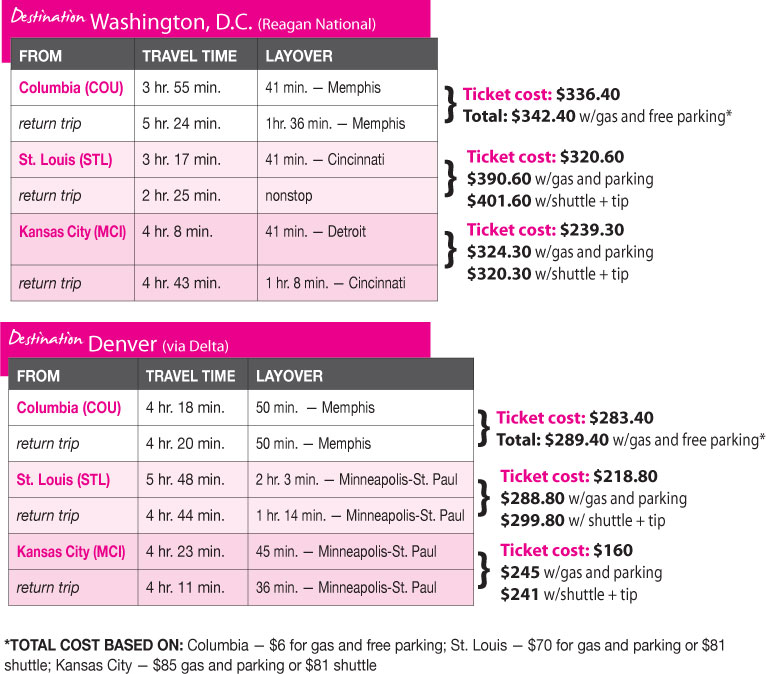 Personal preferences
Deciding whether to fly from Columbia or another city is largely based on personal preferences. Accountant Lauren Milbach travels from COU one to three times a year for business and leisure. She has identified specific days when the price is right to use COU.
"If you can fly on weekdays, there isn't much of a price difference between COU, STL or MCI," Milbach says. "And that difference can usually be more than balanced out by the difference in mileage, gas and parking since parking at the Columbia airport is free."
Milbach says she also finds the convenience of COU attractive. "When departing COU, it sure is nice to leave my house one hour and 15 minutes before my flight and when returning, to be home 30 minutes after landing."
Pat Heeter, a product development consultant, flies for business at least two to three times a month. She typically chooses either St. Louis or COU, depending on ticket cost and flight schedule.
Heeter does not believe that COU is more expensive than STL or MCI all the time. "On occasion, COU is the same price as STL or MCI," she says. "On other occasions it is significantly more expensive, especially if I have to book within a week of the travel date or around a holiday."
Heeter acknowledges that layovers can be risky due to weather or mechanical issues and seeks direct flights if the price and schedule are acceptable. "In general, I have success getting flights out of COU if I go east to places like DCA [Reagan National Airport], RDU [Raleigh-Durham International Airport] or ATL [Hartsfield-Jackson Atlanta International Airport]," she says.
What's ahead for COU? Columbia officials are working diligently to add more destinations and additional carriers. Other plans include expansion of the runway and taxiways, which will allow larger aircraft to utilize the airport. The city is currently seeking funds to upgrade the main terminal to allow for expanded service.
For more information, visit the Columbia Regional Airport website at flymidmo.com.