Great crust a must, and new pizzeria gets it right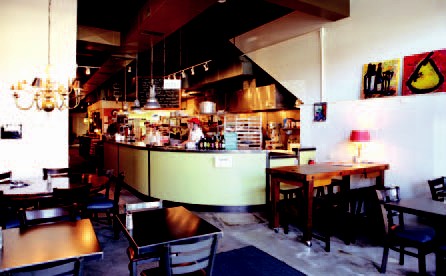 It's easy to like a pizza place with a relaxed, upbeat atmosphere, decent service and good pizza.
What pushes Red and Moe into the truly great range is its delicious, crispy crust and adventurous topping combinations — especially for those of us whose world isn't rocked by thick crusts or pepperoni.
At Red and Moe, Tom Rippeto is raising the profile of a lesser-known Chicago-style pizza, which he learned how to make from his first employers, "Red" Castle and "Moe" Beland, who ran the downtown Pizza House that used to be two doors north of the namesake restaurant.
This isn't the daze-inducing, deep-dish Chicago pizza tourists are looking for on Rush Street or wherever they might wander. This is another Chicago pizza that is truly Italian, in my experience; it has a thin, crisp, flavorful crust that stays horizontal when it's lifted from the pizza pan, even when it's weighed down by cheese, veggies, meat and fruit (yes, fruit).
To make things even more interesting, the restaurant has some deliciously fresh and imaginative salads, quite possibly the best bowl of mussels in town and pie. Homemade.
We've visited twice in the past two months since the restaurant opened in Rippeto's old Trattoria Strada Nova space just north of The Blue Note. The place was almost empty on our first visit but was nearly full on the second visit last week, so word is traveling fast.
Our first dinner at Red and Moe's began with a special green bean salad with walnuts, blue cheese, red cherry tomatoes and yellow grape tomatoes (a huge plate of salad for $9). If you didn't already know from the restaurant's website that as many ingredients as possible are local, you would know it from the freshness of this salad. Or from the quinoa salad, which was loaded with cucumbers, red pepper, tomatoes, feta, black olives and fresh oregano ($7.50).
Our pizza with Serrano ham and Gruyere cheese ($15) arrived before we'd even begun negotiating who would get what remained of the two salads. (Note: One salad and one pizza is probably enough for most couples, especially if you want to leave room for dessert.) It was superb, with a crust so flavorful you're unlikely to leave it on your plate like a discarded handle.
And then we were treated to another great crust — on the peach and raspberry pie ($7), an end-of-summer masterpiece that contained a flavor we loved but could not identify.
Our second visit last week began with a vinegary (too vinegary, actually) beet salad with goat cheese and walnuts and a deliciously strange pizza laden with prosciutto, peaches, chutney, sweet pickles and Gruyere ($15). It was sweet, sour and salty all in one bite and instantly habit-forming.
When you have a glass of wine or a beer with all of this, a dinner tab at Red and Moe can approach the $50 mark, especially if you're kind enough to leave something in the tip jar. So Red and Moe has instantly created its own niche: a pizzeria for grown-ups. It's not just the food but also the funky-cool decor, the blues tunes at perfect volume to allow relaxed conversation and the serve-yourself setup. It's the kind of ambiance that makes us want to hang out and order another glass of wine.
Like Shakespeare's, Red and Moe customers order at the counter and pay up front. (At Red and Moe the food is brought to the table). However, these are two very different kinds of pizza pie.
It will be fun to see how inventive the pizza-makers at Red and Moe get. We're eagerly anticipating our next bite.
Red and Moe
21 N. Ninth St. | 777-8654
Open Wed. – Sat., 11:30 a.m. – 8:30 p.m.
www.RedandMoe.com
4 of 5 stars